During a recent trip to Guildford, I decided to take the long walk to Compton, the location of the one time home, Limnerslease, of the artist G.F. Watts and his wife, Mary, and the ever improving Watts Gallery. The website blurb currently describes the site thus:
Watts Gallery – Artists' Village has plenty to enjoy for visitors of all ages. Engage with history and art at the newly opened Watts Studios, and discover our permanent collection of Victorian paintings and sculpture in Watts Gallery before visiting the De Morgan Collection, on long term loan to the Artists' Village.
Enjoy a quiet moment at Watts Chapel – a Grade I listed Arts & Crafts building – then explore the woodlands and grounds before treating yourself at the Tea Shop and browsing art for sale in Watts Contemporary Gallery, along with a wide selection of gifts in the Watts Shop.
It was allegedly going to be a sunny day and when I left my home that morning it certainly threatened to be, so much so, that I nearly didn't take a cardigan. I've lived here for 36 years and I still casually disregard all evidence to the contrary when it comes to British weather. You think I would know by now that going out without, at the very least, a cardigan is just not a) British and b) wise. I guess I am more of an optimist than I realise.
Armed with the following directions (the directions for this walk are superb actually and I highly recommend it) and snacks, we arrive at Guildford train station and make our way toward the river. Walking along the tow path was a slightly busier experience than I had factored in to my 'stroll along a river bank' idyll but it in that sense it was a typical Thiele family adventure. Guildford obviously has an active community which has to be navigated when strolling along the tow path (people canoeing, walking, cycling etc.) We ambled passed these energetic people, and passed some beautiful cottages before leaving the hustle and bustle of the river behind and entering into a kind of isolated country adventure. The path ran along side some fields but seemed to be ours alone, aside from the vixen who scurried into the undergrowth as we neared her. The weather had failed to keep up its promise of warm weather and a cold wind periodically reminded us of this fact, particularly when beneath the trees which shed a dappled light on the red sand beneath our feet.
Finally, after a good hour and a half of walking, whilst throwing stones and emptying our shoes of sand and wondering where on earth we were, we arrived at our destination. Our feet covered in red sand from our walk and our throats in need of tea (or ice cream). After a quick tea room pausa (it is well worth having lunch here) we entered the once home of George Frederic Watts and his wife, Mary.
For the Watts enthusiast there are over a hundred paintings in the collection as well as plenty of artefacts of note, from beautifully written correspondence to his palette and brushes. There are also numerous maquettes for those interested in understanding the process of the sculptor, and the exquisite green dress which was modelled by Miss Virginia Julian Dalrymple in Watts' portrait of the same name, see below.
The display of the gallery is in keeping with Watts' own intentions for the site, despite modifications by his wife Mary and more recent (and much needed) heavy investment from the Heritage Lottery Fund and other such sponsors. Watts' intention to display the great and the good can be seen in his 'Hall of Fame' and this gallery is a tribute not only to Watts himself but the major figures of the nineteenth century. It is also testament to his wife and their colleaborative artistic relationship, as well as being testament to the change in attitude toward Watts' immensely powerful paintings.
The staff were very friendly and accommodating of children, and we began the next couple of hours perusing Watts works (one of us armed with a clipboard and crayons). Watts' work is not one that intrinsically appeals to my eye and yet there is something monumental about his brash, lively brush strokes which I do respond to. His technique must have been a lively and active one, and the impression he leaves upon the canvas is that of a force majeure. His grotesque Mammon (1885) was, for me, no better in the flesh but what a fitting deity for our times! Watts couldn't possibly have prophesied the work's relevance even though he wrote in despair of man's ever growing material prosperity and consumer worship (see Watts' 'The Present Conditions of Art'). Explorations of mankind's grotesque worship is anm astute and dark indictment, and it continues in many areas of Watts' work albeit in different forms, e.g from visions such as Eve Tempted (circa 1868) to the more allegorical Time, Death and Judgement (1870s – 1896).
Watts' visual debates of moral uncertainties of his day are akin to social commentaries found in the writings of Ruskin and Carlyle. Industry and its dehumanising consequences can be found in more 'real' works such as Found Drowned (1848 – 1850). This work is a powerful, emotive yet mournful improvement on Egg's decidedly Pre-Raphaelite Past and Present No. 3 (1858, Tate, London). Watts' woman lays in a glow as her life expires before our eyes. The woman clasps a heart shaped locket in her hand and our minds wander as to her story. We remain unable to help: we are impassive onlookers. We are too late. Watts' exploration of this subject is aligned with other Pre-Raphaelite associates, e.g. Stanhope and Millais, although it is much darker in both colour and representation (the images on-line brighten the woman's figure in a manner that is not true to life). Waterloo Bridge, the setting for this scene was a known site for suicides, and this woman's figure underlines the uncomfortable reality of the nineteenth century: a social realism Watts' and others were attempting to comment upon, but which only Watts did not romanticise or medievalise.This is one of four social realist paintings in the collection but it is far and away the best, not just for its melancholic quality. Perhaps we could consider this to be the end of the story for Stanhope's woman in his Thoughts of the Past (1859, Tate) (Stanhope was Watts' pupil and travelling companion for a time in the 1850s)?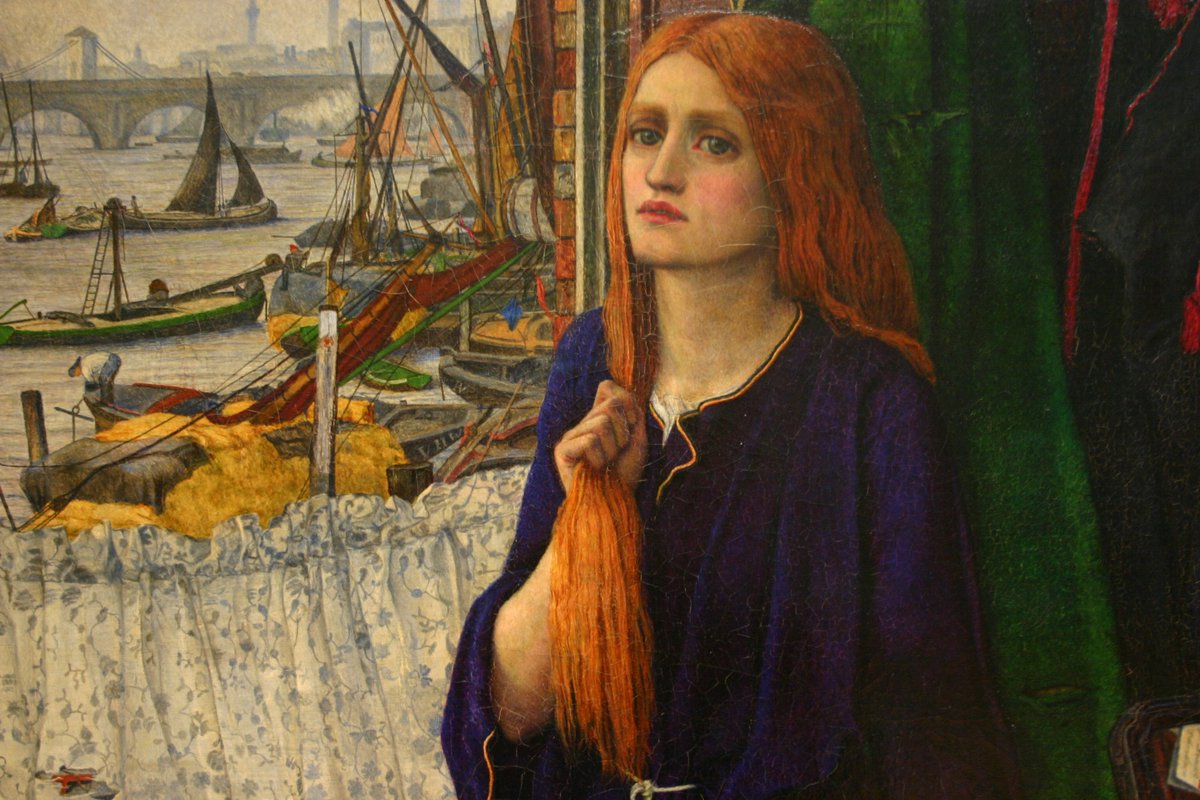 Another work which pulls on the heart strings and is worth spending some time looking at is Watts' The Irish Famine (1849 – 1859, Watts Gallery). The Irish Famine was an appalling catalogue of dire misfortune and circumstance, poverty, politics, and mostly unnecessary deaths. Watts' picture captures the victims of what is a shameful part of British history.
The stunning Watts Cemetary Chapel, a three hundred yard walk down the road, is Mary Watts' magnum opus. It is a stunning collaborative terracotta chapel where both her and Watts are buried. Lucinda Lambton describes the chapel thus:
'It is no exaggeration to say the Watts Cemetery Chapel is one of the most beautiful, extraordinary, original, marvellous and magical buildings in the whole of the British Isles!'
Although the building and decorating of the chapel was a collaborative project, as were many of the projects run in Limnerslease (the house where the Watts' lived and had a studio), Mary was the driving force and creative master of the chapel. She dedicated it to 'the loving memory of all who find rest near its walls, and for the comfort and help of those to whom the sorrow of separation remains.'  Watts financed the building of the Chapel through painting commissioned portraits, an activity that often caused him consternation – for example his painting of Carlyle was not a smooth nor rewwarding prcesss! On completion of the chapel, the Watts' presented it as their gift to the village of Compton, and the Watts Chapel remains a working village parish chapel to this day. The interior of the chapel is a sight to behold, and its simplicity is a confusing mix of highly detailed ornate art nouveau styled figures, and simple muted colours. The ancient and the modern are combined into a vision entirely individual and unique.
Further information can be found here:
The Watts Gallery, Limnerslease, and the Chapel are delightful and well worth a visit. They often house exquisite selective exchiibitions, most recently the Marie Spartali Stillman exhibition, but on this occasion the real reason I was at Compton was not for Watts, it was for the little known work of Eleanor Fortescue Brickdale, some notes of which can be found here.