The Quest for the Holy Grail was a major preoccupation for the Pre-Raphaelites. In one of Cooper's 'highlight pages' she includes four absolutely stunning images of the Holy Grail as designed by Burne-Jones. The stained glass panels were made by Morris and Co. in 1885, at a time when the angelic body had already started its progression toward secular usage, e.g. as demonstrated by Burne-Jones The Golden Stairs (1880, Tate). The four panels which Cooper has reproductions of, all depict angels: in the first three one angel gives us a glimpse of the Sangreal. The role of angels is primary; throughout the journey for the Sangreal an angel oversees but remains detached from the main action, until the final panel when the narrative emphasis is placed upon not just where the 'Sangreal abideth in a far country which is Sarras the city of the spirit' but upon the figures who guard it . The first angels seem to be guardian ones, as is so often the case within Anglican theology (as many of the Pre-Raphaelites were).[1] The architecture which houses the Sangreal is Romanesque which, broadly speaking, is a Catholic architecture (albeit Byzantine in origin, Romanesque style certainly swept over the major Catholic centres of Europe for nearly three hundred years). The drapery is coiled around the columns and as such the Sangreal is partially exposed to us. This sacred object is sat within a sacred space guarded over by the angels; it recalls the Ark of the Covenant which lay hidden behind the veil, in the Holy of Holies. As a narrative, the Sangreal can be seen as a form of typological symbolism: the fusion of the Old and New Testaments. In fact Cooper's reading of the narrative is as follows 'At the end of the quest, the cup containing Christ's blood is guarded by angels under a Romanesque canopy'. Christian virtue is a major preoccupation of Arthurian legend, and one which appears in various forms throughout Pre-Raphaelite works.
Cooper discusses the difference in treatment between Burne-Jones and Cameron; both artists being interested in Arthurian legends like Merlin and Nimue / Vivien. Cameron's works are more temptress like, more vengeful whereas Burne-Jones' realisation created a 'melancholy meditation on the vulnerability of love, and demonstrates his tendency to internalize the written sources so that they become woven into his personal history'. [2] His Merlin and Nimue watercolour of 1861 (V&A) shows a subtlety of colour which was described by Edward Clifford as being 'almost the finest piece of colour in the world'.[3] Cooper does make reference to the model, Fanny Cornforth, before jumping on to the role of femme fatale and enchantment when she references Burne-Jones' affair with the beautiful Maria Zambaco (she also mentions the affair again in Chapter Seven).
As well as Malory, Chaucer was another great source of inspiration. The Kelmscott Chaucer was a long running collaborative project for Burne-Jones and Morris, and was only just published before Morris' death in 1896. This beautiful work has a vast number of detailed engravings which show Morris' talent for pattern and observation, and Burne-Jones' eye for simplicity of line. Cooper quotes Catterson-Smith's description of Burne-Jones intention to 'get rid of everything but the essential lines'.[4] The Kelmscott Chaucer was a huge success when printed and 'rapidly sold out'.[5] Cooper sensitively recognises the 'project was a fitting end to a shared love of Chaucer that dated back to Morris and Burne-Jones' days at Oxford.[6] Whilst this project seemed to be a personal one, Cooper quotes Burne-Jones somewhat despondent and cynical comment that he 'would rather have been boiled ten times over' than continually revisit the designs for Goode Wimmen (which were made into tiles, and stained glass etc.) This fascinating insight into Burne-Jones' commercial attitude suggests that he did not always wish to follow the pressures of the business, and sought to maintain his artistic integrity. He acknowledged that he was able 'to live by the little ones' but recognised that the big pictures were a 'sacrifice', a personal mission.[7]
Amor is a figure who appears in both Burne-Jones, and also appears in Rossetti's work. Again the treatment is different, with Burne-Jones' Love paintings having a certain staid, melancholic, almost frozen quality to them. Love Leading the Pilgrim (1877, Tate) was one design which Burne-Jones pursued within oils, after a series of embroideries had been produced for Rounton Grange, Yorkshire, in the late 1870s. This is the nearest example to a 'bitter' angel, a mirror perhaps to Hunt's The Shadow of Death?[8] Whilst the inherent message of the work seems positive, the sombre colours do not translate a positive feel, and nor does the companion piece The Pilgrim Outside the Garden of Idleness (unfinished, 1893 – 1898, V&A) which, despite its brighter colours has an awkward, almost desolate feel to it. The gnarled wood of this is similar to his Study of a Tree (1867, V&A) – my observation, not Cooper's. The sense of journey and mission is intrinsic to these images, as is the sense of disquiet. 'Perhaps this is part of Burne-Jones' attempt to depict the Pilgrim's dream-state, through muted colours and uneasy encounters'.[9] As Cooper points out, one particularly unnerving element of The Pilgrim Outside the Garden of Idleness is down to its unfinished state. Many of Burne-Jones' works took years to complete, and many were left unfinished at his death. Cooper states that the 'guild' workshop approach within Burne-Jones' studio was not dissimilar to that of Renaissance workshops (or in latter times, Warhol or Hirst) and relays Philip Burne-Jones' words that 'the preliminary painting of the canvas was done by assistants'.[10] Whilst this is not a unique observation, Cooper's extension of this is worth noting; she says that we should turn to Burne-Jones' watercolours 'to find the most personal readings of Burne-Jones' favourite texts', perhaps suggesting that this is where we find the 'borderland between the world of work and the world of dreams.[11]
His Dorigen of Bretaigne (1871, V&A) is then given as one example of a personal watercolour and is read as moving towards art as a condition of music, and also of a long standing Pre-Raphaelite theme: that of the embowered woman, e.g. Mariana or The Lady of Shalott.
Rossetti draws upon Dante, morphing into his very character as far as was possible, and creating images of women within the boundaries of literature. Cooper's reminder of Rossetti's interest in Botticelli is brought out when she references his purchase of Smeralda Bandinelli in 1867. This work features in many of Rossetti's, e.g. The Donna della Finestra (1879, Fogg). Burne-Jones also turned to Renaissance artists and there are many sketches which feature Botticellian details, e.g. his Tormented Souls from Inferno (after 1867, V&A) or the fascinating Angels after Botticelli (after 1863, V&A) which can be found in the tapestry design Love (1880, V&A). This design was produced at the same time as The Golden Stairs, which is frequently viewed as being toward 'the condition of music' although it has a much more complex Christian iconography embedded within it which is frequently overlooked. Cooper suggests Walter Pater's 1870 text Renaissance made the critics wary for it 'seemed to encourage the androgyny of late Pre-Raphaelitism'.[12] Bullen also makes reference to the critics concern with being unable to identify gender. Androgyny was a point of derision and anxiety (and is also a central tenet of the representation of the angelic body; whilst angels are male named beings, they are frequently considered, incorrectly, to be unsexed or desexed beings. Art has typically treated them as feminised, androgynous beings).
It is informing that Love, an image which essentially performs as a piece of Dantean allegory clearly references Botticelli's The Coronation of the Virgin (San Marco Altarpiece) (1480, Uffizi): an overtly Christian celebration which has a host of angels. Cooper mentions the complexities of Burne-Jones' iconography which she describes as an 'eclecticism'.[13] His work is a fascinating and complex series of literary and imaginative obsessions: they range from the folkloric, to the fairy tale, to the literary, classical, Christian, and medieval.
The consistency of literary interest is one reason the Pre-Raphaelites and their associates share so many motifs. The Legend of St. George is another example, and St. George image appears on cabinets, stained glass, and in drawings, watercolours, and oils. Where the artists differ though, is in their representation of women. Dante, Chaucer, and Shakespeare were all key authors of interest. Less well known artists followed suit with such literary tastes, for example Henry Holiday's exquisite Dantean image Dante and Beatrice (1883, Liverpool) (the study for which is in the V&A collection).
The Edinburgh review which Cooper quotes shows how many of Burne-Jones' fairy tale works are about 'aspiration rather than fulfilment, of desire rather than fruition'. Perhaps this is also the case in Rossetti's many paintings of Jane. Desire and attainment is certainly a spectrum on which both artists paint, although Cooper sees artists like Millais as being bolder in their presentation of the woman as experiencing sexual awakenings stating Burne-Jones' preference for youth, and his lamentation at loss of youth.
Parallels are drawn between Morris, and Burne-Jones, and Sandys, and their use of literature as a bridge between ideas and symbols. The 'bridge' offers connections between the classical, Pagan, and medieval worlds. Burne-Jones certainly responded not just to Renaissance works, but also to classical legends. His approach to Pygmalion for example, is mediated through classical sculpture, as you can see in The Godhead Fires. Cooper highlights Burne-Jones' interest in Michelangelo when discussing The Car of Love (unfinished, 1870 – 1898, V&A) suggesting it is a hybrid of Michelangelo's sculptures which Burne-Jones saw at the Kensington Museum (the V&A). The Feast of Peleus (unfinished, 1881 1898, V&A) amalgamates Michelangelo's Jove from the Sistine Chapel. Agree with Cooper, that Burne-Jones' references and sources can become 'baffling'. Cupid's Hunting Fields (1880 – 1882, V&A) is seemingly a Classical, Pagan mythological work and yet in the context of his overall scheme at this time it has somewhat blurred boundaries. The notion of love in The Car of Love appears almost Dantean (Christian) but is ultimately Classical and Pagan as well. The theme being one he had tried his hand at before in Laus Veneris (1873-75, Laing Art Gallery, Newcastle). Each symbol is a thread, each narrative is a link. Cooper sees each intertextual reference as a challenge to 'Whistler's assertion that the visual arts should suppress narrative. For the late Pre-Raphaelites, the repetition of motifs from history or literature in different media was in fact the 'defining feature of the Aesthetic work of art''.[14]
To return to the images of Women, we should linger on Chapter Seven. Drawing gently on the biographies of Jane Morris' background and Rossetti's growing fascination with her, Cooper deftly draws out the subtle refinement Rossetti applies to Jane's image; asking whether or not she is 'real or copy'. This is Cooper's subheading which is a reference to Henry James' comment upon Jane. Cooper lightly floats the idea that Jane was, possibly (and why not), a contributor to the transformation which Jane maintained a more reasonable attitude about than Rossetti, who took his adoration of her to the extreme. Whereas James described Jane as a mortal being: 'a tall lean woman in a long dress of some dead purple stuff, guiltless of hoops,…a long neck without any collar' even studies by Rossetti are deified, e.g. the Study for Astarte Syriaca (1875, V&A) includes a pale chalk halo. The appearance of thwarted, fantastical, unresolved desire appears again.
The Daydream (which appears to have been printed in reverse in the book) (1880, V&A) is a highly sensual image, particularly when compared alongside the accompanying poem. Janey remains out of reach, which matches Shaw's view that 'she was the silentest woman I have ever met'.[15] Whilst Janey was enigmatic, she also seems to have been very pragmatic. Shaw's description of her taking no 'notice of anybody, and none whatever of Morris, who talked all the time' is a wonderful insight into that long since passed private world.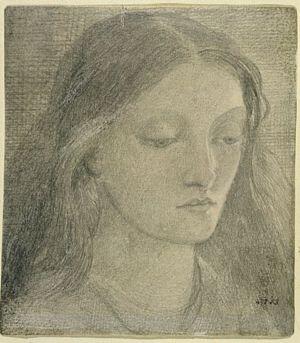 Lizzie Siddal is Cooper's next 'Woman' and the usual stories are told but in a pleasing manner. Well suited to the early works, her looks were not 'conventional', particularly cos of her 'unfashionable red hair'. (Cooper offers Jane in the guise of a more Venetian muse). References, quotes, and poetry (Christina Rossetti's 1856 poem, 'In an Artist's Studio') all help shape the woman we would love to know more about. Two of the pencil drawings from the V&A archives which Cooper includes are particularly tender, e.g. Head of Elizabeth Siddal (1860, V&A).
Georgiana Burne-Jones, Margaret Burne-Jones, and Maria Zambaco are mentioned but only swiftly. Cooper uses these figures more to introduce The Depths of the Sea sketch (1885 – 1886, V&A) which is very different in tone to the finished oil. In the sketch, the mermaid is (to use Cooper's word) meditative. She certainly seems relaxed but I would not say it was in a musing way. The mermaid has a strange almost sedated quality to her expression. So vastly different from the 'look of triumph that is neither human nor diabolic' in the oil.[16] Burne-Jones' attitude to women was mostly appalling: mystification, idolatry but no real tangible evidence of respect. Some of his comments are entirely patronising, e.g. 'I like women when they're good & kind & pretty – agreeable objects in the landscape of existence' or his view that educating girls made them into 'tenth rate men' who 'don't understand anything about pictures'. A strange and unforgiveable attitude when women were such an integral part of the Pre-Raphaelite venture, particularly when it came to Morris and Co. As Prettejohn said, and Cooper repeats for us, ''most numerous of all…are the works that were never made', because of family duty, discouragement or death'.[17]
Christina Rossetti is given some attention (albeit the focus of the book is art historical, not literary). 'Goblin Market' and 'If' are both discussed in relation to the marvellous engravings by Sandys which Christina seemed to admire (at least enough to allow him to continue to produce designs for her books). Sandys If (1866, V&A) is a beautiful dramatic distinction of light and shade, like so many of his engravings. A hair biting woman also features in Proud Maisie (1868, V&A) which Swinburne described as 'a woman of rich, ripe, angry beauty' who 'draws one warm lock of curling hair through her full and moulded lips, biting it with hard bright teeth, which add something of a tiger's charm to the sleepy and couching passion of her fair face'.[18] Burne-Jones, Rossetti and Sandys were more interested in ideals, than real women.
Cameron was one active artistic participant, who knew immortality was hers by association with Tennyson; it seems her affiliation with the Pre-Raphaelites was to be an even greater importance for her legacy. Whilst Cooper doesn't dedicate much space to Cameron, she does make plain her importance, her interests, and her position within the circle. The one example of Cameron's work which is reproduced in the book is of St. Agnes (1864, V&A). I am unclear why this religious theme is not drawn out more in Chapter Eight which I move on to discuss in Part 4.
[1] Guardian angels are a curiously Anglican phenomena.
[2] Coper, page 82.
[3] Cooper, page 82.
[4] Cooper, page 84.
[5] Cooper, page 86.
[6] Cooper, page 87.
[7] Cooper, page 92.
[8] I refer to my writings on Landow, where I consider Hunt used the shadow as a form of 'bitter annunciation'. The angelic body being subsumed into a more melancholic, maybe even at times, malevolent, messenger (which is in some way in keeping with the darker roles angels occasionally performed).
[9] Cooper, page 92.
[10] Copper, page 92.
[11] Cooper, page 93.
[12] Cooper, page 96.
[13] Cooper, page 109.
[14] Cooper, page 109. Cooper is quoting Professor Elizabeth Prettejohn.
[15] Cooper, page 121.
[16] Cooper, page 126. The Times, 8 May, 1886.
[17] Cooper, page 128.
[18] Cooper, page 116.