The women's suffrage movement began in earnest in the United Kingdom in the nineteenth century.[1] From 1918 women over the age of 30 with property or as graduates of British universities were given the right to vote (whilst men could vote at 21 regardless of his qualifications).[2] This was a victory in part but it was not for another ten years, in 1928, that full voting rights were given to women in the United Kingdom.
The battle for women's suffrage was long and hard. In the Municipal Franchise Act (1869) certain female taxpayers received the right to vote in local elections; a right which was reiterated in the Local Government Act of 1894 and then extended to include some married women. Surprisingly, it was the Isle of Man who first gave women property owners the right to vote in 1881: New Zealand followed suit in 1893, and South Australia in 1894 but Europe trailed behind, with Finland leading the way in 1907, followed by Norway in 1913. Britain was no trailblazer for women's rights.[3]
During the early part of the nineteenth century, women had become more politically engaged and mobilised in Britain. There was a campaign to include suffrage in the Reform Act of 1867, and although it failed, important supporters, such as John Stuart Mill (author of The Subjection of Women (1869) and a member of parliament since 1865) were joining the voices of the Suffragettes.
The most famous Suffragette still seems to be Mancunian Emmeline Pankhurst (1858 – 1928) who founded the WSPU, the Women's Social and Political Union, in 1903. Born into a politically minded family, she had spent time as a Poor Law Guardian and had seen workhouses first hand. In her husband, barrister Richard Pankhurst, she found a supporter sympathetic to her political ambitions, and together they founded the Women's Franchise League (although that folded prior to the WSPU which she founded five years after Richard's death in 1898).
Pankhurst transformed the WSPU machinery into the Women's Party, which was dedicated to promoting women's equality in public life, the baton of which has now been taken up by the just launched Women's Equality Party. Sadly, Pankhurst died just prior to the 1928 amendment.
Her approach to suffrage was aggressive, militant, and hostile. She fell out with her daughters and pushed her followers to the limit. Jailed numerous times and staging several hunger strikes, Pankhurst was unrelenting and unrepentant. Although Pankhurst's experience didn't mirror those she fought for, she was driven by the unacceptable misery and poverty of those women she had seen when visiting the workhouses:
The first time I went into the place I was horrified to see little girls seven and eight years old on their knees scrubbing the cold stones of the long corridors … bronchitis was epidemic among them most of the time … I found that there were pregnant women in that workhouse, scrubbing floors, doing the hardest kind of work, almost until their babies came into the world … Of course the babies are very badly protected … These poor, unprotected mothers and their babies I am sure were potent factors in my education as a militant.[4]
The 2015 film Suffragette attempts to speak with the voice of these repressed, abused, and disenchanted women. Set in London, the film presents the working classes and the story commences in 1912 with fictional laundress Maud Watts (played by the not entirely convincing Carey Mulligan). Photographically the film is a well-crafted depiction of working class life; the tepid pale palette is key, for it delivers the bland monotony of life such as that experienced by the likes of Maud. Like Pankhurst, we can see and smell (and have an in-depth description given to us) of the health risks of being a laundress, of the endless ironing alongside the accompanying sexual abuse. Woman was mere property, whether that of husband or employer.
Maud's somewhat silent and beleaguered character's ascension to Suffragette is the intended arc of the story and, if one was feeling generous, one could find her fairly convincing. Mulligan, seemingly the new dahling of the big screen, didn't deliver the layered and emotional performance the role required. The script is not particularly well-crafted, relying instead upon the visual sweat of the laundresses and the brutal force-feeding scene to communicate details. It is unfortunate that Romola Garai, who we barely see on screen, was not given the lead role: a substantial loss for both her and for the film. In order to compensate for  Mulligan's inexperience, the audience is pacified with appearances from grand dames Helena Bonham Carter and Meryl Streep.
Streep's cameo performance is as the complex figure, Pankhurst: The script and her appearance is unremarkable, and her accent is disappointing. Streep appears just once, on a balcony wearing a veiled hat, to rouse her soldiers with the famous quote "I'd rather be a rebel than a slave". Pankhurst is seen disappearing out the back of the house before escaping in her carriage (not before giving a quick word of militant encouragement to Maud and having obviously despatched a veil wearing decoy to confuse the baying policeman). The scene is unemotional and not the rousing, exciting clandestine political rally it should have been. It is rather tame. If anything the film, despite its heroic intentions to twist the view away from the dominating Pankhurst family to working class women, undermines Pankhurst's complexities and her relentless commitment to activism. The unfamiliar viewer could be left considering the possibility that Pankhurst was merely management, just a 'behind the scenes' leader, and not heavily involved in militant activism, and equally subject to force-feeding and imprisonment as she was. The one attempt to affirm Pankhurst's activism is slightly misleading: the film refers to Pankhurst as spitting at policeman, and whilst she may well have done, it was actually her equally militant daughter Christabel who was arrested for doing so.
Bonham Carter plays Suffragette and university educated chemist Edith Ellyn, whose own determination is supported by that of her on-screen husband. It is thanks to Bonham Carter that Edith's character has the name she does, a homage to Edith Garrud who trained members of the WSPU in martial arts (a scene of which is included briefly in the film).
Bonham Carter's part in the story is interesting and relatively well positioned (she contrasts well with Maud for example) but the on-screen presence is a much tamer one than an actress of Bonham Carter's calibre can handle. If only the film were made twenty years ago, perhaps she could have played Maud in a manner more emotionally engaging.
The film illustrates sexual exploitation / abuse, poor working conditions, unequal pay, long hours, property and ownership, and parental responsibility, although it doesn't really grapple with any of them. Maud is initially a hard working obedient character, although her interest is sparked by her colleague's suffrage activities. Not intending to become a suffragette, the film draws Maud into their world through a series of gradual developments (it achieves this quite well and the pace is to be commended). After first being pushed into speaking before members of parliament, and then realising the meeting was purely to pacify the women, Maud witnesses a violent struggle between the police and the Suffragettes.[5] She is caught up in the affray, arrested and sentenced to one week in prison. Her husband is appalled and her social standing with their immediate peers is impacted. Maud (seemingly) becomes emotionally and politically alienated from her husband, and increasingly disenchanted with the system she now fully perceives herself to be trapped within. Her husband finally kicks her out after a further arrest and Maud is roused to militancy, or rather is left with little alternative. Maud's child George, a wonderful little actor who pulls on the heart strings no end, is subject to the consequences of Maud's increasing involvement with the Suffragettes. Despite Maud's attempts to maintain contact with her son, he is finally given over, by her husband, to a couple for adoption. Whilst this scene is emotional, it is still dampened down; the raw guttural, visceral cries a mother would bellow as her child was taken before her very eyes are not strong enough: another example of Mulligan's inexperience. George's tears, and the one convincingly desperate grip of him by Mulligan, are both sad and blindingly real (generally though, Mulligan's expressions are a repeat of the unimaginative sighing she frequently did in Far from the Madding Crowd (2014)). The film does not satisfactorily tackle the extraneous impacts and consequences of suffrage involvement; or rather its attempt to do so via this scene is somehow wanting.
The film also chooses not to resolve or fully delve into the morality of Suffragette activism: 'Deeds not words'. We see stones being thrown and bombs being made / detonated, and the recently obedient and relatively mute Maud suddenly has no conscience or fear over bombing an MPs house, but there is no significant discussion about whether this violence was a valid strategy, nor was there sufficient reference to the ensuing division it caused (as there was within the WSPU, and even in Pankhurst's own family). Assessing the Suffragettes militant activism continues to cause debate among historians over whether violence was, or can ever be, justified.
The film's treatment of Emily Wilding Davison's death is set in the context of this violence, of the imprisonments and horrific force-feedings which the Suffragettes underwent. Our sympathies are drawn by Mulligan's force-feeding scene, which we are warned about before the film starts. If these personal and physical sacrifices and hardships were not enough, what more could the women do to be heard? Pankhurst's voice was clear: 'The argument of the broken window pane is the most valuable argument in modern politics…Be militant each in your own way'.
The line "War is all men understand" is placed neatly by way of an explanation for Emily Wilding Davison's demise. The Derby Day race, shot like a W.P. Frith painting, is clearly presented as a desperate, rising, committed attempt to do something more, something shocking. As Davison moves under the barrier onto the race track, she affirms the WSPU motto: "Never surrender. Never give up the fight." The implication is clear, Davison was an extreme activist and suicide was her intent.[6] The scene is rather slow in pace, and it is a shame the noise of the race course was not entirely muted, as the emotion would have been more guttural that way. Regardless, the film intended the emotion to come, not from this scene, but from Davison's funeral. In the film, Davison dies on the course whereas in reality, she died four days later from serious internal injuries and a fractured skull. Her actual death would not have been a cinematic one.
The film's finale is black and white footage of Davison's actual funeral cortège: a procession of Suffragettes in black sashes who marched behind her white lily covered coffin. The film chooses to focus on Davison's martyrdom, and we are lead to believe her death was a deciding factor in votes for women being sanctioned. But in reality, it was another fifteen years before all women were able to vote in Britain and, as we learn from the rolling credits, some countries were significantly later, e.g. Switzerland didn't grant women the right until 1971. It would have been more impactive to list just those countries where women still cannot yet vote. Perhaps this film is in part illustrative of our continued inability to successful manage and portray these complex women's issues and characters, although we must at least applaud the attempt.
But how should we understand Davison's death? As martyr or hysteric? Her death has recently been discussed as a possible accident. On closer inspection, the film footage which shows the awful moment Davison was hit by the King's horse, suggests she was trying to attach a suffrage scarf to the horse's bridle. It is thought Davison had a clear view of the track and was therefore, not recklessly trying to kill herself. So perhaps her death was not a desperate yet conscious martyrdom? Davison's death as valuable, dramatic and martyr-like has also to be viewed as irrational and unnecessary. Breaking windows was one thing, but death was never meant to be on a Suffragette's agenda. In fact curbing Suffragette violence was a decisive move only the following year, in 1914, when the First World War broke out. Unity against the common enemy took precedence, although by this time both Pankhurst and her daughter Christabel ('Miss Pankhurst') felt moderate tactics were ineffectual, but they were astute enough to recognise the international situation and the need for national cohesion.[7]
Many of the images we have of the Suffragettes come from the disturbing and uncomfortable surveillance pictures, held in the National Gallery archives (donated by the Criminal Record Office). This seedy paranoid collection of photographs leave an unpleasant taste in the mouth; evidence of the (male) state silently engineering a means of perpetuating its vice like grip upon the female. Since 2011, a 1909 exhibited portrait of Christabel Pankhurst has been in the hands of the National Portrait Gallery and raises one final question worth considering.
The Suffragettes moved from peaceful protest, to moderate violence, to full-scale bombs. They derided and objected to the male constitutions who made the laws they were forced to live by. But their attacks didn't stop at the men, they also attacked cultural capital.
On the 11th March 1914 (the same year Pankhurst had decreed less direct action) one Miss. Mary Richardson attacked Velazquez's Venus of Rokeby (1647 – 1651, National Gallery) with a 'chopper', slashing the work. Her reason for this act was recorded as follows:
I have tried to destroy the picture of the most beautiful woman in mythological history as a protest against the Government for destroying Mrs. Pankhurst, who is the most beautiful character in modern history.
Fears of further attacks led to galleries closing initially, and when reopening, they insisted 'not only the sticks and umbrellas belonging to visitors should be left with the attendants at the doors, but that muffs, parcels, and satchels should also be deposited in their custody'. The British Museum permitted women in if they were accompanied by a male: hardly a progressive victory for the Suffragettes.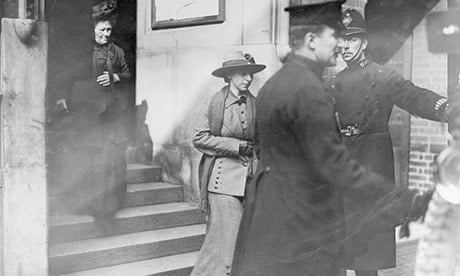 In July 1914, when Pankhurst was arrested again, 'Anne Hunt', real name Margaret Gibb, took to Millais's portrait of Thomas Carlyle (1877, NPG), the gallery's founder, with a cleaver. Hunt was sentenced to six months, but was apprehended trying to re-enter the National Portrait Gallery that August. She was prevented from entering. As an art historian, I am hardly delighted. I cannot ever endorse cultural destruction. How do I feel as a woman who has the right to vote? Currently, I'd feel better if there was a 'none-of-the-above' option on my ballot paper.
You can read Pankhurst's biography, 'My Own Story', here. Whether one agrees with the Suffragettes' militancy or not, I recommend reading 'My Own Story' as it gives insight into the Suffragettes escalating policies and the Liberal governments  incompetence at handling and debating the changing political climate.
[1] The word suffrage comes from the Latin suffragium, meaning 'vote'.
[2] In 1914, 40% of British men were still unable to vote, due to the wealth qualifications. Post the war, it was considered immoral to prevent soldiers from voting, and the Representation of the People Act 1918 enfranchised all men over the age of 21. It is important to acknowledge the disparities were not all regarding gender, they were also about class and wealth.
[3] Ironically, Emmeline Pankhurst's mother was descended from the Manx people.
It may surprise one to learn that other European countries such as Switzerland did not grant women the right to vote until 1971. There are still countries where women do not have this right, Saudi Arabia for example (although King Abdullah bin Abdulaziz al-Saud declared that women would be able to vote and run for office starting in 2015. This remains to be seen, although we are now in the last quarter).
[4] Emmeline Pankhurst, My Own Story (London: Eveleigh Nash, 1914), pg. 25.
[5] I am unclear what level of literacy a laundress would have had, but the film implies Maud was perfectly literate. The statistics seem to suggest literacy rates were as high as 40% in 1912, so it is feasible.
[6] Davison was jailed on nine occasions and force-fed forty nine times.
[7] Christabel was heavily involved with all levels of suffrage. Emmeline appears to have ruled her family in a dominating, controlling Queen Victoria like manner, so much so she became alienated and estranged from her more politically moderate daughter Adela.