The current exhibition at the National Portrait Gallery is entitled: Russia and the Arts: The Age of Tolstoy and Tchaikovsky. It is part of 'Great Britain-Russia Year of Language and Literature 2016' being supported by the British Council. The British Council will lead the project in Russia and the Russian Ministry of Foreign Affairs will lead Russia's celebrations in the UK.
Both Britain and Russia have rich literary traditions, and this collaborative project ensures meaningful dialogues and greater access to works in the cultural sphere of each country. As the project coincides with the 400th anniversary of Shakespeare's death many events in Russia will celebrate the playwright's influence on global and Russian culture.
Russia and the Arts is part of a joint project between the State Tretyakov Gallery (Moscow's main gallery) and the National Portrait Gallery, London, devised to celebrate their shared 160th anniversaries. Both galleries were originally founded in order that they could display their respective country's collection of eminent figures. In April 2016, the Tretyakov will display portraits from the NPG collection, including: Shakespeare, Isaac Newton, Charles Dickens, and Elizabeth I and Russia and the Arts is the Tretyakov's return gesture, providing British audiences with a chance to see many works that have never left Russia. Laura Cumming from The Guardian writes 'This once-in-a-lifetime show of portraits on loan from Moscow is like seeing Chekhov, Tchaikovsky, Tolstoy et al for the first time' and 'is not to be missed'.[1] And it really isn't. Cumming goes on to say  that to 'To walk among them is to return to that almost imaginable Russian culture of radical thinkers, writers, artists and composers before it was devastated by the First World War and the Bolshevik terror.'[2]
In 1856, the same year as the foundation of the NPG, textile industrialist Pavel Tretyakov began to collect the works now on display in the rooms at the NPG. The motivation behind Tretyakov's collection was to celebrate prominent figures in Russia's public, intellectual and cultural worlds. Tretyakov dedicated much money and time to the development of his collection over a period of forty odd years, not only buying works but commissioning artists like Ilya Repin to paint famous faces. When Tretyakov donated the collection to Moscow in 1892, it comprised almost two thousand works of art and it was valued at 1.5 million roubles (a serious amount of money considering there was a terrible famine in 1891 and 1892 where one pood of rye would cost 1 ruble).
This exhibition spans fifty years through only thirty portraits and is split into several themes e.g. Critics and Writers, Composers and Musicians, Patrons and Estate Cultures. As you walk through the rooms you not only meet major cultural figures like Chekhov but you stand before the impactive emotion of men like Dostoevsky with your senses being further roused by Russian classical music.
During the nineteenth century strong Russian literary voices were necessary to describe, analyse, and scrutinise the country's autocratic system of government. Writers such as Tolstoy debated modes of existence (e.g. Anna Karenina (1877)) and worthiness (e.g. compare Count Vronsky and Kostya). One means of counteracting and dignifying Russian experience and culture (as opposed to European art practice) was to impress strong Russian folkloric traditions, whether in literature, art or music. This means the images in Russia and the Arts has a particular flavour personal to the Russian nineteenth century. Vladimir Dal was one such writer, a lexicographer who compiled and documented the oral history of the region that later became part of modern folklore. Dal travelled by foot through the countryside, similar to the way Rasputin did later, and collected fairy tales in various Slavic languages, publishing a collection of these in 1832. Aleksandr Pushkin used some of Dal's unpublished writings as a source for his own verse. Such was their friendship that after Pushkin's fatal duel in 1837, Dal was summoned to his deathbed.
Perov's 1872 portrait of Dal is sage. It depicts Dal sitting in a teal velvet chair that encloses and dignifies him. His body is engulfed by the brown coat that hangs from his shoulders. His red tinged white beard gives Dal a timeless look, he is both now and then, he is with us still, as are his ideas. This fatherly figure appeals to us as someone who pays heed to our worries and ideas, but with a wise and kind soul. His face is worn and tired but he has energy and life within him. Dal gazes just past your right shoulder and although you can never quite meet his eyes, you are transfixed by them. Their pale sea green lights up his face and contrasts with the deeper green of the chair. His eyes are alert and you feel he is listening intently. He is a man of thought, as indicated by his tightly knitted fingers; his answer or his musings will, like his fingers, unravel with time.
Of course Dal's face and name is not well known here, certainly not when compared to Ivan Turgenev, Fyodor Dostoyevsky and Leo Tolstoy. In 1852, Turgenev published a collection of stories known as A Sportman's Sketches, and went on to write novels and plays chronicling Russian life. Repin's portrait of Turgenev (1872, Tretyakov) appears aloof and Turgenev uncomfortable, unimpressed even.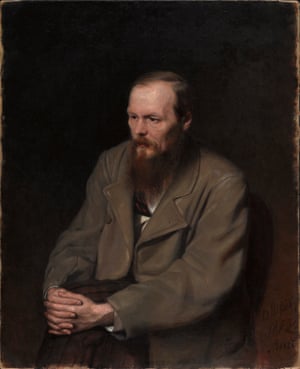 Perov's portrait of Dostoyevsky (1879, Tretyakov) reflects the character and life of the sitter, as well as the tension of his novels. This portrait is unforgettable, although new to many of us. Dostoyevsky was an intense man who knew suffering from a series of appalling first hand experiences. In 1849, at age 28, Dostoyevsky had been arrested for his involvement in an underground socialist society. After enduring a mock execution, he spent four years in a labour camp in Siberia where his hands and feet were shackled and he was variously starved and put in solitary confinement, and then a further five years were spent in enforced military service. It should be no surprise that a man like Dostoyevsky produced the masterpiece that is Crime and Punishment (1866).
Unlike Dal, or Turgenev, Dostoyevsky does not look to us. He offers no kindness, but neither does he confront us. Instead remains out of reach, isolated within himself, and perhaps in his past. His small yet intensely dark eyes look out of the space, dislocated and unengaged. This pale figure is lost in a day dream, but it is not a pleasant one. The dark wash of browns, greens and blacks disembody Dostoyevsky and the sense of resistance and physicality we get is from the way he pulls himself into himself, tightly pressing on the knees of his crossed legs with clasped fingers. The bulk of his coat suggests a strong man, and yet underneath that thick woollen coat the body seems frail but, like Dal, his mind is creating and thinking. The difference between the two men seems to be in their relationship with the eternal world: and this portrait suggests Dostoevsky lived an internal life: as he said himself 'Life is in ourselves and not in the external'. This is the only image of Dostoevsky painted from life and yet within it we can feel the depth of a man whose hands and feet were shackled during his Siberian imprisonment for being a member of an underground socialist society. Aside from the hard labour, intense climate changes (from below zero temperatures to scorching heat) Dostoevsky endured a mock execution, four years in a labour camp and a further five years in enforced military service.
Tolstoy acquired an international following with War and Peace (1869) and Anna Karenina (1877), before renouncing his earlier fiction in order to devote himself to religious and philosophical enquiry. Nikolai Ge's 1884 Tolstoy portrait toys with light and shade. The light gleams from the papers Tolstoy writes upon, mirrored by the touch of light upon his cerebral brain. Tolstoy, like Dostoevsky, is deep in thought in a manner that is beyond our more quotidian philosophical comprehension. These authors and their texts remain exemplar as a form of art whilst being representative of the culture witnessed under imperial rule.
Braz's Anton Chekhov (1898, State Treyakov Museum) belies a modernist visionary. Along with Ibsen and Strindberg, Chekhov created plays so dreamlike, so ambiguous and yet poetic in their exploration of the nouveau riche and their sense of futility and lack of purpose. Chekov would be surprised to know that his reputation was reappraised after his death and now he is considered a formal protagonist of modernism. Braz's portrait, painted six years before Chekov's quaintly champagne death, seems in keeping with a man who was plagued by tuberculosis but affectatious even as he slipped from this mortal coil.
Not all the paintings are of men in this section, there is also Serov's 1905 portrait of actress Maria Ermolova (Chekhov wrote his first play for Ermolova). Fittingly, Serov creates a stage for Ermolova to inhabit and she rises against a background not dissimilar to Khnopf's Posthumous Portrait of Marguerite Landuyt (1896, Brussels). Ermolova rises up with a similar elegance, although she is more sober and less Whistlerian in her symbolist evocation. Ermolova has a resilience which Khnopff's paintings do not. Ermolova commands her space and us, her audience whilst still remaining out of our reach.
Whilst Russia's theatrical scene was well established during the nineteenth century, the St. Petersburg Conservatoire was founded in 1862 (this is still an internationally renowned conservatory). Nationalism was increasingly apparent in the arts; instead of creating a pasticcio and following European styles and trends, authors like Chekhov and Tolstoy had produced particularly Russian feeling literature and composers like Nikolai Rimsky-Korsakov and Modest Mussorgsky followed suit with their music.
In 1881 Mussorgsky was in hospital being treated for his alcoholism. Repin's immense portrait shows his enormous character and real stature of soul. Mussorgsky has a gravitas despite his messy hair and beard, and his dressing gown. Repin described the composer as 'a natural genius, a medieval warrior, with the appearance of a Black Sea sailor'. His brushstrokes are loose and fast and capture a light in Mussorgsky's eyes.
Mussorgsky was initially compliant under his 'strict regime of sobriety … But he was already dreaming of rewarding himself for his long patience. Despite orders forbidding cognac, an attendant obtained a full bottle … for M's name day (he was loved by all). My last session was planned for the next day. But when I arrived at the appointed hour, I did not find Mussorgsky among the living'. The brushstrokes slip through the canvas just as life did through Mussorgsky's hands and the light in his eyes, so well depicted by Repin, was distinguished. As with many of those featured in this show, Mussorgsky's life was cut short, and he died defiant and bold at the age of 42. Touchingly Repin declined payment, requesting his patron to donate the money for a Mussorgsky memorial. This was duly done. It is almost impossible not to draw comparisons between Repin's brushwork and that of Frans Hals, free and animated as they are. Repin's art is worthy of greater recognition, not only is his Mussorgsky full of energy, but his portrait of Pisemsky (1880) (see above) captures every thought, line and hair of the his face. No sitter could escape Repin's acute vision and intelligent handling.
The star of the show and the publicity shots is another of Repin's portraits, Baroness Varvara Iksul von Hildenbandt (1889). Aloof and beautiful in her bright red blouse and chic hat, the Baroness stands above us. Unlike Ermolova she does not present herself for our pleasure but for her own amusement. We are merely her pawns and we may soon be disregarded if we do not entertain her sufficiently. She was without doubt the Queen of the Salon, uncompromising and keenly astute. As with so many of the portraits in the show, it is all in their eyes. My only complaint about the show is that one is unable to indulge in sufficient postcard buying. There are certainly no postcards of the enigmatic Baroness.
The portraits in this exhibition are quiet in their splendour and their respect, sometimes coolly aloof. They are not ostentatious or noisy, intensely thoughtful, and they are often muted in colour. When used, the colours tend to be decisive and bold, as with the Countess. Each face and arch of the eyebrow in this cast of figures is considered and perfectly captured. Serov, Perov, Repin, Braz etc. all capture the soul of those involved and the spirit of the world they inhabited as they paint their way toward modernism. Those painters act as our window on great authors like Tolstoy and Rimsky-Korsakov who never noticed them paint anymore than they do us as we stand looking at them whilst they busily work. Tretyakov sought to collect this cultural heritage, these icons of literature, theatre, and music, for his times and ours. It is because of his great insight that we can now meet these giants of Russian culture face-to-face.
Now if we can only get the Louvre to exchange the Mona Lisa.
[1] http://www.theguardian.com/artanddesign/2016/mar/20/russia-and-the-arts-the-age-of-tolstoy-and-tchaikovksy-review-national-portrait-gallery
[2] http://www.theguardian.com/artanddesign/2016/mar/20/russia-and-the-arts-the-age-of-tolstoy-and-tchaikovksy-review-national-portrait-gallery