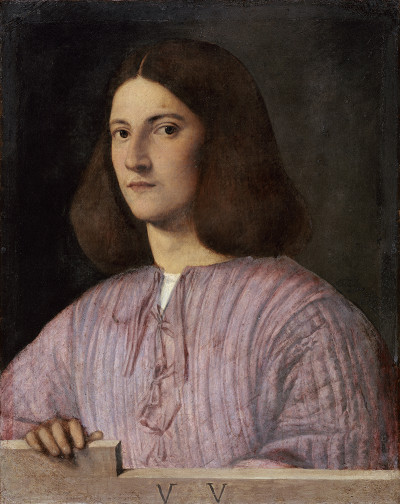 Giorgio da Castelfranco, otherwise known as Giorgione, is a shadowy unknown figure of Renaissance art. Although we know little about his life, we do know something about his death. Giorgione died in Venice in 1510 from the plague although we do not conclusively know how old he was when he passed. The few 'facts' we do know about Giorgione come from none other than Giorgio Vasari. Vasari's Lives of the Most Excellent Painters, Sculptors, and Architects suggests that Giorgione died at the christological age of 33.
We also know, not least from his name, that Giorgione came from Castelfranco, a town only about thirty miles inland from Venice. Although he is now synonymous with Venice we can only really tentatively conclude that he spent at least the latter period of his life there, although stylistic evidence supports Carlo Ridolfi's statement that he served his apprenticeship there under Giovanni Bellini and stayed there due to a blossoming and successful career.
In 1500, when he was only twenty-three (that is, if Vasari is correct about his age when he died), he received some major commissions, including painting the portrait of the Doge Agostino Barbarigo and the condottiere Consalvo Ferrante. In 1504 he was commissioned to paint an altarpiece in memory of another condottiere, Matteo Costanzo, in the cathedral of Castelfranco and in 1507 he received part payment for a painting for the Doge's Palace. That same year he was employed alongside other artists of his generation to decorate frescoes for the newly rebuilt Merchants' Hall at Venice but sadly very little of this work survives today.
In fact these sparse stories are really the only details we have of the man, a fact in itself that leads some historians to query his very existence. The other stories of this artist suggest that he was, like Raphael, a lover and musician but this may well be myth (at least we have some corroborating stories about Raphael's loves and life).
The one thing we should know about is Giorgione's art and this is the premise behind the Royal Academy exhibition. His art is where we must start and end. In some ways it should not matter if he married, how old he was when he died, or when and where he was born, what matters is his legacy, his pictures.
But experts and art historians cannot even agree over that. For example the so-called Giustiniani Portrait (above) in the Gemäldegalerie, Berlin is named after its first documented owners, the Giustiniani family of Padua. It was not until the nineteenth century and the influence and rise of Renaissance art collectors that the work was attributed to Giorgione (the Victorians were quick to claim many works were by Giorgione). There are some critics who think the work is by a young Titian but the RA sticks to the generally widely accepted view that it is by Giorgione. Alive to the debate though, the RA encourages visitors to cast their own vote on Twitter using #voteTitian or #voteGiorgione. The popular Twitter view seems to be Giorgione although of course this does not reflect authenticity. If anything, this just reflects the success of the RA's advertising and Twitter's continued appeal. The arguments for both sides can be seen here.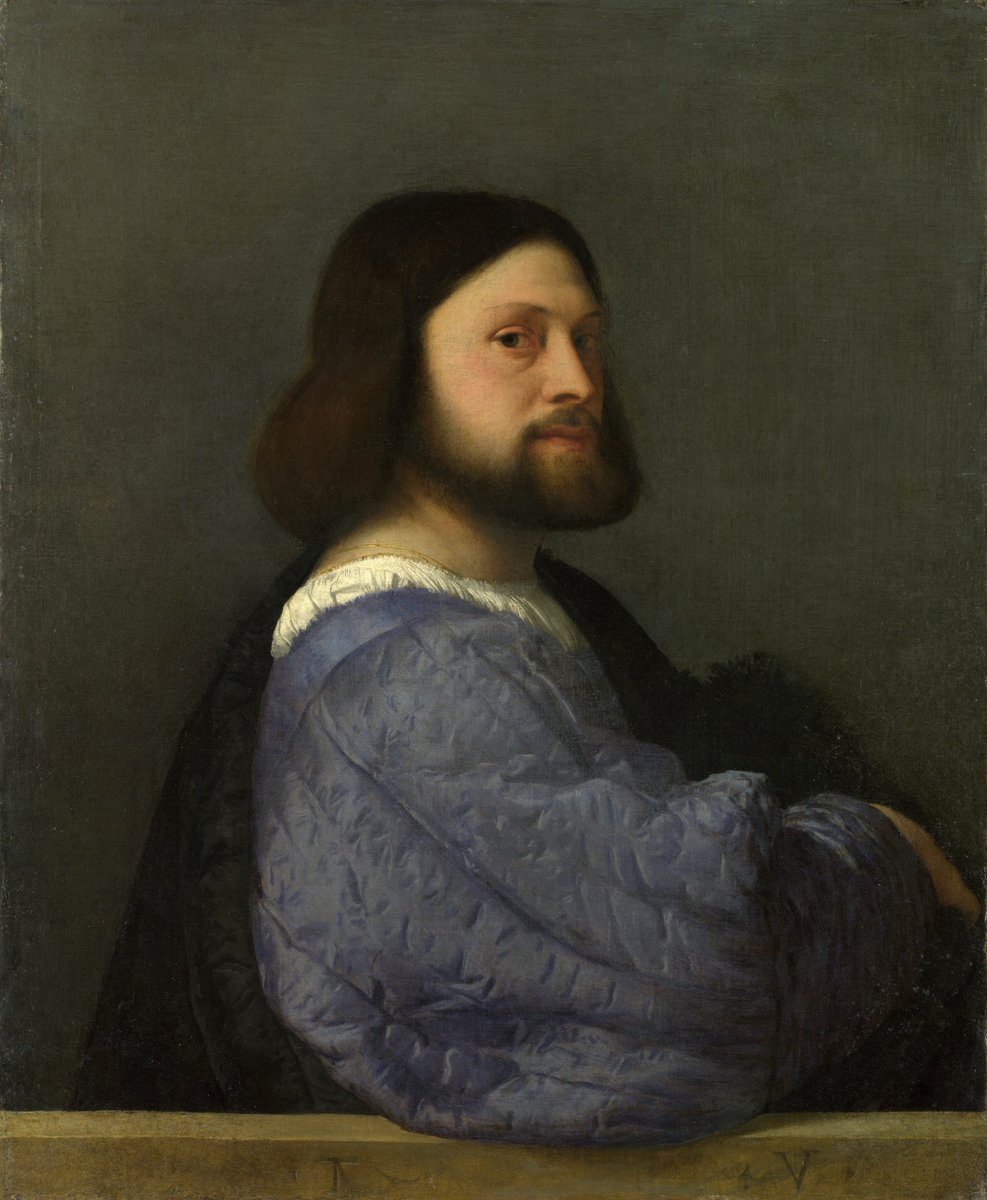 Giorgione was very closely associated with Titian and Vasari suggests Giorgione was Titian's master. It certainly seems that they worked together on the Fondaco dei Tedeschi frescoes, and there are suggestions that Titian finished at least some paintings by Giorgione after his death (although which ones is inevitably debated).
One work whose authorship is agreed is The Tempest (1508, Venice). The work shows a half-dressed woman suckling a baby in a landscape surrounded by architectural fragments whilst a nearby soldier observes lightning bolts flash in the sky – or is he looking at the woman? The allegory is unclear but the work retains much of the poetry and beauty Giorgione's works are known for.
His entire oeuvre is much debated and some suggest his output can only be definitively assigned to four paintings. The RA is more generous than this and this remarkable exhibition not only collates about a dozen paintings by Giorgione, but numerous others by Titian and del Piombo and other Venetian artists. The dark walls, the enigmatic faces and shadowy names all add to the drama that is Giorgione and his peers. The exhibition shows the in-depth scholarship and insightful connoisseurship of years of examination and thought and the show is reflective of that: it is niche, small and intimate but well worth a visit.
So what is it about Giorgione that compels a major institution to source images for display from around the world? Giorgione is a powerhouse of enigmatic stylishness. He is 'Big George' in every sense. Without him, Titian is nothing. Giorgione brings alive faces and people, times and relationships. He is a man of inescapable vision, he is the essence of poetry and perception.
Interestingly though the show opens with a Bellini portrait. The black capped individual is clearly an intellectual but as soon as we see this image, we are asked to turn toward a Giorgione. This is the work of the man we are here to see. Let us not pretend dear RA, that we are here for the others. It is Giorgione we desire.
This masterpiece is Giorgione's Portrait of a Man (often identified as the Terris Portrait after the name of a former owner). The work captures Vasari's so called 'modern manner', a vigorous lively application of paint which renders flesh living whilst leaving detail to his predecessors. It is evident from research that no underdrawing was done, and therefore Giorgione was a swift and action based painter. A style we find more comfortably recognisable in Frans Hals or Singer Sargent.
As with many of the works in the exhibition, the composition is closely cropped. We are to greet the sitter and we are to overcome our Britishness in meeting him. This work, like many in the exhibition, is dark and moody, brooding like the dark brown walls the RA hangs the works upon. However, in the case of this work, the now darkened jacket of the sitter was once a deep purple. These subtleties are not apparent to the viewer and only art historians are likely to know this detail. One asks why the work has not been cleaned, although I suspect there are conservatorial issues for not undertaking such an action prior to a major exhibition.
One of the most invigorating images is that of a youth holding an orange. The work is a delight. The beauty of the work is gently undermined with discord: do these figures love and trust or do they mistrust somehow? Or should the figure in the foreground be more mindful, after all the expression of the background figure is unnerving. His eyes are plotting, rather than dreamy like the central figure. What are we to conclude? Should we conclude? Does love ever tidily conclude? Who is safe when it comes to love.
The immediacy of Giorgione's works is repeated again and again e.g. in The Archer (16th century, National Gallery of Scotland) and in La Vecchia (1508 – 1510, Venice). The first half of the exhibition luxuriates in the portraiture of the time, even delving into works by greats like Durer. Time and transience, the passing brush, the passing expression or life are captured intimately in Giorgione's La Vecchia. Look at the written note she holds, 'With Time', a portentous sign if ever there was. Is she a memento mori? Is she us? Are we her?
After being forced to intimately engage with these up close and personal faces, the show moves on to half-length portraits. Hands, books, props, helmets and Renaissance parapets appear. Narratives deepen and become even less clear.
What does build though is movement, a sense of animation. Not just Giorgione's (for let us remember we cannot agree on what is his and what is not) but the whole period. Portraiture becomes alive, ever blossoming under the eyes of the astute Renaissance painters. Giorgione set the blue touch paper and we now stand before his legacy, in context, and we remark upon his genius and we argue about his attributions. But we still remain entranced.
Understanding paintings by other artists at the same time make us reconsider Giorgione. This is what the RA asks of us. We are to consider his originality, his contribution, his legacy. After all, it wasn't just Caravaggio who painted himself as David holding the head of Goliath, for Giorgione did it a century earlier.
So perhaps like La Vecchia, we are to meet our own mortality when we engage with the works of Giorgione. We certainly meet with the tragedy of this master's early demise.
'In the Age of Giorgione' is on at the Royal Academy until June 5th.