The title of the V&A's current exhibition is key, Botticelli Reimagined, but perhaps our desire for Botticelli is so pronounced that we tend to overlook the 'Reimagined' part. This is no fault of the V&A but is rather indicative of a tendency to romanticise and wallow in the 'Little Barrel's' beautiful figures, soft outlines and delicate colours.
The V&A press release states the motivations and approach to the exhibition:
Covering 500 years of art history and including over 50 great works by Sandro Botticelli (1445-1510), making it the largest exhibition of Botticelli paintings and drawings ever held in the UK, Botticelli Reimagined opens at the V&A on 5 March. This major new exhibition explores, for the first time, the variety of ways artists and designers from the Pre-Raphaelites to the present have responded to the artistic legacy of Botticelli. Including painting, fashion, film, drawing, photography, tapestry, sculpture and print, the exhibition also features works by artists as diverse as Dante Gabriel Rossetti, Edward Burne-Jones, William Morris, René Magritte, Elsa Schiaparelli, Andy Warhol and Cindy Sherman. Botticelli is now recognised as one of the greatest artists of all time. His celebrated images are firmly embedded in the public consciousness and his influence permeates art, design, fashion and film. However, although lauded in his lifetime, Botticelli was largely forgotten for more than 300 years until his work was progressively rediscovered in the 19th century.
This substantial exhibition is what we enjoy labelling a 'blockbuster' (a term that makes me grind my teeth) but how successful is it? Curatorially speaking why are we so concerned not with the art of the master's themselves but their legacy? In order to see another version of this curatorial practice one only has to visit Delacroix: The Rise of Modern Art exhibition on at the National Gallery. It seems we can only learn about the masters through bypassing them or placing them alongside other more well-known (read popular) names. We are eased into Delacroix's stormy colours through the more accessible Singer Sargent and the more well-known Gauguin or van Gogh, and for Botticelli Reimagined we are eased in with a clip from Dr. No (1962), a Dolce and Gabbana dress (1993), and Pop icon Warhol's Details of Renaissance Paintings (Sandro Botticelli, Birth of Venus, 1482) (1984).
Whilst other critics have been less complimentary about the arrangement of the show, the entrance way sets an appropriately slick tone for the first room. The dark room, the high gloss black floor, the ambient trickle of shell like music playing all set a welcoming space for these post-modern works to shine in. The V&A entitles this section: Global, Modern, Contemporary.
But there is a point when you begin to wonder if any woman being near a beach or shell is an automatic reference to Botticelli's Venus (1482-85, Uffizi). Does he really own the monopoly on that image? The V&A say yes, he incontrovertibly owns that image of Woman, but by merely acting as some sort of curatorial philatelist of shell images (Lady Gaga – tick. Bob Dylan – tick. Dr. No – tick) the message of Botticelli's work and influence is diluted.
In fact, the Dr. No scene with Ursula Andress (on loop the moment you walk in) was that moment. The clip was interspersed with the impressively beautiful and fantastic scene from Terry Gilliam's The Adventures of Baron Munchausen (1988) which I happened to see first and was delighted by, not least because of the classical beauty of Thurman, but because the very music trickled like water through my mind and continued to do so periodically whilst I was in this black gloss space.
Thurman's beauty compares wonderfully with Andress' and the clips are a lightweight way of inviting viewers in. After all, who doesn't admire the beauty of these two Venus like women? But Gilliam's depiction is an overt reference and sometimes one feels the V&A pushes its readings a little too far for their own purpose. Perhaps I am a little hard, but then it felt like the V&A were trying a little hard. They are desperate for us to accept Andress as Venus, Thurman as Venus, Lady Gaga as Venus, a motorcar wheel as Venus and a petrol station as Venus etc. etc.
The Botticelli motorcar wheel, manufactured by the Italian company OZ, feels rather desperate as it hangs rather awkwardly near floor height being mostly ignored by visitors. The central star shaped design was inspired by the brooch worn by the left of the Three Graces in Botticelli's Primavera (1477-82, Uffizi). We cannot deny these responses to Botticelli, but this impress of Botticelli's work does not actually reveal anything about him, in fact we are so near to popular advertising that the boundaries blur from art to marketing and from fact to (curatorially invented) fiction. Scholarship feels a little light. Curatorial philately. Does it really come down to the eyebrows? Is that why Donghi's Donna al caffè (1931) is included?
The label for Rineke Dijkstra's early-nineties photos of adolescent girls awkwardly posing by the sea in their swimsuits doesn't fill us with confidence. We are told 'The Dutch artist did not intend to reference Botticelli's Venus but the resemblance of the subjects' poses to this picture suggests how it has pervaded popular consciousness'. Is this a curatorial issue or actually a flaw in Dijkstra's work? It is hard to conclude, it seems the black high-gloss floor dazzles both the viewer and the curators.
The press release quotes Martin Roth, Director of the V&A, saying: "Sandro Botticelli is one of the greatest artists of the Renaissance and 500 years after his death his celebrated imagery has come full circle to represent a contemporary ideal of beauty. This ambitious exhibition considers his legacy and shows how and why it has suffused into our collective visual memory".
The problem is that the structure of the exhibition means there is too little focus on Botticelli himself and therefore, too much on our collective visual memory / Botticelli's legacy (I use the term 'legacy' loosely as it is unclear quite how the V&A perceive or define this term). The problem with this arrangement is that in order to be able to be fully cognisant of what you are looking at you have to understand the references in order to get as much out of the arrangement and the objects as possible). For example, Bill Viola's video installation, Going Forth by Day (2002), marvellous as it is, is lost if you don't understand the reference to Botticelli's Nastagio degli Onesti (1483, Prado) (and the tag explaining this is small and indiscreet, i.e. easily missed. This first room has no actual Botticelli's present, unless you count the dreadfully dated 1980s film footage tucked hidden away in a corner.
The other issue is the growing fear that we must make exhibitions appeal to as many people as possible, regardless of quality or validity of the object's inclusion. The spoon feeding arrangement of the exhibition is evidence of this. If we can fool the visitors into tripping out on some Dylan, and fantasising about Andress and / or Thurman (let's find women who appeal to both the older and younger generations) then they will be more receptive to the 'real' Botticelli's in the final room. Surely.
I suggest Orlan's 5th surgery performance – Operation opera (1994) may well achieve the reverse. Orlan appears having plastic surgery with a team of sequin clad surgeons in order that her body will resemble Venus. This performance art series may well be about rewriting Western art through moulding and shaping of the artist's own body, of Woman, but it reveals the vacuous and fabulously inane and dangerous lengths some people will go to for 'Art's sake'. I am not convinced this is to be applauded or has earned the right to be placed in an exhibition alongside Botticelli's painting. Thank goodness the real master's works are far away from Orlan's sequin clad self-conscious vacuity and the real Venus is safely tucked away in the Uffizi (this was hardly a motivation for Venus to leave was it).
This contrived and calculated self-consciousness is no doubt apparent in Jeff Koons' album cover for Lady Gaga's third album, Artpop. This is self-conscious maximisation, capitalist money spinning for the self-absorbed generation. What do we learn from it? Nothing useful and certainly nothing universal.
This is not so with Yin Xin's Venus After Botticelli (2008) which reinterprets the pale Caucasian beauty of Venus with Asian features. I'm not convinced she offers anything more than a statement on Western ideals of Beauty but that in itself seemed enough. The painted work (yes, painted!) was a delight none the less. It is a shame Venus could not join the party, but it is hardly a surprise. She is the Uffizi's Mona Lisa. But thanks to a Mussolini-sanctioned international tour of Italian art in the 1930s, Venus became loved and recognised by all and her image has been made into popular matter for artists up to our current times. What Xin does is make us confront our pervasive and immoveable Western idea of Beauty and for that Venus After Botticelli was one of the main highlights of this first room.
The other highlight worth mentioning is not the Warhol but LaChappelle's playful, gaudy and completely over the top and over exposed queer work Rebirth of Venus (2009): a delight, not at all intellectually stimulating but a delight nonetheless. But then, this room is not about intellect is it. It is about relationship. After all, why can't we enjoy LaChappelle's work for no particular reason when we are asked to listen to Dylan's Sad-Eyed Lady of the Lowlands? At least LaChappelle does reference Botticelli where Dylan does not.
Fortunately the second room is more intellectually engaging and we at least start to get closer to Botticelli (let's remember we have been promised the biggest Botticelli show in the UK in the last eighty nearly ninety years). Gone are the tinkling music and the Dylan Marlboro croak, our ears are now gently soothed with Debussy's Rondes de Printemps (1887). Spring. Venus is behind us (in the Uffizi) and now we meet a Victorian spring, the rising of Botticelli. The Victorians after all are the ones who 'discovered' Botticelli and it is they who were obsessed with Botticelli's Primavera (1482, also in the Uffizi).
This room is entitled Rediscovery. The press release states the room: 'traces the impact of Botticelli's art on the Pre-Raphaelite circle during the mid-19th century'. As you walk from the dark gloss of the first room, you enter, somewhat relieved, into a room of lightness. The walls are lighter, the carpets a soft blue, the frames are gold, and the colours more akin to Botticelli's own palette. This is a mini Pre-Raphaelite exhibition but what a joy it is.
The Pre-Raphaelites were in love with the Botticellian palette by the time the 1860s came round; Dante Gabriel Rossetti, John Ruskin and Edward Burne-Jones all owned works by Botticelli (these are exhibited in the final section of the exhibition), although Ruskin was so appalled by the quality of his Botticelli that he kept it hidden. The Botticelliean aesthetic was reinterpreted by the Pre-Raphaelites and the results can be seen in various top quality works (some of which the V&A own): Rossetti's La Ghirlandata (1873, Guildhall), Burne-Jones' The Mill: Girls Dancing to Music by a River (1870-82, V&A) and Ruskin's Zipporah, after Botticelli (1874, Brantwood) sit alongside later Pre-Raphaelite works by Evelyn De Morgan such as her Flora (1894, De Morgan Foundation) and the absolutely beautiful Botticellian Cadmus and Harmonia (1877, De Morgan Foundation).
The one Botticelli work owned by the V&A, the newly restored Portrait of a Lady known as Smeralda Bandinelli (c. 1470-75, V&A) was once owned by Rossetti who purchased the work at auction for £20 convinced of its authenticity. It is this work which softened Rossetti's colours as he created The Day Dream (commissioned by Constantine Ionides in 1879 and finished in 1880, V&A) which is also on display. Ionides acquired the Botticelli from Rossetti and bequeathed both works to the V&A, hence their current ownership. What is difference about Smeralda and Jane Morris is presumably the artist's individual feeling for the sitter, Rossetti was very much involved with Jane and this shows in her softened eyes and mouth. Smeralda on the other hand has a rather cooler expression and remains more aloof, less mythologised. The faces, colours, and even the Renaissance parapets and balconies appear throughout many of Rossetti's works though and his fascination with Botticelli is gently but definitively proclaimed.
De Morgan's Cadmus and Harmonia is taken from Ovid Metamorphoses (Book IV, 563 – 603). Cadmus is changed into a serpent by Mars and his wife begs for a similar fate. Here we see Harmonia in the embrace of her husband prior to her own transformation. Harmonia is not the old woman Ovid describes though, instead De Morgan's interpretation seems to have been in response to the trip she took to Italy, and in her hands a young Venus rises. Evelyn had copied Venus as a young student.
One whole wall is dedicated to copies of Botticelli's work and you have the opportunity to the copies by De Morgan, as well as others by Jean-Auguste-Dominique Ingres and Jean Moreau. The glass cabinets display some wonderful Beardsley illustrations which make the heart sing, unlike the only surviving film of Isadora Duncan dancing (c.1900) in a style that does not recall Spring at all.
Arnold Böcklin's work is both repellent and eye catching all at the same time. Venus' watery veil is delightful but Matthew Collings may have a point when he describes her 'as a human glow worm'.
This section moves beyond Venus reimaginings toward the wider catalogue of Botticelli's work and in doing so we are given more to grapple with. Rossetti's La Ghirlandata and Burne-Jones' The Mill: Girls Dancing to Music by a River (1870-82) to name but two. Primavera floats through this section, appearing in William Morris' The Orchard (1890) and in the outstanding Evelyn De Morgan's Flora (1894).
Flora stands next to a tree that bears fruit and is dressed with Florentine blossoms as much as they grow beneath her feet. De Morgan painted the work entirely in Florence and it is firmly a response and aesthetic reinterpretation of Primavera. A marvellously successful one at that, even the ribbon and floral motif of the Renaissance tondo frame is used by De Morgan. The scroll in the bottom right of the painting is in Italian and translates as:
I come down from Florence and am Flora,
This city takes its name from flower
Among the flowers I was born and now by a change of home
I have my dwelling among the mountains of Scotia
Welcome, and let me treasure amid northern mists be dear to you.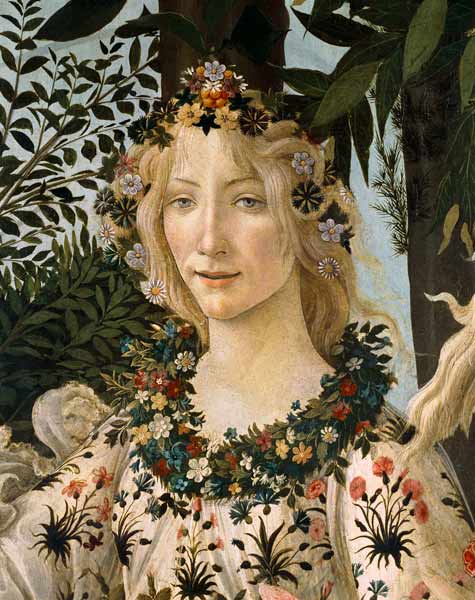 The final section of this exhibition is Botticelli In his Own Time. Exhibits include his only signed and dated painting The Mystic Nativity (1500, available to see for free at the National Gallery), three portraits supposedly of the legendary beauty Simonetta Vespucci and Pallas and the Centaur (1482) which the Uffizi has loaned to London for the first time.
This exhibition displays one hundred and fifty artworks and there are fifty in this final room. The bright daylight of the room is meant to allow the works to shine but they are awkwardly placed and difficult to navigate because there is no natural footpath to wander through. Your viewing experience is stilted and uncomfortable because you wonder if you have missed something; let us not forget you've waded through a lot to get to the real treasure.
Having negotiated the roller skating Venus and quoted comments by the likes of Magritte who suggest the original Primavera was 'not bad but better on a postcard' you finally encounter some iconic works and can make your own judgement. It is well earned, although perhaps it is no surprise Botticelli shines in comparison to many of the reimaginings.
The white room reimagines the quattrocento Florence, full of famous masters and endless workshops of gifted artisans. There are some fifteen paintings by Botticelli to luxuriate in. Botticelli's Idealized portrait of a lady (Portrait of Simonetta Vespucci as nymph) (c. 1475, Frankfurt).
Simonetta was considered the most beautiful woman in Florence and became the love of Giuliano de' Medici. She was to Florentine artists what Beatrice was to Dante, she died young and childless at twenty-three. Her coiffure of plaits decorated with beads, pearls, ribbons and feathers is exquisite but one cannot imagine her really appearing in public like that. Her dress is mythological in style and her very presence is mythologised, idealised, perfect: she is the standard bearer of Botticelli's art and times. The slight tilt of her head towards us makes her seem alive almost reachable, and yet we know her nobility is beyond ours.
It is interesting to see Botticelli's Portrait of an Idealised Woman (Simonetta) (1475, Berlin) after Grey's toying computer generated installation Between Simonetta (2011) you will encounter in the first room. Simonetta's ideal beauty glows in a manner that dulls the bright white light.
All of these works combine together to provide a wonderful context, and yes a rare opportunity. It is easy, when alongside real Botticellis, to identify the lesser workshop pieces but even these are remarkably sophisticated.
The show closes with two monumental full-length paintings of Venus, getting us as near to the Uffizi's Venus as we can. The works are from Berlin and Turin and are in some ways Simonetta in the flesh. These women are idealised figures, they are the reason for Botticelli being described as a painter of 'the most beautiful naked women'.
For a long time no-one knew Botticelli did anything else but paint Virgins and Madonnas but his Inferno illustrations are also on show. Whilst they can be seen in greater quantity in the current Botticelli exhibition at the Courtauld, the one the V&A displays shows Botticelli's name, written by him on a sign held by angels in paradise. This is a direct request from Botticelli to God, an invocation for redemption.
The show doesn't need to redeem Botticelli, for his legend and enigma will live on. The show is engaging, colourful, musical and a pleasure to visit. It doesn't feel quite the big Botticelli show it should but this is because of the noise from the first room. Did we really need two Warhols? Or a Venus hidden behind a petrol pump? Thrust into this highly competitive saturated context, even the more subtly successful modern reinterpretations become mild; the power of Valie Export's Expectation (Free with Botticelli's Virgin with the Pomegranate of 1482 (1976, Vienna) and Cindy Sherman's Untitled #225 (1990, Private Collection) dissolve before you. Something about the design of the exhibition lessens the impact of Botticelli, and I promise you this is not a failing on the part of Botticelli.
But on seeing Botticelli's work up close in one room? Well, how can anyone not be carried away by the grace of the angels of the Mystic Nativity?