For viewers to continue having meaningful relationships with pictures, the works have to continue evolving in meaning. The ability for a piece of art to continue to speak throughout all ages is the mark of a good painting.  A curator has to understand what is valuable for a contemporary audience if they are to create a successful exhibition and create a space for a painting to shine.
One's experiences of gallery visiting is dependent upon so many things: how the works are presented, what information is given, foot fall, foot flow, personal faith (or lack of), and any number of personal factors which may surreptitiously alter one's interpretation. Inevitably a curator / gallery can only control or effect some of these factors but understanding the process of looking is a valuable means of creating a space where pictures can offer new meanings and contemporary experiences.
These issues are nowhere more pressing than in the display and curation of religious artworks and objects. Understanding the climate of religious feeling, of how people use or read religious texts is vital for a meaningful display of any such objects. The complex issues of meaning coalesce around context: Christian communities inevitably seek to commune spiritually with religious artefacts but another visitor may be equally interested in the item but have no private faith. Christians (or any other faith, but I elect to write from the view of a Christian viewpoint in this article due to the subject matter in hand) have the right and the capability to engage with the Christian context of a work and in turn, galleries have an obligation and a duty to embrace and acknowledge the inherent qualities of a work for such a visitor.
But of course, any Christian visitor is different from another, some may be practicing, others occasional, some culturally affiliated or nationally situated. A museum's remit is not to account for detail or reasons of importance but to enable interpretations and acknowledge the likely often inherent interpretations of a work. In short the museum or gallery has an authority to interpret, and a duty to encourage engagement with the content of a piece of work.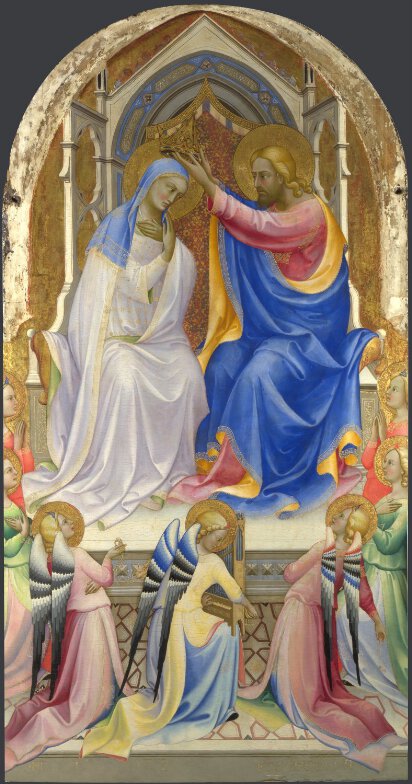 Lorenzo de Monaco's The Coronation of the Virgin (1407 – 1409, National Gallery) is a Christian work belonging to a larger altarpiece series. The altarpiece comes from the Camaldolese monastery (now destroyed) of San Benedetto fuori della Porta Pinti, Florence. It is a smaller version of one painted in 1414 for the main church of the order in Florence, where Lorenzo Monaco was a monk.[1]
Six paintings are individually owned by the gallery but each piece is a separate narrative, a separate piece of art, and a separate artefact. For a Christian the works are religious and spiritual, and one could argue, should be within a church, not a museum, and reunited as a set piece. However, they are in a gallery having been acquired in 1902 and the gallery has to be sensitive to such attitudes when they display the work. The Sainsbury Wing of the gallery is a very respectfully designed space for what is mostly a collection of religious artefacts. Roughly one third of the paintings in the National Gallery's collection of Western European art are of religious subjects and nearly all of these are Christian.[2]
The Coronation of the Virgin is the centre panel of the San Benedetto altarpiece. It shows the Virgin Mary being crowned Queen of Heaven by her son Jesus Christ, witnessed by saints and celebrated by choirs of angels with musical instruments. In order to understand this work, one has to not only recognise the text (scripture) but the meaning of complex symbols, e.g the winged beings (the angels).
Meanings emerge through knowledge of and responses to the text, in this case the Bible, but there is a risk this can result in eisegesis which can lead to pluralism and unintentionally undermine any static meanings. Good paintings don't only have one meaning though: inevitably they can have multiple dependent on whether the viewer is original or current. Anagogical meanings, typical in medieval times, automatically create multiple readings. Who then arbitrates? The reader? The gallery? The curator? The viewer? The artist? Is it even possible to have arbitrator?
The National Gallery proclaims:
The Gallery has long been, and continues to be, active in a variety of research projects grounded in the relationship between art and religion; from exhibitions and catalogue entries to films, podcasts and interactive webpages designed to address how and why these sacred works of art were made, to explore what they might have meant to their original viewers and to discover what they mean to beholders today.[3]
Art's physicality is, if you imagine a triangle with these words on each point: Place, Person, Picture.
Referring to these issues during a talk at Ripon College's Art and Theology conference, April 2016, Chloë Reddaway analysed François Lemoyne's The Annunciation (1727, National Gallery). Below are some reflections on this angelic painting. The painting is on loan from Winchester College, and resides in Room 33 of the National Gallery.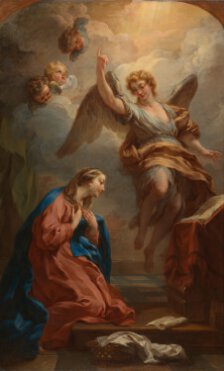 Room 33 is entitled 'France 1700 – 1800' and includes works by Jean-Antoine Watteau, Siméon Chardin, Jean-Honoré Fragonard and Jacques-Louis David. The room is Parisian in nature, showcasing the sophisticated and technically accomplished brushwork of David against the softer, gentler style of Watteau's Rococco. The paintings in this room lean toward the intimate and the private, with only a few works illustrating more mythical or 'grander' scenes, e.g. Subleyras' Diana and Endymion (1740, NG) or the cloudy frills of Fragonard's Psyche showing her Sisters her Gifts from Cupid (1753, NG).
Some of the paintings in Room 33 are theatrical and suggestive, erotic even. David's Portrait of Jacobus Blauw (1795, NG) is a strikingly accurate representation which suggests a mild reciprocity between sitter and artist. The portrait records Blauw's success and earnestness in public service: the work is serious but sincere, grand only through David's extreme talent. A strange companion for Lemoyne's Annunciation though.
Lemoyne's painting is the only religious image in the room, and at 208 x 127 cm it is and is a large work, one both signed and dated by Lemoyne. 1727 was the year Lemoyne was awarded a prize for history painting by Louis XV, and the work may have been commissioned by the then headmaster of Winchester College where it was installed in 1729. If you observe, the top of the painting is rounded at each corner, suggesting an arched frame was originally intended. The frame in Winchester was arched where its currently frame is rectangular, with some mouldings. The oil paint is in good condition.
The work depicts the scene of the annunciation according to St. Luke's Gospel. The archangel Gabriel announces to the Virgin that she will give birth to a son, Jesus (Luke 1:26-38, extract below)
26 And in the sixth month the angel Gabriel was sent from God unto a city of Galilee, named Nazareth,
27 To a virgin espoused to a man whose name was Joseph, of the house of David; and the virgin's name was Mary.
28 And the angel came in unto her, and said, Hail, thou that art highly favoured, the Lord is with thee: blessed art thou among women.
29 And when she saw him, she was troubled at his saying, and cast in her mind what manner of salutation this should be.
30 And the angel said unto her, Fear not, Mary: for thou hast found favour with God.
31 And, behold, thou shalt conceive in thy womb, and bring forth a son, and shalt call his name Jesus.
There aren't any other religious paintings in the room because people in Britain were, generally speaking, not interested in buying up religious French art. Winchester had Jacobite and Catholic sympathies so it may explain why it ended up there. There are photographs of the work in Winchester where it hung on the altar, until 1864 .
Now look at the painting. Imagine you are below it though, for you would not be meeting this work face on. You would be beneath it, prostrate, penitent, humble. Your head would lift and your eyes would gaze up toward the Virgin's robed knee, then up the line of the Virgin's nose, following right up through to the finger of Gabriel who points upwards toward heaven.
The angel and the Virgin do not face each other, although the angel has a slightly open mouth the Virgin does not turn her head. They do not appear to be really communicating, Despite the animation inherent within the story, the painting is largely a quiet, still work. The angel is airborne, hovering above where the Virgin appears to have been praying. The angel's robes are wrapped around his strong limbs, and appear to be subject to the wind of his wings and yet he seems frozen. The wings are strong and powerful, and at both times make him earthly and tangible, and yet immaterial and celestial. The majesty Lemoyne creates is humble and quiet, despite its narrative drama. The scene is bathed in a golden light and the face of the Virgin is illuminated from the Holy Spirit which falls down upon her from just off-centre at the top right of the painting.
The majesty Lemoyne creates is humble and quiet, despite its narrative drama. The scene is bathed in a golden light and the face of the Virgin is illuminated from the Holy Spirit which falls down upon her from just off-centre at the top right of the painting. The Virgin's experience is interior, private even. But are we sure which moment we are looking at, is she about to be disturbed by the archangel, or is she absorbing his message? It seems likely that she is absorbing, for Gabriel is pointing to heaven, foretelling of Mary's future ascension. And yet, her manner is entirely undisturbed, there is no trauma, no fear, and no shock, instead Mary personifies grace and humility.
As already mentioned, God's presence is indicated by the light in the work. The cherubs are also indicative of divinity, and they in turn are a peek into the heavenly world that exists behind the celestial cloud: clouds acts as witnesses within the Bible (Hebrews 12:1) and it is therefore likely Lemoyne is using the clouds to be symbolically representative of a myriad of angels, a myriad of messengers like Gabriel. The swirling clouds also have the feel of incense used in a Catholic service, and can just as easily be interpreted as an offering, mirroring the offering of the Virgin's body.
The veiling and unveiling of the Christian mystery is a vital element of this work, for every moment we are faced with something ethereal, there is another where we meet something man-made. Note the tiled floor and the wall, and even the basket.
Walls or pillars often act as a means of segregation, a way of artistically separating us from the now mystery world of the divine we are looking at. Many artists use this technique: Botticelli, Titian, Veneziano etc. Look at Veneziano's, The Annunciation (1445, Fitzwillliam). The tiles halt our gaze and the wall and pillars act as a door, we can only see so far into the narrative. We are stopped short of witnessing the conception, the 'door' remains closed, the Virgin remains virginal, and we are all spared our blushes. This altarpiece is considered to be one of the defining works of religious art in the first half of the fifteenth century, and is exemplar in both colour, sensitivity, and humility.
The use of the wall is interesting as it both venerates and protects the Virgin, from us the grubby peasants. Ruskin writes about the 'cornerstone' of Christian faith when analysing Tintoretto's The Annunciation (1582-7, Scuola di San Rocco, Venice). Ruskin was 'startled by the rush' of angel wings, despite the architectural features and the tiled floor. In both Tintoretto's work and Lemoyne's the tiles are part of a gritty material reality, whereas the cloud filled air is God Incarnate.
The basket is not just a well-observed still life, it is imbued with symbolism. It references the Flight of Egypt, the manger Christ will soon be born into. The white cloth is a blank page, it is awaiting Christ's arrival, awaiting Logos, and yet it simultaneously foreshadows Christ's death, and the shroud which will bury him. Mary is oblivious to these details, they are for us penitent observant Christians to hear. Mary is almost a Virgin of Humility, her face adoring and light filled, just as it will be when she first casts her eye upon her son. She does not look at the text on the lectern, some of which falls to the floor, and even if she were, the angel casts a shadow over the text. The scrolls are being superseded because Scripture is enacted: the word of the Lord is being written before our eyes and the vision on the canvas is Logos.
This is what Lemoyne attempts to deliver. Sit beneath it and feel the Christian faith, and ask yourself if this work can be understood separated from a Christian setting? Ask yourself how successfully the gallery have been in allowing a visitor to extract the paintings many subtleties by placing it within a secular room and hanging it beside a secular portrait. Is this the lot of religious paintings now, consigned to the material, the secular, the rational, the 'inclusive'?
I am uncertain how it is best to achieve or maintain pluralistic readings and critical engagement with religious paintings, but I am fearful that our ability to identify nuances and symbols within such paintings as Lemoyne's Annunciation are forever becoming clouded. Will our clouds cease to be witnesses? Perhaps these paintings will lose favour entirely and they will be consigned to the basement cellar (if only one could ask Benjamin West how he feels about his work being in the Tate's cellar)?
Displaying religious paintings continues to be a point of critical excitement and friction, but we should never shy away from doing so. It should not matter if you believe the story being presented before you, but it does matter that you understand it. Perhaps seeing such paintings may inspire someone's faith, perhaps it marks the end of someone else's. We cannot judge, but we are guardians of these paintings and their meanings. I strongly feel that it is our responsibility to maintain visitors' engagement with the paintings, and the stories behind them.
And if we can't easily communicate or draw visitors into ethereal paintings? Then, in this instance, we only have to refer to Lemoyne's biography to entice viewers.
François Lemoyne (1688 – 4th June, 1737) was a French Rococco painter, born in Paris. In 1701, when he was just thirteen years old, he entered the Académie de peinture et de sculpture where he studied under Louis Galloche. In 1711, Lemoyne won the Prix de Rome and by 1718 he had been accepted as a member of the Académie where he was elected as a professor in 1733.
He became Premier peintre du Roi in Versailles where he spent much time and where he earned the nickname 'new Le Brun'. Lemoyne was fiercely ambitious and had many rivals. He seems to have worked relentlessly and produced major pieces such as the ceiling painting L'apothéose d'Hercule (1737), in the Salon d'Hercule in the Grand appartement du roi at Versailles. The achievement is no doubt Lemoyne's magnus opus, although it seems to have accelerated his depression and paranoia. When his wife died, Lemoyne's mental health further declined. His health suffered so severly that Lemoyne stabbed himself multiple times, thereby taking his own life in Paris in 1737 at the age of 49.
[1] https://www.nationalgallery.org.uk/paintings/lorenzo-monaco-the-coronation-of-the-virgin Accessed 12:03 23/09/16
[2] https://www.nationalgallery.org.uk/paintings/research/art-and-religion/art-and-religion Accessed 12:41 23/09/16
[3] https://www.nationalgallery.org.uk/paintings/research/art-and-religion/art-and-religion Accessed 12:41 23/09/16