Whistler and Swinburne were friends from July 1862, when they first met. Swinburne called Whistler 'père' and Whistler called Swinburne 'fils'. However, it is generally accepted that Swinburne's review of Whistler's Ten O'Clock Lecture brought about the demise of their once close pairing, and this article by Robin Spencer examines, the crucial difference of opinion about aesthetics which undermined their friendship and rendered it over by 1888.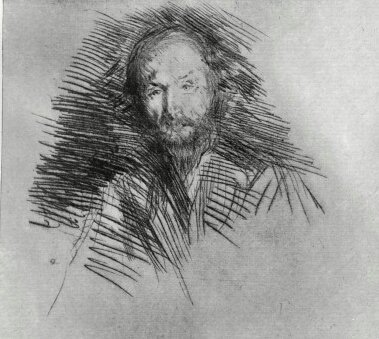 Spencer's argument, although a little foggy in structure at points, is convincing. In addition to Spencer's premise, I would add that Whistler and Swinburne's individual personalities were, without any difference of opinion on aesthetics, hardly likely to ease the passage of friendship. Nonetheless, Spencer draws out these difficult personalities rather well and, without being judgemental, we are left able to join up further dots about Whistler's egotism and Swinburne's ultimate weaknesses.
Spencer starts by suggesting the friendship of Whistler and Swinburne resulted in a different type of progeny for modernism than the art fathered in the same decade in France, by modernist giants Manet and Baudelaire. Whistler was the 'painter- poet', and the article, whose emphasis is more upon Whistler than Swinburne, demonstrates how the union between the two menwas one which radically changed the relationship between painting and poetry.
In 1888, when Manet died, Whistler sought to make friends with Mallarme, but Spencer notes this was also the year his friendship with Swinburne ended. Baudelaire's 'heresy of didacticism' was derived from Poe, whereas Art for Art's Sake came from Swinburne's writing on Blake (written between 1862 – 1867).[1] Whistler rejected moralising and his utilisation of synaesthesia is one means he had of doing so. Whistler claimed only a painter was able to criticise a painter (which is an interesting point when considered in relation to the Whistler v Ruskin trial).
Spencer spends some time discussing Whistler's series of 'White Girls' and although he says Symphony in White, No. 1: The White Girl (1862, NGA) owed little to Baudelaire and nothing to Swinburne, he specifies The Little White Girl (Symphony in White, No. 2 (1864, Tate)) is Whistler's first Swinburnian picture, because 'it represents Swinburne's view of the world as being one of continual change'.[2] Time and timelessness was a key concept both for Swinburne and Whistler, and Aestheticism more generally.
When Whistler submitted The White Girl to the Paris Salon in 1863, the conservative jury refused to exhibit the work. Moving instead to Napoleon III's 'Salon des Refusés', Whistler's work still met with public derision, although some critics, e.g. the Gazette des Beaux–Arts' Paul Manz referred to it as a 'symphony in white' noting the synaesthesia Whistler further examined during the early 1870s.
The various white pigments used create a sense of space and a concentration upon form, rather than reality, portraiture, or nature. This limited palette and sense of musicality was in part an exploration of a growing British Aestheticism, but it was also a sign of the Japanese art which heavily influenced Whistler at this time, particularly the flattened quality of the work.
In 1865, Swinburne's poem 'Before the Mirror' was inspired by Symphony in White, No. 2: The Little White Girl and placed on its frame. The poem was, wrote Whistler 'a rare and graceful tribute from the poet to the painter – a noble recognition of work by the production of a nobler one'. It is this capacity of recognition between poet and painter that concerns Spencer, and was perhaps part of the difference between Swinburne and Whistler in the end. Swinburn'e poems and ballads were centred around love, and the mirror is described by Spencer as being a means of reflecting man's relationship to Christian and Pagan thinking. Spencer also notes that this relates to Ruskin's writing about the 'Invention Spiritual' (Ruskin VIII).
One phrase Spencer uses is the 'communion of art': a phrase which Spencer uses to conjure up the pagan past and modern pagan present, but also refers to the pre-Christian Greece with the recently discovered art of Japan. It is perhaps this opposition which divided the two men.
Spencer describes Whistler and Swinburne's quarrel as an aesthetic drama, although gives little feeling of drama, and gives little context about the drama until after this statement. In essence, Spencer suggests that Swinburne couldn't accept Whistler's theory which conceded Japanese art a place beside Greek art.[3] As time progressed, Swinburne began to be unmoved by what he described as Whistler's lovely effects, his 'merest arrangements in colour'.[4] Spencer points toward Whistler's portraits of Carlyle, and that of Whistler's mother).
Swinburne remained grounded in Classicism, and Whistler's progressively pure form seems to have been a step too far. Whistler's writing and reaction implies that Swinburne still saw art's 'purpose still [being] essentially illustrative'.[5] The Ten O'Clock Lectrue swipes at Swinburne's  classicism, and even goes so far as to speak of the aesthete's as being a product of 'vulgarity'. But then Whistler was never going to fight clean, as the trial with Ruskin should have shown Swinburne. It is odd, that Swinburne even accepted the invitation (via Theodore Watts-Dunton)to review Whistler's text, and one can only assume that he had reached a similar feeling of separation from Whistler. Increasingly, as the years passed, Swinburne demonstrated sympathy for Burne-Jones and Ruskin, and as such his position on aesthetics became further removed from Whistler's. Whistler viewed Ruskin as being responsible for the trivial and anecdotal (refer to Colvin's essay of 1867 for elaboration of these ideas) condition of art during the 1880s. Whereas Poe, Baudelaire, and seemingly Swinburne, detested 'philosophy of progress', Whistler seems to have been more modern in his thinking; Whistler's insistence upon art as 'science' is show by Spencer to have been something Swinburne would have thought heretical.[6]
As time progressed, each man became further entrenched in their respective positions. Swinburne found incompatibility between Whistler's art and his (alleged, rather brash and ill considered) art theory. In essence, Spencer suggests, Swinburne thought Whistler sold out (the subsequent essay in the collection perhaps also endorses this viewpoint).[7]
Swinburne, like Whistler, had been accused of reductivism, his essay on Victor Hugo (1872) had tempered his view of Art for Art's Sake and had showed its limitations. It seems at this point onwards Swinburne had started to become more entrenched in classicism and was moving away from Art for Art's Sake.
Spencer also notes a change in the titles Whistler assigns his works: pre 1892 there are no topographical terms but after then, they start to appear. He asks whether this was a reaction to Mallarme and Wilde (although there is not enough clarity in the article for me to conclude this point, I can say that Wilde responded negatively to Whistler's 10 O'Clock Lecture in his retort The Relation of Dress to Art). He does say that Whistler had turned to Mallarme in order to escape Wilde and Swinburne's (perceived negative) attitudes – although the link is not explicit, as there are differences between Swinburne and Wilde's approach to art for art's sake. What seems to be the key point is that Whistler felt attacked, and something of an outsider, although as Koval's essay shows, this was a position Whistler often actively sought out.
The primary argument between Whistler and Swinburne, which Spencer does conclude, is of the primacy of inspiration, and whether that belonged to the poet or the painter, and whether there was a common available language to both art forms.[8] The conclusion of the friendship appears to have been the men's respective conclusion on this point of Aestheticism.
Refer to the Ruskin v Whistler trial here.
Refer to Whistler's Ten O'Clock Lecture here.
[1] Robin Spencer, 'Whistler, Swinburne, and Art for Art's Sake', in After the Pre-Raphaelites Art and Aestheticism in Victorian England, ed., by Elizabeth Prettejohn (Manchester: Manchester University Press, 1999), p. 59 – 89 (p. 59).
[2] Spencer, p. 63.
[3] Spencer, p. 77.
[4] Spencer, p. 77.
[5] Ibid.
[6] Spencer, p. 78.
[7] Anne Koval, 'The 'Artists' have come out and the 'British remain: the Whistler faction at the Society of British Artists', in After the Pre-Raphaelites Art and Aestheticism in Victorian England, ed., by Elizabeth Prettejohn (Manchester: Manchester University Press, 1999), p. 59 – 89.
[8] Spencer, p. 81.