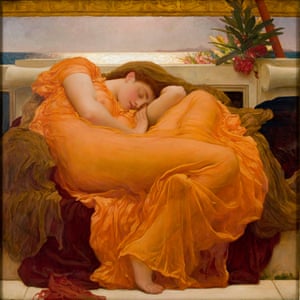 Flaming June: The Making of an Icon is currently on at Leighton House Museum in London. The exhibition runs from the 4th November 2016 – 2nd April 2017 and signals part of the Museum's growing series of interesting exhibitions in the last few years, and provides further evidence of the Museum's ability to provide well considered intimate displays.
This particular exhibition is a landmark exhibition for Leighton House because of the star attraction, Lord Frederic Leighton's Flaming June (1895, Museo de Arte de Ponce, Puerto Rico).
Flaming June is described, with hyperbole, as the Mona Lisa of the southern hemisphere, a phrase which is oft requoted about her perhaps thereby making the statement true. The work is certainly instantly recognisable as an example of High Victorian now, but the painting itself has an interesting and chequered history. You'll note that its home is in Puerto Rico, miles away from London, and miles away from Leighton House. The painting ended up there, in the main, because no-one in Britain was interested in the work: or if one was being unkind, one could perhaps say it is because Andrew Lloyd Webber's grandmother refused to lend him fifty quid to buy the work in the 1960s, claiming 'I will not have Victorian junk in my flat.'
One shouldn't be surprised at Lloyd Webber's grandmother's attitude, and nor was she alone in her distaste for Victorian art. Our present day familiarity with Leighton and other Victorian artists, such as the Pre-Raphaelites and contributors to Aestheticism, is on the back of a complete change of attitude brought about in part to collectors of the 1960s and a slow rediscovery which culminated in the Pre-Raphaelite exhibition of 1984. Nowadays we can't get enough of Victoriana. Lloyd Webber perfectly recognises his grandmother's position, and perfectly encapsulates the painting's meaninglessness to that generation:
How could she have been expected to take Flaming June seriously? Born in 1898, she had seen the young men of her generation decimated in the First World War and had lived through another. Leighton's sensuous image must have seemed appallingly irrelevant to her.[1]
Painted in 1895, Flaming June was created at a time when Leighton was beginning to ail. She was created from a series of sketches in 1894 and completed in 1895, a year before Leighton's heart issues took hold and brought about his death on the 25th January, 1896.
Some critics have suggested the model was Leighton's muse, the actress Dorothy Dene, whom Leighton regularly used and can be seen in numerous works by Leighton, including Crenaia, the Nymph of the Dargle, (1880, part of the Pérez Simón collection which was on display only recently at Leighton House).
Leighton never married and Dene is thought by some to have been Leighton's lover. Although we cannot really know what took place between him and Dene, we do know Leighton encouraged her name change from Ada Pullen and paid for elocution lessons (Dene is said to have inspired G.B. Shaw's play Pygmalion). We also know that Leighton left her £5,000, plus another £5,000 in trust for herself and her sisters, which is the equivalent of around one million pounds in today's money. This bequest was the largest made by Leighton and at the very least tells us that he was extremely fond of Dene and her sister.
The model for The Maid with Golden Hair (1895, Private Collection) was almost certainly modelled by Lena Dene, then aged 22. This work, which is included in the exhibition, is a little at odds with the others because of its loose style and in some ways undermines the exhibition's theme of companionate works. That being said, it was considered to be the best of Leighton's paintings when exhibited in 1895. Leighton House describes it as an 'English' piece and it does have a softness to it that makes the work feel rather more domestic than the other works. This is not a particularly admirable quality, and alongside the other powerful Symbolist style pieces The Maid with Golden Hair does not shine.
Leighton actually became rather self-conscious about Dorothy Dene's cockney accent and it is thought he turned to other models in his later career, e.g. Mary Lloyd who appears in this exhibition in the painting Twixt Hope and Fear (1895, Private Collection), because of certain assumptions about his relationship with Dene. Lloyd also appears in other artists' works, most interestingly Draper's The Youth of Ulysses (1895, whereabouts unknown) which was painted at the same time as the Leighton works on display. Martin Postle suggests that Lloyd modelled for Flaming June.[2]
There continues to be some speculation about Leighton's sexuality and whilst Richard and Leonee Ormond's Lord Leighton (1975) suggests caution about this subject they also acknowledge that Leighton 'fulfilled some part of himself in the company of young men'.[3] Flaming June is a work about pure femininity though.
It is said that the idea for the painting came about from a serendipitous pose of a model in a chair, although I have heard whispers there are other sources which may have influenced Leighton's unusual composition.
The painting depicts a languidly draped woman. She appears to be sleeping and yet her pose is so self-contained and bound within the square composition that it seems almost impossible for a sleeping woman to maintain such a relaxed pose. She sleeps almost like a child, whose limbs somehow protrude at awkward angles and are liable to jerk into a new position at any moment, despite the heavy childlike slumber that embraces her. This woman, this young fresh faced child of a woman, has something of that sleep. Her body is so limp and languid that we feel she may never rouse from her rest, and yet somehow there is life still within the image. There is both silence and rest, and yet a glorious glow of life and the senses. This symbiosis is the charm of Leighton's most famous piece.
The work was unveiled in the studio 7th April 1895, on what is called 'Show Sunday', and was one of the submissions to the R.A.
A photograph of Leighton's studio taken in 1895 shows his recent R.A. exhibits and alongside Flaming June on their easels are Twixt Hope and Fear and The Maid with the Golden Hair (1895, Private Collection) which is also included in the current display.[4] This series of works were his final submission to the R.A. Flaming June sold for £1,154.
The work was purchased by the proprietor of The Graphic, William Luson Thomas, who described it as a 'self-contained' composition. He bought her because he recognised her potential for reproduction, and so it was. That year, at the price of a shilling a copy, Flaming June appeared in over half a million parlours throughout Britain.
Thomas sold her on to a prosperous widow, and the work was then loaned to the Ashmolean. After it's leaving the Ashmolean, and the details are unclear here, the work appeared in Leighton's House to mark the centenary of Leighton's birth but she then disappeared for thirty years. Like a puff of smoke, Flaming June vanished. I am not suggesting anything untoward happened to her, in fact it seems to be more indicative of a disinterest and lack of appetite for Victorian art. Without an audience, Flaming June, like many Victorian art works, found herself in a century where she had little to say and was, seemingly, of no worth.
It was only in 1962 that she resurfaced. Rediscovered by a builder behind some panelling over a chimney piece in Clapham Common, Flaming June was found in reasonable condition and still in her tabernacle frame. Looking for a quick sale, the builders took her along to a shop in Battersea Rise, where they received sixty quid for her. This was mainly for the frame which was considered to be more valuable than the painting.
Striped of the frame, Flaming June remained in Battersea Rise, until a Mayfair Barber and part time art dealer bought her. He then he sold her to a dealer called Maas, who still trades, for less than Leighton sold her originally. Maas authenticated her and hung her in his Clifford Street Gallery. It was in 1963 that Luis Ferre, the Founder of the Museo de Arte de Ponce in Puerto Rico, fell in love with her. Snapping her up for 2k, Flaming June began her journey across the sea to her new home. This exhibition in Leighton House is a rare opportunity to see the painting outside of Puerto Rico, and is not to be missed. Not least because the work is back in Leighton's so called 'Palace of Art'.
The painting is a sensuous delight, full of peachy draped robes with the heat of Mediterranean sun beams falling upon the blushed cheeks of a dreamy ideal of femininity. She is pure confection. We can only look upon this scene, we are too mortal to be part of it.
The exhibition offers several other works worth enjoying. The aforementioned Twixt Hope and Fear may not be confectionary, but is an example of a similar Symbolism as Flaming June. Interestingly this work was up for sale in December 2015 at Sotheby's but with the acknowledgement on the listing that Leighton House had already earmarked it for this exhibition. The work, powerful as it is, demonstrates what the R.A. catalogue of 1996 described as part of:
'a new solemnity and power of expression, which resulted in some of his greatest works. Unlike so many English artists, there was no falling away of technical skill or creative imagination, but rather a desire to transcend his earlier achievement with a succession of paintings of stupendous scale and originality.'[5]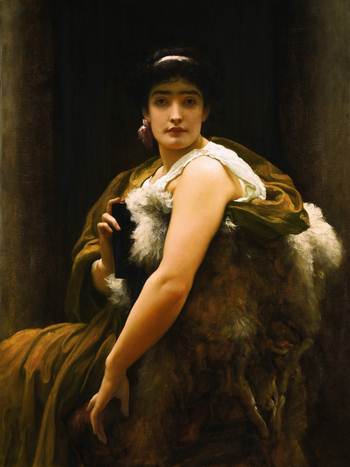 The work is much darker in tone, it has a dramatic lighting that is far removed from the full glare of Flaming June. The female is powerful and has a sexual and erotic quality which is engaging and desiring. She is not for our delectation, we are for hers. She is dreamlike though, just as with Flaming June. There is no narrative, no character, no didactic tale or sermon. She is enigmatic and powerful, and with such strength and fortitude of presence, this woman also introduces a sense of fear. She is Twixt Hope and Fear.
Twixt Hope and Fear, Flaming June, and also Solitude (1890, Maryhill Museum of Art, Washington), Tragic Poetess (1890, Private Collection), The Spirit of the Summit (1894, Auckland City Art Gallery) and Lachrymae (1895, Metropolitan Museum of Art, New York) are all part of a series of later mature works which can be read as more personal moments. Lachrymae is also on loan to this exhibition.
Lachrymae is Latin for 'tears' and we, as viewer, are to accept the female before us as one that is in the midst of grief. Clad in tones of black and purple, she bows and leans her head against a funerary monument. The tone is sombre and classical, and yet her grief is somehow formal, stately even. It is certainly dignified, and it has a similar silence albeit not tone to that we find in Flaming June.
These gentle comparisons and undercurrents are integral to the exhibition. As Leighton House's own blurb states:
'The re-gathering of these pictures places Flaming June back into the context of its original exhibition, providing a compelling starting-point for exploring its history…The assembled pictures represent his last statement as an artist and allow a reappraisal of his achievements, relating these five works back to the career that led up to their production and understanding the legacy of a creative life that was close to its end'.
This exhibition may be intimate, but Leighton House knows how to play to its strengths. It is worth making the trip.
Further reading can be found here and here.
Images via my own collection, Leighton House, Victorian Web, and Wikipedia.
[1] http://www.andrewlloydwebber.com/art/andrews-collection/ Accessed 02/02/2017 18:58
[2] Quoting from the Met's website: Martin Postle. 'Leighton's Lost Model: The Rediscovery of Mary Lloyd', Apollo 143 (February 1996), pp. 27, 29, fig. 6, quotes Sir John Everett Millais's son's observation that the model for his father's "A Disciple" (Tate Britain, London) was a woman named Mary Lloyd, who had sat for Leighton since at least 1893 and had been the model for this picture.
[3] Richard and Leonee Ormond's Lord Leighton (British Art Studies) (1975)
[4] Daniel Robbins and Reena Suleman, Leighton House Museum, Holland Park Road, Kensington (London, 2005), ill. p. 56
[5] Frederic Leighton, exhibition catalogue for the Royal Academy, 1996, p.193