The Telegraph describes the current Ashmolean exhibition Degas to Picasso, as a chance to see 'All-time-great artists in a show with a rare provenance'.[1] Picasso and Degas are great artists and, like The Telegraph says, when we want to understand where we come from in terms of art, we look to Paris at the turn of the twentieth century. This is, as the Press Release states, an exhibition about 'the rise of Modernism'.[2]
Unlike The Telegraph, I felt the exhibition rather coasted on those names and although born from an interesting comparative premise, it delivered rather mediocre images in the main. Of course, there were a few works that warrant the viewer's interest, such as Léger's Mother and Child (Mère et Enfant), (c. 1949) which rather wisely was chosen as the headline image. However, if you are basing your visit on seeing works of equal impress you will be disappointed. The Telegraph is equally cognisant of the draw of those names: 'any exhibition that can marshal a "team" including [Picasso and Matisse] plus van Gogh, Cézanne, Manet, Renoir, Chagall and many other greats is virtually guaranteed to have the punters flooding in'.
Dr Xa Sturgis, Director of the Ashmolean, says: 'This exhibition presents a period of unparalleled artistic invention and experiment through the revealing lens of a private collection. The discernment, passion and judgement of Ursula and Stanley Johnson mean their collection offers a unique insight into this extraordinary period. We are, therefore, enormously grateful to them for allowing the Ashmolean to be the first museum to show the full range of their collection of French art in a major exhibition.'[3]
The works which are mostly on paper, are loaned from the collection of Ursula and Stanley R. Johnson, a couple who began collecting in the late 1950s. The exhibition is personal and the loans are only a fraction of their collection. The personal nature of the exhibition explains why some of the frames are bashed and chipped, and why some of the paper works buckle within the insets of their respective frames. I can't remember the last time I saw (some) works so dreadfully presented. One doesn't expect to find the likes of Ingres and David so appallingly treated (ok well, maybe David) but definitely not Matisse or Picasso.
The first room introduces the comparative structure of the exhibition and as such is purposefully divided between the old French style (including Academy and Romantic works, by Ingres, and Géricault and David) and the looser bolder interests of those in the other Modernist camp (e.g. Degas and Manet). The Modernist category bridges the Impressionists through to the Post-Impressionists, before moving on to Cubism. Ursula Johnson said "Because they are hung so differently, the light is different, the relationships between the works are so different. I am making connections and thinking, 'How did I never see that?'" The first room certainly provides interesting artistic and historical counterpoints, for example, the David (which once hung over Henry Moore's bed) is a dark unsettling image, whereas Degas' Après le bain, femme s'essuyant la jambe (1900–1905) is a lively work, fleshy, corporeal and dynamic.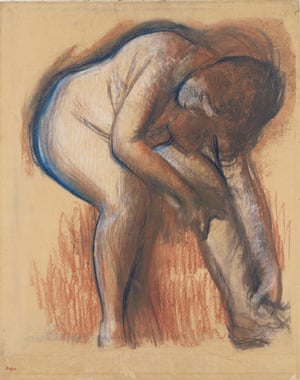 The Johnsons "actually worked one full year in order to be able to afford that little thing," Ursula has said, referring to the small Géricault watercolour of a lion fighting a tiger. (Isn't life tough for art collectors). The work is interesting. Perhaps. But it isn't worth a year's wages, or rather, it is only worth a year's wages because we know Géricault painted it. A better example of Géricault's skill can be found in the animated Charging Polish Lancer (Cavalier polonaise) (c. 1818). Ursula Johnson is right, comparing this with the Degas bather draws out the incisive change between the periods in question and highlights the ease with which most present day viewers can negotiate the way round Modernism but struggle with Romanticism, and the likes of Géricault and Delacroix (whose work is also on display).
The Telegraph does make one interesting point: 'Given finite resources, would you have opted for a tiny Picasso drawing or a full-size painting by a lesser known figure, such as Jacques Villon's vigorous cubistic portrait of his father?' Or a not-hugely-accomplished Géricault watercolour showing an energetic fight between a lion and a tiger? This may well explain the utterly unimpressive Picasso sketch which is the equivalent of lines on the back of a fag pack. Whilst this is interesting in terms of what the Johnsons did with their money it doesn't make for an exciting exhibition. Overall the series of sketches and preparatory drawings feel underwhelming, a cheap draw, that palms us off with the passing scraps of works that we don't get to as a finished article. I wonder how many people are genuinely interested in very basic lines drawn by Picasso? I certainly didn't notice people spending hours looking at that particular work.
There were of course other preparatory works, such as the Matisse wood-cut (a rarity in itself) which was a delight to see. Another interesting drawing, which did hold people's attention, was the only print van Gogh ever created: a print which shows the face of the doctor who treated him for mental illness, Portrait of Doctor Gachet (The Man with the Pipe) (1890). And one sketch by Picasso which did engage was, unsurprisingly, an early study for Les Demoiselles d'Avignon (1906, Moma). Recalling the oil painting, one could easily see the thought process and evolution (or disintegration) of form which was a central focus of the exhibition: whilst this was brought out through various arrangements of works, it felt like I was constantly meeting the beginning but not ever the end products. I felt a little cheated. I would also question how those with less familiarity with Modernist artworks, or without knowledge of the resulting oils, would warm to the studies.
That is not to say the exhibition was devoid of oil paintings for there were some which had been exhibited at the first public showing of Cubism, the Salon des Indépendants in 1911: including Léger and Braque as well as now lesser-known figures like Albert Gleizes, Jean Metzinger and Jacques Villon.
Villon was a member of the so-called Section d'Or, a group of once-prominent Cubists, which included Villon's younger brother, the conceptual genius that was Marcel Duchamp. British knowledge with this particular group is limited and they were an interesting inclusion: the Duchamp pencil portrait was rather intense and a real joy. Gleize's Portrait of Igor Stravinsky (1914) provided some much needed colour but there was a sense this section once again delivered only minor works which merely sketched out the scene being considered, rather than got to grips with the complexities of Modernism.
The show concludes with a group of large and mostly naked Picasso drawings from the 1960s, with one particular drawing of his wife Jacqueline reclining that instantly captures one's eye. Female Nude, such as the drawing was entitled, was a soft swirling simplicity that delivered everything we want from a Picasso: abstraction, disintegration of form, grace, eroticism, femininity, and a hint of the artist's prowess. The work's lines, which are said to have taken him three days to complete (how?) are reminiscent of those found in his Dove (1949) but are a wonderful example of why Picasso remains one of the most innovative artists of our time. In the context of the exhibition, one can easily trace Picasso's influence on the likes of Leger: compare the line of Picasso's Female Nude to Léger's Mother and Child (Mère et Enfant).
There are two other pieces which are worth spending time with: Honoré Daumier's Le ventre législatif (1834) and a Manet lithograph of Berthe Morisot (1872). The Daumier is excruciatingly, bitingly satirical and whilst recalling Hogarth and Cruikshank, it shows not only the power of political satire had a place back then, but reminds us how it is still much needed today. The crooked bills and fat bellies of this male congress are a scene which feels only too relevant today. It is a shame that Daumier ended up jail for his witty insight. The image of Berthe Morisot also feels fresh and modern, but rather than provoking its viewer with caustic commentary, it provides elegance and modernity.
These many comparisons enliven the exhibition. However, would I suggest you go out of your way to visit? No, I don't think I would. But yes, do visit if passing. If only to enjoy the few works highlighted here or the five the Art Fund suggests are must see paintings (which includes Metzinger's The Yellow Feather (1912) which is a rather playful finale).
As The Telegraph notes the Johnsons have plenty of works with which to have compiled a different type of exhibition, but it 'wouldn't have proved anything like the draw of the magical names that dominate this delightful exhibition'. Cue just a little bit of cynicism.
[1] http://www.telegraph.co.uk/art/what-to-see/degas-picasso-creating-modernism-ashmolean-museum-oxford-review/ Accessed 14/03/17 12:41
[2] http://www.ashmolean.org/assets/docs/Press/2017/Ashmolean_Press_Release_-_Degas_to_Picasso_15.12.2016.pdf Accessed 14/03/17 13:29
[3] http://www.ashmolean.org/assets/docs/Press/2017/Ashmolean_Press_Release_-_Degas_to_Picasso_15.12.2016.pdf Accessed 14/03/17 13:29