Dr. Jen Baker's talk at BRLSI on the 29th March was entitled: Beatific Souls – Child Death in Nineteenth Century Literary & Visual Culture
The premise of Baker's talk was centred around an examination of child death within literature and visual culture during the nineteenth century, both in narratives of language and iconography.
Baker's stance suggested that child death 'was predominantly glorified by mainstream culture because of a Victorian desire to counteract the high levels of infant mortality which all levels of society encountered'.[1] Baker referred to these losses as being on 'an unprecedented scale'.
She used a fascinating array of examples to examine the sensitive issue of child death, ranging from post-mortem photography, bereavement manuals, poetry, prose and its illustrations, and sculpture. Baker's primary research interests are around monstrous depictions of child death between 1830 – 1930 in literature, and she is additionally interested in Gothic literature. It is the underlying latent anxieties around societies' loss of children which Baker examined, this talk being one example.
Beginning with reference to Ellen Jane Robinson's two daughters who died when young, Baker introduced Francis Chantrey's sculpture The Sleeping Children (1816, Lichfield Cathedral) which depicts Ellen-Jane and Marianne asleep in each other's arms.
The mother, Ellen Jane, lost her husband Reverend William Robinson from tuberculosis in 1812 leaving her with the two daughters. During a visit to Bath in 1813, the daughter Ellen-Jane's nightgown caught fire and tragically, her burns were so severe that she died. In 1814, only a year later, Marianne also died, although this was down to ill-health.
Ellen Jane was bereft having lost all of her immediately family and turned to Chantrey to commission a sculpture fitting to the memory of her children. She is said to have requested a vision of the daughters sleeping together, an image pure and restful, a carving along the lines of Thomas Banks' Penelope Boothby Monument (1791, Ashbourne, Derbyshire) which depicts five years old Penelope seemingly asleep.
The sculpture has one Ellen-Jane, the elder child, lying on her back, as if resting in bed. Marianne cuddles up with her right arm resting across her belly and her left underneath Ellen-Jane's neck. It is said this pose captured the way the girls would sleep together. As one might expect from Chantrey's having taken a death-mask, the children's faces are characterful rather than classically "ideal," and the details of the mattress especially keep it rooted in reality. It is not, after all, and despite the symbolism of the plucked early flowers, a sentimental. piece. Compare it with Baron Marochetti's similarly successful and touching Bimba Dormiente' (1844, Turin) (see below for a comparison).[2]
Chantrey's sculpture was carved in time for the 1816 R.A. exhibition and was shown alongside Canova's Hebe and Terpsichore.  In 1817, The Sleeping Children were moved to the south-east corner of Lichfield Cathedral where it can be found today.
Baker situated the sculpture within contemporary criticism and literature. For example, Baker quoted Blackwood's Edinburgh Magazine which describe the sculpture thus:
Never was sleep and innocent and artless beauty, more happily expressed. [3]
The full, rather lovely quote is as follows:
The sisters lie asleep in each other's arms, in the most unconstrained and graceful repose; the snow-drops, which the youngest had plucked, are undropped from her hand.  Never was sleep and innocent and artless beauty, more happily expressed. It is a lovely and a fearful thing to look on those beautiful and breathless images of death.
Baker stressed how well the work was received: small replicas were sold to the public in great numbers, and it even inspired poetry. William Lisle Bowles wrote 'The Sleeping Children' in 1826, a verse which recalls an almost Aesthetic quality of melancholic sleep and youth, and spring. A life eternal perhaps:
As if to die in youth were but to dream
Of spring and flowers! Of flowers?
The full poem is very much in this celebratory, rather mournful, vein, such as Baker was conveying.
Baker's references were well selected and provided a thorough context for the depiction and responses, emotional, artistic and literary, to the loss of a child. This, as Baker, noted was deeply connected with anxieties about the state of the child's soul and with contemporary issues over regenerative baptism (an issue which was gathering pace at this time, and came to a head in the 1830s and 1840s through the writings of Newman etc, and the Tractarian movement).
This natural concern over the loss of a child had long ranging consequences and I suggest, going out on a limb here, that they may well have gathered pace throughout the century alongside the spread of devastating cholera outbreaks, and perhaps , later on in the period, gave rise to anxieties about Imperial mite and society's ability to sustain its position (perhaps even related to the fears of Young England and Muscular Christianity). Certainly, the issue of baptism was a contentious one and although Baker didn't have time to go into deeply complex theological issues, she provided a useful overview. In Tess of the D'Urbevilles, Thomas Hardy explored the issue with the death and burial of Tess' unbaptised baby (this is a departure from Baker's talk although it came up during the Q & A). A child was considered to have been born with sin and baptism expunged it, therefore, an unbaptised child was not able to be buried in hallowed ground. Baker noted that there are stories of people waiting until a baptised adult had been buried, and placing the unbaptised infant in the same coffin, thereby securing (or attempting to) the infant's soul.
It was during these anxious times that capturing images and representations of the dead infant became more pressing for the bereaved family. Engraving and photography took their place centre stage, after all, they were easier and cheaper than commissioning marble sculptures.
Baker referred to Banks' Boothy Monument and Fuseli's Apotheosis of Penelope Boothby (1792, Wolverhampton) which depicts an angel taking a young girl in her arms, with a star crowned cherub above holding a flaming torch, whilst in the foreground an overturned urn lies beside a butterfly. Fuseli's painting shows the brevity of the child's life through the inclusion of the butterfly, but the image is soothing, as far as it can be, as it emphasises the safe passage of the soul through the angelic delivery of the child to heaven. Penelope was the daughter of Sir Brooke Boothby, Rousseau's patron, and Fuseli's image was later used as the frontispiece to Sir Brooke Boothby's 'Sorrows' (1796).
Using these depictions of safe passage, Baker then turned to poetry examples which further enabled her to demonstrate how the language of sleep was employed:
Fair images of sleep!
Hallow'd, and soft, and deep!
Felicia Heman, 'The Sculptured Children' (1826)
This is death!
But in its fairest form.
Mrs. C.B. Wilson, 'The Dead Infant' (1829)
Baker then turned to discussions about Limbus infantium, referring to slightly older references:
Now, as they enter'd doleful screams they hear
And tender cries of infants pierce the ear.
Pitt's translation of Virgil's The Aeneid (1743)
Once again, Baker used these quotes as a means of illuminating the dire straits of the young child's soul before moving on to examine the literary references to relief: relief in the sense of the child being granted eternal freedom from this awful mortal world.
Opaday – These are the last words that my sweet son John spake and so ended this miserable life.
Nehemiah Wallington (1626)
So, out of this miserable world, Wallington's child, and all children that died, would now be safe. The anxieties about baptism and the soul were entrenched within theological doctrines of original sin, and were exemplified by the literary works of the likes of Edward Howard, Rattlin, the Reefer (1836).
What struck me throughout Baker's talk were the numerous references to angels. Angels appear, as one would expect, as guiding figures, as protectors, as companions to the dead child. In George Washington Bethune 's Early Lost, Early Saved:  An argument for the salvation of infants, with consolations for bereaved parents, to which are added, original and selected poems, on the same subject (1859) an angel offers congratulations for making a child so perfect but lamenting 'the stronger, brighter angel, who loved her best, was Death!'
The flight of angels, their role as protectors and guardians is one, that occurs with force during the nineteenth century. Despite the anti-Catholic sentiments being displayed throughout many strata of society, Anglicanism maintained a strong relationship with the concept of the Guardian Angel. In response to Baker's lecture, it seems that the birth of this may well have stemmed from memorialising the death of children.
The perfection of a child's form is mentioned time and time again, in private letters, literature, and religious texts.
Dear Mary,
Our dear delicate baby has taken his flight to a happier world' wrote Reverend Leigh Richmond (1821) and Thomas Hardy wrote to Rider Haggard, when one of his children was lost to illness:
Please give my kind regards to Mrs. Haggard, and tell her how deeply our sympathy was with you both on your bereavement. Though, to be candid, I think the death of a child is never really to be regretted, when one reflects on what he has escaped.
Such comments are in keeping with Hardy's own Victorian pessimism (let us not mention Jude the Obscure!) but as Baker pointed out they were also in keeping with transcendental perfection. Little Nell's death from Dickens' The Old Curiosity Shop (1841) (for the whole scene, see here) is another example, one which also mentions angels:
So shall we know angels in their majesty, after death.
Dickens' requested the illustration of Nell's death bed was for her to have a 'happy look'. As Dickens wrote:
She was dead. No sleep so beautiful and calm, so free from trace of pain, so fair to look upon.
This desire for capturing an infant's post mortem perfection is inevitably part of a bereaved parent's natural response in denying and grieving, and coming to terms with the loss of their child. The desire to keep the child pure and innocent, to hold the child, to make the child real again are all natural responses to grief. Such responses call to mind Alan Bennett's Talking Heads 'A Cream Cracker under the Settee' (1988).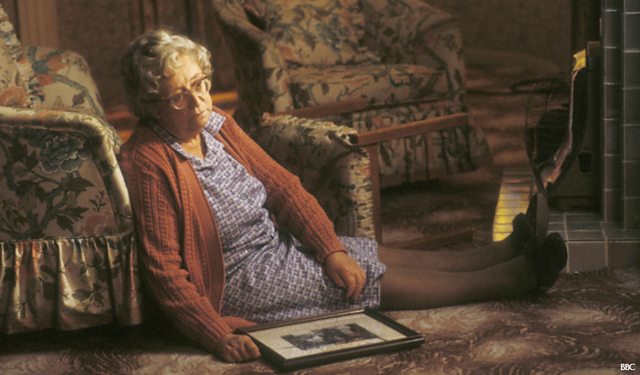 Baker showed some nineteenth century post-mortem photos which demonstrated this grief, and the corresponding desire for maintaining the child's physical (and transcendental) perfection. Dana Luciano has suggested that nineteenth century manuals urged mourners 'To assume an air of quietly controlled grief'.
As a final exploration, Baker introduced the hideous business of the Baby Farm, and the awful historical figure that is Margaret Waters ('active' until 1870 when she was hanged). I note Wikipedia has bestowed the label 'serial killer' upon Waters, a woman so vile that she took children (babies mainly) in to care for them for money but instead drugged, killed, and abused / neglected them. She is thought to have killed nineteen children.
A similar more modern tale of infanticide Baker concluded with, which I had not heard of, was the St. Mary's Mother and Baby Home in Ireland. The amateur historian Catherine Corless researched Tuam, an institution for unmarried mothers in Galway and discovered 794 (although The Guardian quotes 796) infants had died whilst in the care of the nuns from the Bon Secours order. A critical self-examination remains to be carried out by the Church and the State but Corless' theory is shocking enough that it demands it should be.
A more current news story which also brought to mind Baker's exemplary, finely detailed research is the gassing of children in Syria this week. BBC news has reported the dead children as looking like 'they are sleeping peacefully'. Whilst the Victorians used these literary metaphors for expressing latent social anxieties about the real and every day threat of infant mortality, it is seemingly at risk of becoming a term whereby we can ease our global consciences. As a friend of mine used to say (about the Vietnam War): you can't write FUCK on the side of a plane, but you can napalm children.
Today's images of child deaths are no longer representative of transcendental perfection. They are a Dantean hell.
For further examination of Little Nell's death see here.
[1] https://www.brlsi.org/node/88047
[2] http://www.victorianweb.org/sculpture/chantrey/24.html
[3] Blackwood's Edinburgh Magazine, Vol VII, 1820,
Images via British Museum, Victorian Web, Dabbler, attribune, wikimedia, BBC, and USNews