Julie's House, or a House for Essex as it is variously called, is a collaborative effort between Grayson Perry and Fat Architecture. Perry was commissioned by Living Architecture in 2015 to create the house and it remains part of their extremely impressive portfolio.
If one is lucky, one can win the opportunity to stay in the house. And if one is not, you can peek at it as you walk within two metres of it down the public footpath to the Stour Estuary. I would say either experience would do but I would be lying. Looking at the house from the outside is one thing, but living, sleeping, eating, cooking, and bathing in the (fictional) life of Julie Cope on the inside is quite another thing. It is almost a type of theatre, although it has also been referred to as 'being inside a migraine'.[1]
Living Architecture is allegedly, although it is hard to believe considering some of the astronomical prices of their lets, a not-for-profit holiday home rental company in the UK. Their website claims 'Our houses are all in fascinating locations and have been meticulously designed for comfort and aesthetic delight (with prices starting from just £23 per person per night)' although I can't see anything under the hundred/s mark.[2] It was founded by Alain de Botton, slayer of Christmas and ponderer of Plato, in 2010. Their portfolio includes a cacophony of delights: the shiny Balancing Barn, The Shingle House, and the temporary A Room for London boathouse which was on the top of the Queen Elizabeth Festival Hall.
But this article is about Julie's House. 'An everyday story of one woman's life growing up and living in Essex'.[3] This is the narrative of choice for Perry's fictional woman. Julie. Julie Cope. 'Julie's House is a tribute to the county in which it sits and an allegory of what it is like to live here. In that sense it is both fiction and autobiography'. A story much like any of our own.
Julie was born in a loft in Canvey Island in 1953. She was named Julie May Cope and she arrived with 'the North Sea pulsing darkly up the stairs' so the story goes.
Perry's 3000 word 'Ballad of Julie Cope' tells us all we need to know about poor Julie. We know that she was a 'popular, lively girl' with a 'tender intellect' when very young, but we also learn how she donned 'a regulation chewing gum scowl' as she became teenage and a little unruly. The Ballad tells us how she changed and grew up into the woman that married Dave, her first husband, and it also tells us how she moved from Canvey Island to Basildon, and then to South Woodham Ferrers with Dave.
Dave was 'a perfect match' so it seemed, and life soon settled into a rather marital domestic sphere which caught both Dave and Julie a little unawares by all accounts. Two children and various affairs, and cars, and milestone books, and before you knew it there was Pam. Pam was no fling though and soon Dave slunk away and poor Julie was left alone with the kids. 'Nothing torn or smashed, except four lives'. Five if you count poor Pam, who probably could have done without Dave either.
Perry goes on to tell us how this was not the end of Julie, in fact, we could say it was the beginning. Julie 'feels safe enough to tug her children and her tender roots a little further north' and here she begins to study, and work, and carve a career for herself: 'She was finally free to 'be herself'. / Whatever that was? As if she would know.' A bit of career progression and some financial stability, and a Dave who 'turns up and turns out to be okay' as a separated parent, gives Julie some confidence.
Her kids continue to grow and she watches their opportunities broaden as they start to fledge the nest, heading straight for university. Her own opportunities also broaden and she too climbs 'the assembly halls of academe' as she undertakes Social Work to do the very job her colleagues already know she can easily do. And then perhaps when she least expects it, comes along Rob: forty and plumpish Rob becomes husband number two.
And so life changes again and 'Julie shifts up a rung to Colchester / Into a wonky Georgian house with Rob'. Their love is similar to the Brie and Merlot they like, rich and layered, full of aged texture. It is not the ecstasy of young love, and perhaps somewhere Julie is a little disappointed by that, but this is 'happiness, a wide fertile valley / In its familiarity, golden'.
Life ticks on and the couple share holidays and dinners and are actually a perfect match. But life is cruel and a rather embarrassingly prosaic accident ends the story.
Julie, still wearing her council lanyard, is hit by a curry delivery motorbike. And there the story ends, except for Rob's promise to mourn her like Shah Jahan. And so, the death of Julie is the birth of Julie's House in Wrabness.
And a lifelong wave of grief descends upon Rob, as he looks out over the North Sea mourning for Julie Cope.
This is the story of Julie. But let us remind ourselves it is fictional. And yet, there is something mundane enough about it that it begins to sound and be treated as if it is plausible, feasible, likely, possible, normal…. Even with the death by motorbike closing scene. We are all Julie in our own way, aren't we? How twee that sounds, but how many of us have cheated on someone, or been the one to be cheated upon? How many of us are left raising the kids ourselves, or fighting for a job we know we can do but can't quite convince our bosses we can? How many of us battle our way through education, jobs, love and house moves? And the trials of parenthood, where we struggle to maintain kindness and love alongside a healthy dose of safety and protective guidance? How many of us struggle as we hear the voice of our parents in our head when we berate our own children? How many of us at that point realise life is just a carousel? A brightly coloured carousel full of donkeys and asses, and maybe if we are lucky there is the occasional Arab horse with a fine head of hair and a proud canter which catches our eye? Or perhaps, like the carousel I recently saw in Lucca, the Arab Horse of our normal lives is really the horse with a feather duster stuck in its head as decoration – due to the recognisable discrepancy between fantasy and austerity cut reality. I suspect each of our Arab Horses really has a gaudy pink duster stuck in its head, and if we are lucky, it hasn't also got chewing gum in it. And hopefully it won't get mowed down by a man delivering the nations favourite dish. But it might. As might we.
And this is the point of Perry's creation. It is about all normal people. Including Perry, despite his pretences to be something quite singular. Julie is such a dull name isn't it? And Rob? I confess I was disappointed he was called Rob. I mean Dave, yeah sure. But Rob? Do Robs drink Merlot and go travelling to Kazakhstan? Perhaps, perhaps they only do that when they meet their Julie, their 'all-knowing pagan goddess'. Jeeeeeeewleeeeee. She was particularly pretty in her twenties and fun too, she had a high bust and pale skin, and wicked red henna curls. I liked Julie in her twenties.
I felt rather fearful and decidedly disappointed that she had become a low bosomed, wide bottomed lady, with practical shoes, a lanyard and a bob. I like bobs, so I can easily forgive that. But it wasn't a chic bob, it was one for ease, which is why her cardigans were woolly and her lanyard was still round her neck. What stylish sophisticat would wear a lanyard in the street after work had finished? And wouldn't a sophisticat die on a velvet chaise, sniffing at the fresh wild flowers in her hand? Ah yes, a sophisticat would, and so would the henna dyed free-wheeling hippie heart of Julie's twenties. But not middle-aged Julie. But, and I can barely bring myself to say it, aren't we all destined to be the middle-aged wide-bottomed lady owner of a feather duster horse?
What we aren't all destined to have is a Shah Jahan though, although it flatters us to think we may. Who will build us a chapel, a memorial house of such colour and love? Who will love us when we are gone? This fictional woman has been given a gift that most of us will never receive, and she doesn't know it. And yet, nor would we, if we were so lucky.
But this weird little fairytale gingerbread house of a chapel is testament to our desire to be known, to be loved, heard, understood and most importantly remembered. We all want to be remembered. Don't we? Don't we want our children to think fondly of us and our lovers to remember us? And how strange it was to be encountering all these thoughts as I stood in a house so colourful it induces migraines which directly looks toward where an old lover of my own lives and works. As I stood in this fictional chapel of love I wondered if he remembers me. It is odd, that somehow my own life is also a fiction, a narrative there for the taking, with no meaning and no record other than that which leaves my lips or impresses upon the soul of another. My so-say real life is also fictional. It is still to be written, it is not yet read, and not yet seen, and yet so much has happened.
We each carry within us our own chapels of love, for those who we are yet to meet and those who we wish we never had, and those who we know will never leave us, and those who have to leave us sometimes, but always stay in our hearts.
Julie lives upon the landscape, carved into a chapel of green with golden brass, amidst the changing fields of golden wheat, and wildflowers, and rising and falling suns.
Julie stands solidly undertaking all that I and many others cannot, but standing there for us. The details in the house gradually take on the shades of a real person, as real as any narrative we encounter of someone who once lived but now doesn't. A story about someone we just didn't happen to know.
We greet the faces of her husbands upon the walls of the bedrooms, we greet Julie's Venus of Willendorf figure upon the inside and the outside of the chapel, we encounter snapshots of her life upon the wallpaper up high, and walk through reflections and self-conscious, self-invented stories and smells in the tapestries. Curry. Wine. Cheese. Babies. Car fumes. Rainbows.
We also encounter Grayson Perry, and although I cannot quite detect how, it seems he has set us within part of his own personal journey.
We walk through the house of invented ghosts, living our own lives, feeding our children, bathing, cleaning, eating, and sleeping, and yet in amongst the games of hide and seek down in the scary basement, we find not just Julie, but Grayson, and possibly his mother. And definitely us. Even if it is a bit, well, weird and silly.
Still you can always spend fifty quid on a Julie's House Snow Globe at the Wrabness Local Community Shop to make you feel less weird / more of a middle-class target. (Also available at the Tate.  Still fifty quid though).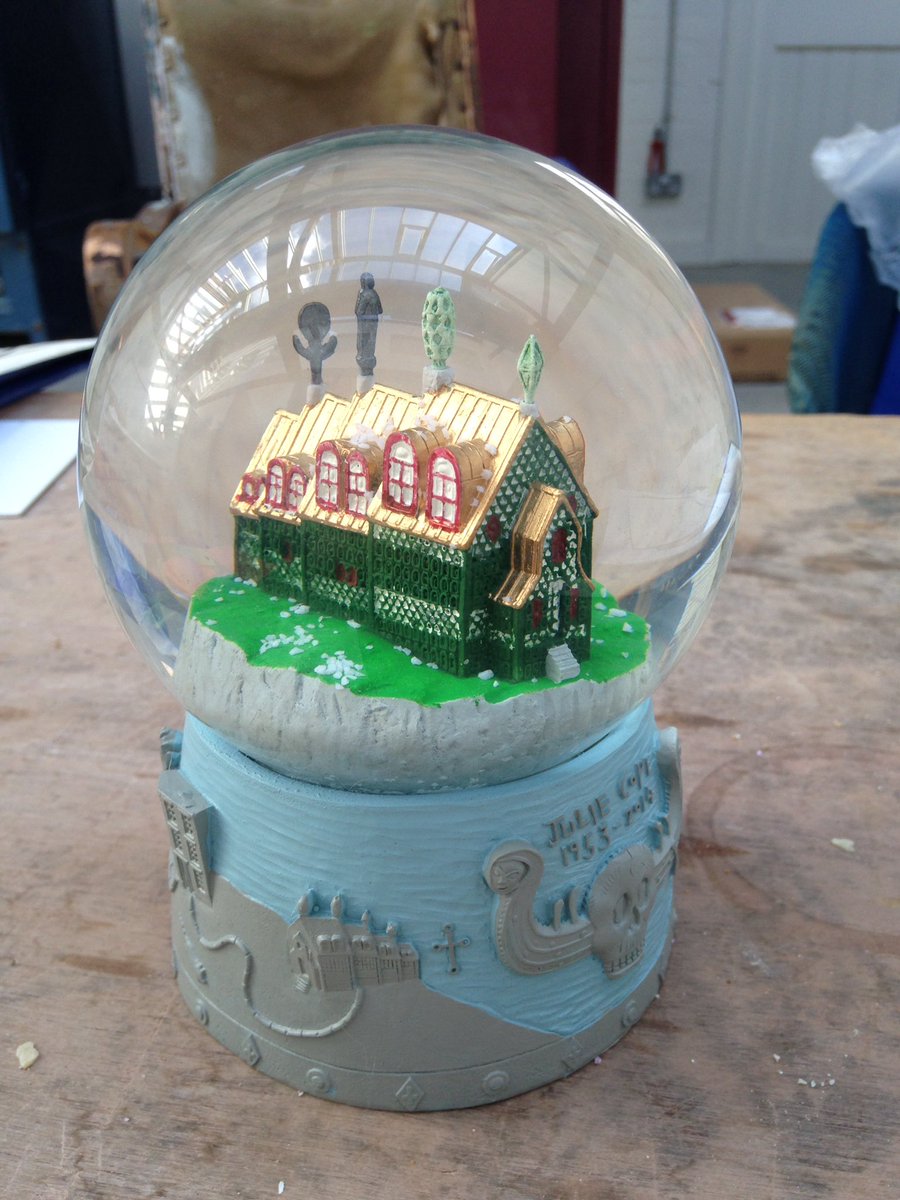 For more information about the tapestries see here.
All images are my own. Further images can be found here.
[1] https://www.theguardian.com/artanddesign/shortcuts/2015/jul/05/first-visitor-grayson-perrys-house-for-essex
[2] http://www.living-architecture.co.uk/who-we-are.asp
[3] Grayson Perry and Fat Architecture, Julie's House A Guide to a House for Essex and the Life of Julie Cope (Essex: Anonymous Press, 2015), no page numbers. All remaining quotes are from same publication, unless otherwise stated.