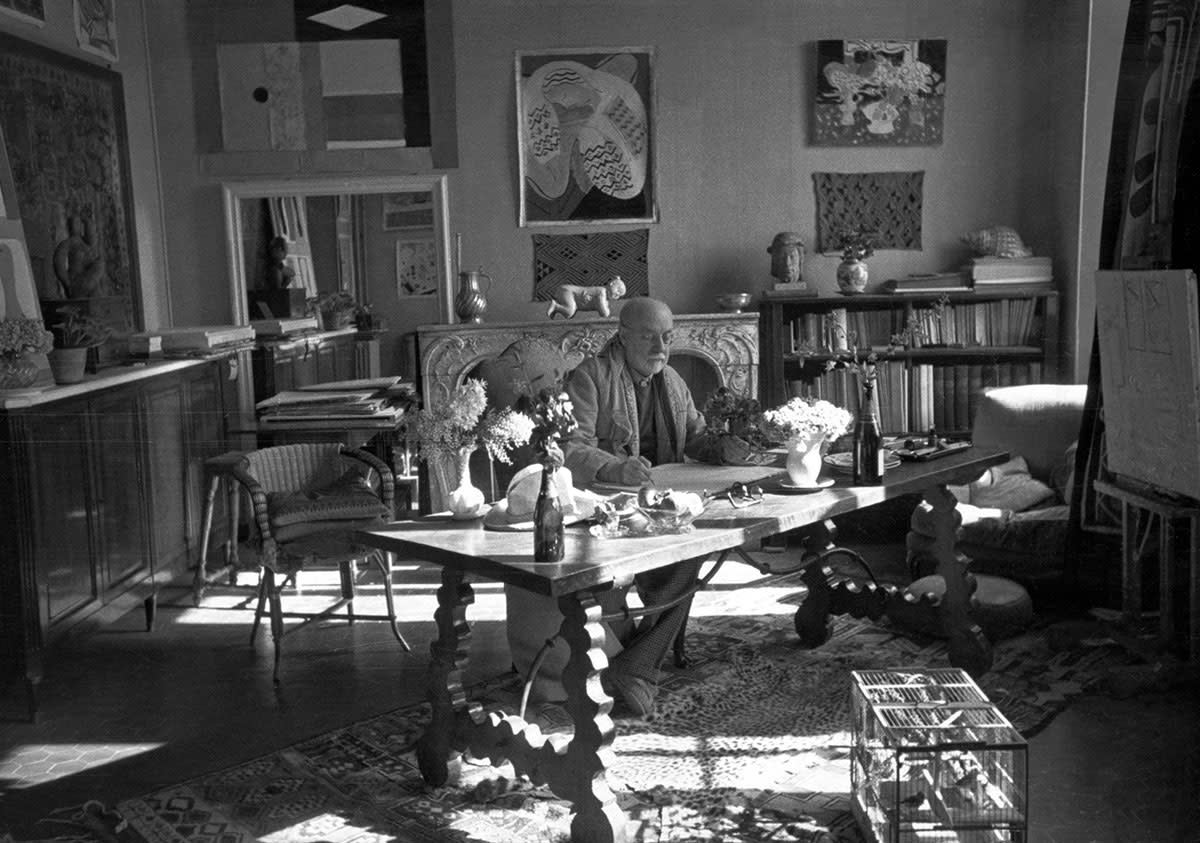 The current Royal Academy exhibition, Matisse in the Studio, has hit a cord with many critics:
The knick-knacks that became great art – The Telegraph[1]
The RA's new exhibition beckons us into the hedonistic cocoon of the artist's studio, where he surrounded himself by objects he considered his muses – The Independent[2]
This excellent show matches the artist's works with objects that inspired him and encourages visitors to use their imagination in the same way he did – The Evening Standard[3]
Not all voices are so applauding though, The Guardian describes the show as 'genius crowded out by bric-a-brac'.[4] The curator Ann Dumas has previous form with Matisse having been responsible for the R.A.'s 2005 show Matisse: His Art and His Textiles which The Guardian then thought 'An exhibition that shows Matisse's paintings alongside the fabrics that inspired them? What a brilliant idea'.[5] This current show is a self-conscious revival of that 2005 premise, aiming to take 'the process a stage further'.[6]
Perhaps this curatorial novelty has worn off in the twelve years since we first encountered its mirror matching. As I wandered around this exhibition, I began wondering why Matisse has the reputation he does. I tried to remind myself that this was the innovator who created The Blue Nude (1907, Baltimore) ahead of Picasso's La Demoiselle d'Avignon (June-July, 1907, MOMA). These dates are pedantic but they carry with them mileage of debate and criticism, and reveal your chosen side as well as a repositioning of the ever popular Picasso mythology. Matisse was and remains a modern giant of the twentieth century.[7] Doesn't he?
So why, when wandering around the intimate Sackler Wing rooms at the R.A. on a Friday evening, having worried whether I needed to book but walked straight in without a worry, did I find myself doubting Matisse?
The room was full of the type who visit this type of exhibition to remain on point, although that won't be an expression they are familiar with. They can be heard loudly proclaiming fascinating insights into the mind and techniques of the artist whose work they stand before with their crooked necks and appropriately interested gazes. They are the type with linen suit jackets and chinos, thickened waists, and the smell of money about them.  They are the less gloomy equivalent of the audience you will find at a Rothko exhibition, such as that held in the Tate Modern in 2008, although there were no black hats here. There are, of course, white walls, this is after all, how we can be certain we are being 'modern' and progressive.
It is said that visitors to Matisse's studio were astonished by the sense they were walking into one of Matisse's paintings. He was an obsessive collector of objects, and the show aims to reflect the varied and often inexpensive tastes of Matisse's studio collection alongside his paintings and sculptures. Matisse was interested in form and beauty, and yet the objects in his studio were ones which reflected the everyday as much as they did the exotic and foreign, at least that is the suggestion through the inclusion of the Chocolate Pot. In his studio, you would find jugs, vases and chocolate pots but these more quotidian staples were outshone by the more exotic chairs, tables, and arabesque cotton hangings which reflected his travels to Algeria and Morocco. Some of these objects were given by friends and some were sourced by his own scavenging eye. The R.A. poetically (maybe even over-dramatically) describes the objects as saying 'They came together in his studio-homes like immigrants in a cosmopolis, striking up immediate relationships, preserving memories of their cultural origins and functions, or remaining aloof, awkward and unassimilable. As character actors they had distinct, often quite exaggerated shapes and personalities. A green glass Andalusian vase picked up on a formative trip to Spain encapsulated memories of the translucent light of the South. A jagged wooden divination figure from the Ivory Coast, by contrast, stood out as a harsh, unforgiving, sentinel presence that had to be taken on its own terms'.[8] Some of these items are pleasurable on their own terms, particularly the Roman torso. All of these items are important, for Matisse was so dependent upon them that whenever he moved to a different studio they moved with him. But that doesn't make for an insightful exhibition.
The show matches these objects of which there are thirty-five, to sixty-five of his paintings (including cut-outs, as well as some sculptures and drawings). In the first room you meet the green Andalusian vase and note its physical form against the two images which depict it. You will observe, in direct reflection of Matisse's view that an object, like an actor can have many roles, that the vase's character is first translucent and then opaque (see Safrano Roses at the Window (1925, Philadelphia). Objects, like actors, take on different nuances and roles, transforming as they interact with the space and other objects (actors) around them.
A rather ordinary pewter vase with a swirl pattern displayed in a Perspex case, can be observed on stage in Yellow Odalisque (1937, Philadelphia) which is one of the most exciting exhibits on display. On a white stage below the painting is a rather lovely painted table (guéridon) from Algeria (19th-early 20th Century, Musée Matisse) which also appears in the painting.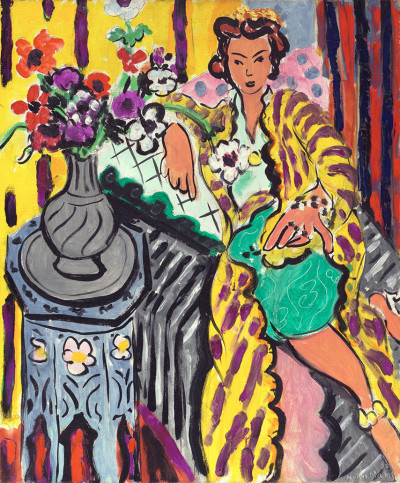 The pairings give an insight into Matisse's ability to pick up one object and morph it into something else. It remains tangible, identifiable and yet it has become something new and with it, it develops a new meaning. In this case, the damage to the object is negligible but in other cases we could perhaps levy accusations of cultural appropriation at Matisse – or is that just a slur we save for people nowadays? The beauty of the guéridon is lost, its harmonious yet bright colours disappear although it becomes more alive in Matisse's hands, more lithe, and in doing so it mirrors the body of the odalisque. She moves and writhes, leaning backwards and lounging into a horizontal pose at the very same time as she tantalisingly reaches her hand toward us and somehow moves her whole body nearer us in doing so. You may only notice this of course, if you aren't distracted by the chiming alarms going off the moment anyone even slightly moves across the invisible alarm barrier on the white stage. Either way, as Matthew Collings' says 'It's hard to deny the pleasure in seeing a real thing and then, next to it, the artistic results it gave rise to'.
That is until you look at the Rocaille Venetian Chair painting which is wanting. I'm not sure we can convincingly make any case for including this work. Unless it is just to include the chair which is a stunning actor, worthy of the RSC, not a scrappy half-hearted Matisse sketch.
When in his seventies, Matisse 'discovered' the chair in an antique shop in Nice, and promptly fell in love at first sight. 'I was bowled over. It's splendid. I'm obsessed with it' he wrote to Louis Aragon, his Surrealist poet friend. The Telegraph may well say 'we see how Matisse, wizard-like, turned it into something strangely beautiful… Its dancing visual rhythm imbues an inanimate object with the charisma of a living person. The transformation is astonishing' but this to me is pretension gone too far.[9] The resulting work is alive perhaps, but it is merely indicative, suggestive, not of greatness but of a talent we have come to know through other better works. We layer meaning on to the painting of this chair because of who did it, and in the context of the exhibition, the work clearly isn't one of his important late works, it is instead what it is: a half thought, an ill-thought, a lover unobtainable. Poor Matisse. Impotent before his great love.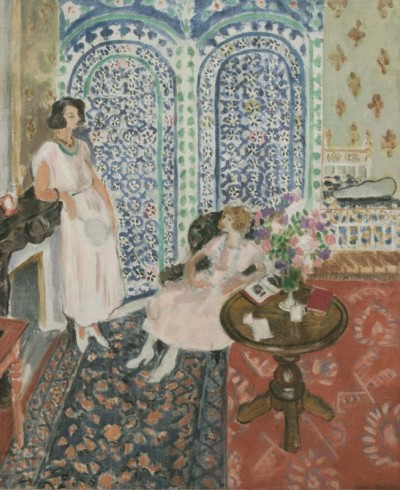 Matisse feels impotent and unimpressive throughout much of the exhibition. He feels disappointing. Perhaps the works, certainly the later 1940s ones in the show, present an ageing artist, one whose magic had begun to falter. The Matisse you want to meet at the R.A. can be found in those works from the 1920s in one of the central and penultimate rooms, like The Moorish Screen (1921, Philadelphia), the Odalisque on a Turkish Chair (1928, Musée d'Art Moderne) and The Italian Woman (1916, The Guggenheim).
The Italian Woman depicts a young woman named Laurette who visited Matisse's studio in Paris in November, 1916. She was in search of work but for Matisse, she became something more than just a model. He painted her fifty times in less than a year, and yet despite this intensity between them little is really known about her. In the painting in question, Laurette's body is turned directly toward us but her gaze is disconnected. She is half shrouded and her hair and arms somehow carve her into mildly geometric shapes. This was the first painting Matisse did of Laurette, and he shows her in a sombre palette, perhaps one indicative not just of Laurette's circumstances in 1916 but the world's. Despite this there is a resilience in the frontal posture, one which reflects his long-running interest in the bold geometry of African sculptures and masks.
Alongside the works in this room are several bold, knotted sculptures of women's heads and in contrast (or as a mirror) Dumas presents masks from the Congo opposite bold outline paintings of disembodied heads by Matisse. A portrait of Matisse's daughter Marguerite (1907, Musée Paris) which was owned by Picasso, is displayed directly with one such mask, and a photograph nearby shows that Dumas has recreated the very position Picasso had hung the work in his own studio (it was shown hanging above the mask).
From 1906 Matisse was fascinated by African sculpture, an interest he shared with Picasso. They both purchased masks and photographs of various tribal people, and visited the Musée d'Ethnographie du Trocadéro. They paid careful attention to the shapes they saw in the exotic masks but paid no interest in the original context, merely appropriating the objects for their own amusement and artistic formalistic functions. But this was not racism or colonialism, Matisse merely mined the visual world around him for new ideas, didn't he? It seems that is how we are asked to accept this array of objects at any rate: a collection which include copies of a magazine called L'humanite feminine – an ethnographic magazine with nude figures in it. Matisse's Two Women sculpture (1908) is based on one such photograph (which it is paired with in the show). But this was just his process, it seems, because as Dumas says 'at the time he couldn't afford to pay the models'. So, we are not asked to question this consumption by Matisse, just to accept it as part of his 'studio' process, part of his artistic genius. For this is clearly the mildly self-indulgent agenda of this exhibition.
Matisse performed the same cultural consumption and context avoidance with the Arabesque hangings, Chinese calligraphy, and Roman marble, which inspired his blue-and-white Forms (a rather poor example of which is on display in the show). This particular piece of fragmented Roman sculpture is positioned in front of a mirror allowing you to peruse undetected at the back of the figure, and thus, perceive the flowing curves which Matisse translates to the adjacent two dimensional pieces. However, it was African art which most deeply informed his remodelling of the female form, and he evidently luxuriated in his exploration of non-Western views. 'His studio, it seems from this exhibition, was a place where he could strip objects from all over the world of their original meanings, forget their contexts, and use them in his own fantasies of colour, sex, tranquillity and freedom. It makes his enterprise appear oddly trivial. The curators get close to killing the god they love'.[10]
The penultimate room re-energises the display (not least because it branches out from the white walls). It has a wonderful chair and several lovely hangings which Matisse used to help diffuse the light in his studio. There is a blow up print of the photograph Matisse painting the model Zita at 1, Place Charles-Félix (1928, Musée Matisse) which shows how he created a theatrical stage for his cultural meanderings and appropriations to take place. The exhibition room is bright, colourful, full of beautiful reclining women and is, after a number of decidedly unimpressive works, a relief. Aside from the ever chiming alarms which are still going off at the slightest movement that is. The absence of Delacroix in the information provided was surprising and revealing: the curators are clearly fearful of tainting the rather tenuous genius of Matisse which they have selected for this show, with that of his predecessors.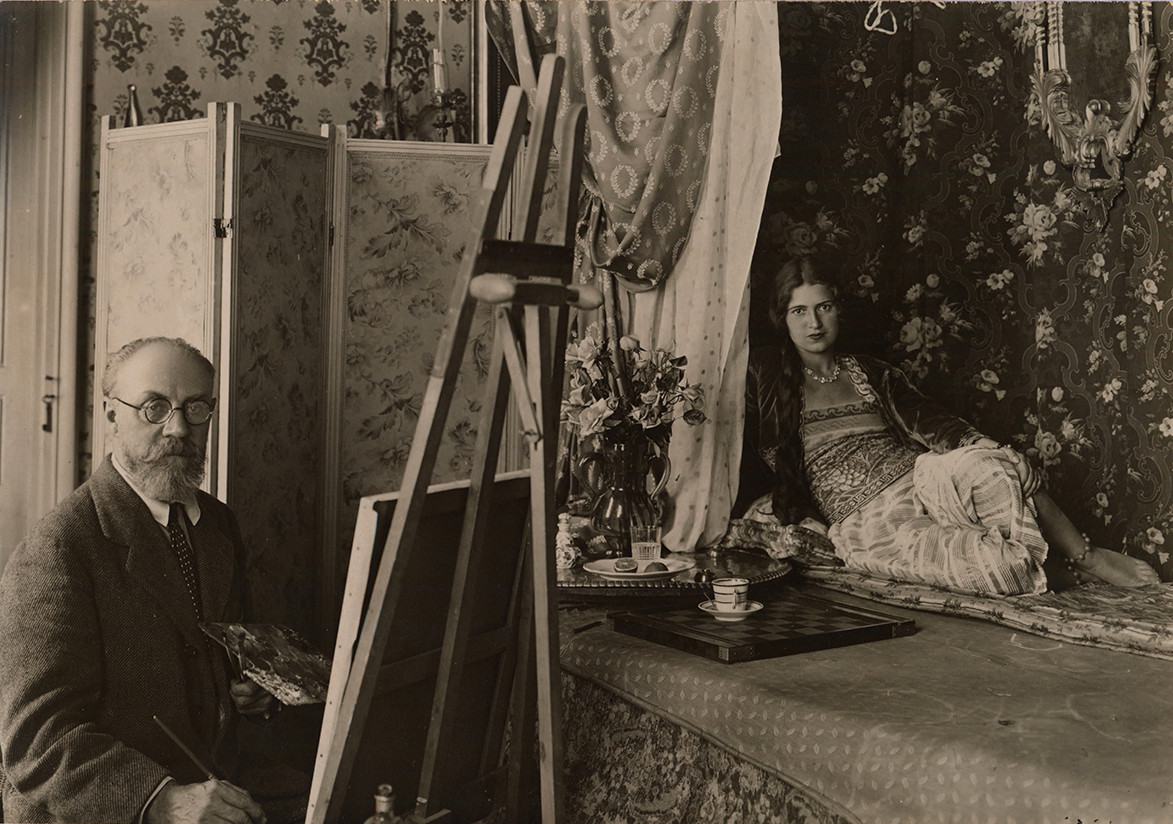 In the final room, we meet some cut-outs paired with a large lacquered Chinese calligraphy panel, given to Matisse by his wife, Amélie, for his 60th birthday. Dumas has once again recreated the way the works were displayed in Matisse's lifetime, for this captures how they lived in his Nice studio. There are photographs, though not in this exhibition, which show how Matisse cut out shapes and toyed with their arrangement until he captured the effect he wanted. Collings declares this pairing of the cut-outs and the calligraphy 'as a revelation' but it feels indulgent, not revealing. Even the cut-outs on display feel tired. The child-like naiveté of them isn't charming or exciting, it is disappointing. Their rough edges undo the effect, not add to it. The serpentine flow of colour and cadence which Matisse sought is spoiled by harsh brutal scissor marks. At the end of the day, we need to admit that Matisse's cut-outs translate better to high resolution prints, not to an up-close and personal encounter. The final tree work on display does nothing to vivify you before you leave the show either and having just found energy in the Moroccan display, it is a shame to leave uninspired.
One work which may perhaps energise one a little, mainly through colour rather than effect or content, is the Red Interior: Still Life on a Blue Table (1947) which draws upon the Kuba cloth displayed above it. The rest of this room is unimpressive though.
This show is about resonance and nuance, but in some instances it is about creating nuance and insight retrospectively. Something Matisse himself also did, by purchasing items after the fact as it were, perhaps as a means of legitimising his own artistic style. Sometimes objects didn't create the works, they were actually purchased after the works had been created. Perhaps some of this retrograde pretension is what I felt came through in this show.
As a show we are invited to indulge Matisse and Dumas in their respective fascination with objects, but in summation, I am more inclined to agree with Adrian Searle's view that 'Instead of providing insight into the mind of Matisse, this collection of the artist's antique chairs and chocolate pots belittles his art and highlights his conservatism'.[11] In spite of the critics general impress, the fact there was no queue on a Friday night leads me to wonder whether the public are quite as receptive to this display.
Matisse in the Studio at the Royal Academy runs from 5th August to 12th November.
Here is a video with Tim Barringer discussing Matisse, and here is a slide show of some of the works on display.
Images via various, including R.A., Wikipedia, Guardian, Telegraph etc.
[1] http://www.telegraph.co.uk/art/what-to-see/knick-knacks-became-great-art-matisse-studio-ra-review/
[2] http://www.independent.co.uk/arts-entertainment/art/reviews/matisse-in-the-studio-royal-academy-london-review-gorgeous-and-surprisingly-revealing-a7872376.html
[3] https://www.standard.co.uk/goingout/arts/matisse-in-the-studio-review-inside-matisse-s-mind-a3600906.html
[4] https://www.theguardian.com/artanddesign/2017/jul/31/matisse-in-the-studio-review-genius-crowded-out-by-bric-a-brac
[5] https://www.theguardian.com/culture/2005/mar/08/1
[6] https://www.royalacademy.org.uk/article/ra-magazine-matisse
[7] We can see the origin of The Blue Nude in Nu couché, I, Aurore (Reclining Nude, I) (1906- 1907, Albright-Knox Art Gallery)
[8] https://www.royalacademy.org.uk/article/ra-magazine-matisse
[9] http://www.telegraph.co.uk/art/what-to-see/knick-knacks-became-great-art-matisse-studio-ra-review/
[10] https://www.theguardian.com/artanddesign/2017/jul/31/matisse-in-the-studio-review-genius-crowded-out-by-bric-a-brac
[11] https://www.theguardian.com/artanddesign/2017/jul/31/matisse-in-the-studio-review-genius-crowded-out-by-bric-a-brac