When Highgate Cemetery opened in 1839, it looked very different to the green ivy-covered gothic (small g) evocation that it is now. Back then, as The Penny Magazine wrote: the landscape was manicured and formal with 'parterres of sweet-scented flowers, picturesque trees, and clumps of everygreens…scattered in the most appropriate spots'.[1] On the day I visited, the sun was shining brightly and we picked our way through the dappled light among the Victorian monuments in the East Cemetery, before the rain welcomed us into the West Cemetery. As we walked through the rain, the light changed rapidly, from heavy-cast shadows to grey mists and then, as the sun broke through the clouds and the rain stopped momentarily, the heat of the summer steamed up from the graves and created a hot almost tropical mist. The air was cinematic. I felt as if I was indeed within a film noir.
John Betjeman described Highgate Cemetery as a 'Victorian Valhalla' which is wonderful as a form of alliteration, but I am not sure the structure of Valhalla really conveys the sprawling and winding openness of Highgate.[2] The cemetery has been of interest since it was opened. There is a balcony near the Catacombs where people came to promenade as such, and look down at the monuments below. A guidebook was published as early as 1845 and now a profitable Friends of Highgate Cemetery uses admission costs to help protect and maintain this compelling sanctuary of our Victorian ancestors as they receive no government funding at all. The 'Friends of' was formed in 1975 when the site began to fall into disrepair and needed an investment and safeguarding for the future. The site is held dear by the locals and in fact many of them volunteer in the small shack where you buy your ticket or as volunteer guides around the West Cemetery.
As already alluded to, the site is split into East and West and you can only enter the West with a tour group. This is mainly down to the more rambling nature of the West Cemetery and the uneven ground, whereas the East Cemetery is easier to navigate and you can wander freely by yourselves here unless of course, there is a section being used for a Service in which case you will be directed away from that particular area. Both sections are in fact still used for burials with up to ninety interments each year and a further fifty plots sold each year.[3]
In the 1830s general overcrowding in existing Anglican churchyards and a population boom inevitably meant more bodies to bury and limited suitable sites to bury them. Many were moving from rural communities to seek work and so there were ever more people living in the city. The rising population inevitably meant more bodies would need burying and this became a problem for London.
Graves were regularly reused, and bodies were sometimes only buried three feet deep. You also had to pay for this privilege. 'Putrefying bodies were frequently disturbed, dismembered or destroyed to make room for newcomers. Disinterred bones, dropped by neglectful gravediggers, lay scattered amidst the tombstones; smashed coffins were sold to the poor for firewood. Clergymen and sextons turned a blind eye to the worst practices because burial fees formed a large proportion of their income. Macabre scenes awaited those who pried too closely into the gravedigger's work:
I saw them chopping the head of his coffin away; I should not have known it if I had not seen the head with the teeth; I knew him by his teeth; one tooth was knocked out and the other was splintered; I knew it was my father's head, and I told them to stop, and they laughed …'[4]
Existing sites were becoming unsanitary and it is said 45,000 people were dying each year in London alone.[5] Census records show that London's population was just under one million in 1801, but by 1841 it had nearly doubled to two million. By the end of the nineteenth century it was over six million, which is remarkably close to its current population of eight and a three quarter million. That was a lot of bodies to bury safely and amid the fear of 'miasma' (poisonous vapours) from the cholera outbreaks (which began in 1831) and the ever real fear of Body Snatchers (men delightfully referred to as 'Resurrection Men') London sought a solution. The answer was to provide the city with more cemeteries and in 1832, Parliament passed a bill encouraging the establishment of private cemeteries outside London. There are eight of them from this date: Highgate Cemetery was part of this programme.[6] The plans were established by the London Cemetery Company, which was founded in 1836 by Stephen Geary, an architect and civil engineer. The vast site of Highgate which is 17.5 acres, was purchased by the London Cemetery Company and included part of the grounds of Ashurst Manor House, which had belonged to Sir William Ashurst, Lord Mayor of London in 1693. There is no trace of the seventeenth century garden nowadays and Ashhurst House was demolished in about 1830 and replaced with St. Michael's Church in 1832.
Geary designed the Cemetery along with James Bunstone Bunning (who is buried in the West Cemetery) and was the architect for the London Cemetery Company from 1839. Geary is known for a monument in tribute to George IV (which was much derided) in Gray's Inn Road which gave King's Cross its name. Geary is also said to have designed the first gin palace. 'David Ramsay, the London Cemetery Company's landscape gardener, designed the Cemetery's landscape with serpentine roads and broad gravel paths leading up to the burial area beneath St Michael's church'.[7] Its aim was in some ways to reflect the success of the Parisian Père Lachaise Cemetery (where Wilde is famously buried) which opened in 1804.
The design of the cemetery has something of the French garden to it, a kind of Rococco space where you can wander amongst the wild flowers and rambling grasses and ferns. The formality comes through nature being wildly constrained, a kind of gently controlled wildness. It is said to be full of wildlife and I can well imagine foxes running through at night, or birds making nests up high in the numerous trees. As William Justyne stated in his guidebook of 1865, it was his 'humble purpose…to direct the visitor in his rambles through this sacred garden'. This is a sacred garden, both theologically speaking and architecturally so.
Interestingly, there are various religions and denominations buried here (e.g. the atheist Karl Marx, a Mason, Issachar Zacharie, and the Jew John Evans Fyffe) although in the Victorian era there were strict rules about burials, particularly for people wanting a Church of England burial. In fact the rules were so strict, that there is a grave where one half of the family is buried on consecrated ground (as consecrated by the Bishop of London) and the other half of the family is buried on unconsecrated ground (i.e. those people who were not members of the Church of England were buried in ground the Bishop had not consecrated).[8] Two acres were set aside for these faiths. The Gothic style entrance on Swain's Lane has a pair of chapels, for Anglicans on the left and Dissenters on the right. They are separated by huge cast-iron gates.
Beyond the impressive entranceway, the architecture of the West Cemetery continues to be impressive: you are greeted by The Colonnade which Bunning designed (also known for designing Holloway Prison). Through this impressive structure where your coach and horses could turn, you ascend some stairs which leads toward the Egyptian Avenue. The burial plots here were the most prestigious and costly, ranging from £20 to £150 (between £14,500 and £109,000 in today's money).[9] The majority were sold by 1870 and had large brick vaults designed to take multiple lead-lined coffins so that family members could be buried together. It wasn't just plot which indicated your status but the type of monument and ornamentation you had: whether that was an obelisk, a sarcophagus, a ledger slab, a chest tomb, a common grave, or interment in the Catacombs.[10] The grave adornments also reveal something of the personality of the deceased, whether public as in the case of Tom Sayers (see below) or private, as in the case of Beryl Bainbridge. Other forms of symbolism include clasped hands referring to the sentiment 'till we meet again, the hourglass for the passing of time, the poppy for eternal sleep, or more traditional symbols such as doves as a sign of peace, lilies for innocence, the cross as a symbol of resurrection.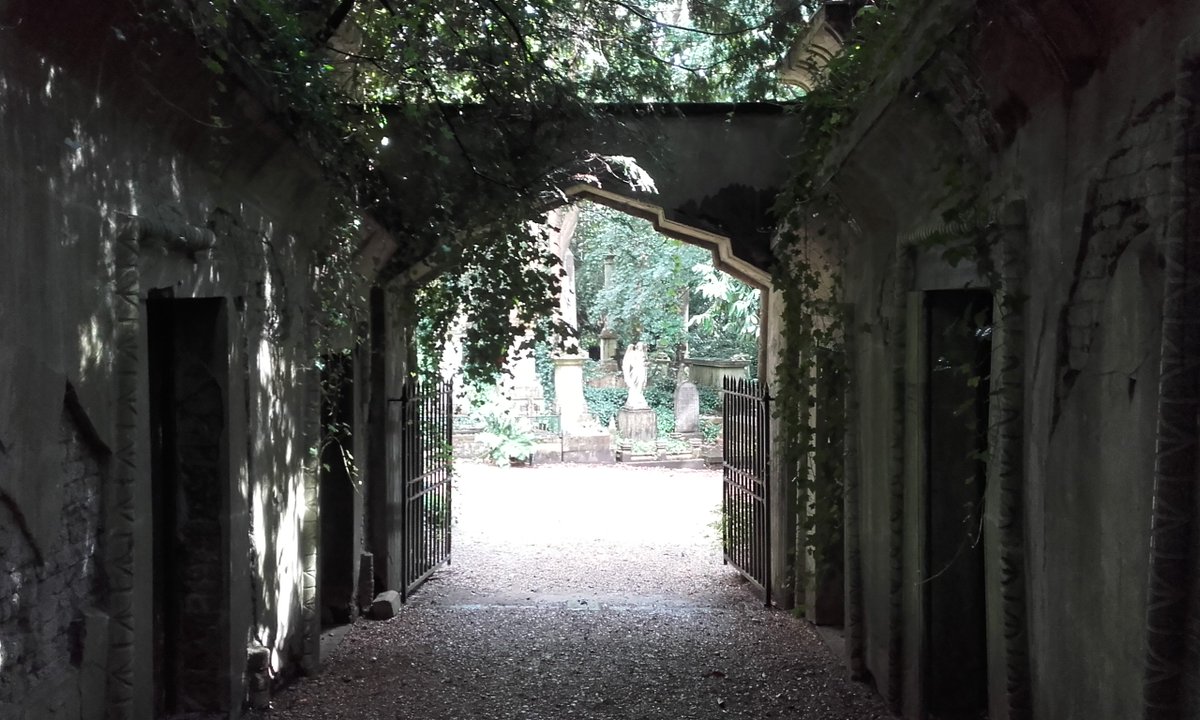 The Egyptian Avenue is flanked by two obelisks and is a rather theatrical gateway to the Circle of Lebanon. The archway has two lotus columns on either side and feels very triumphal and again shows the Victorian interest in Egyptology. The avenue was once enclosed no doubt making it even more impressive, although it is atmospheric enough even with the natural light falling from above.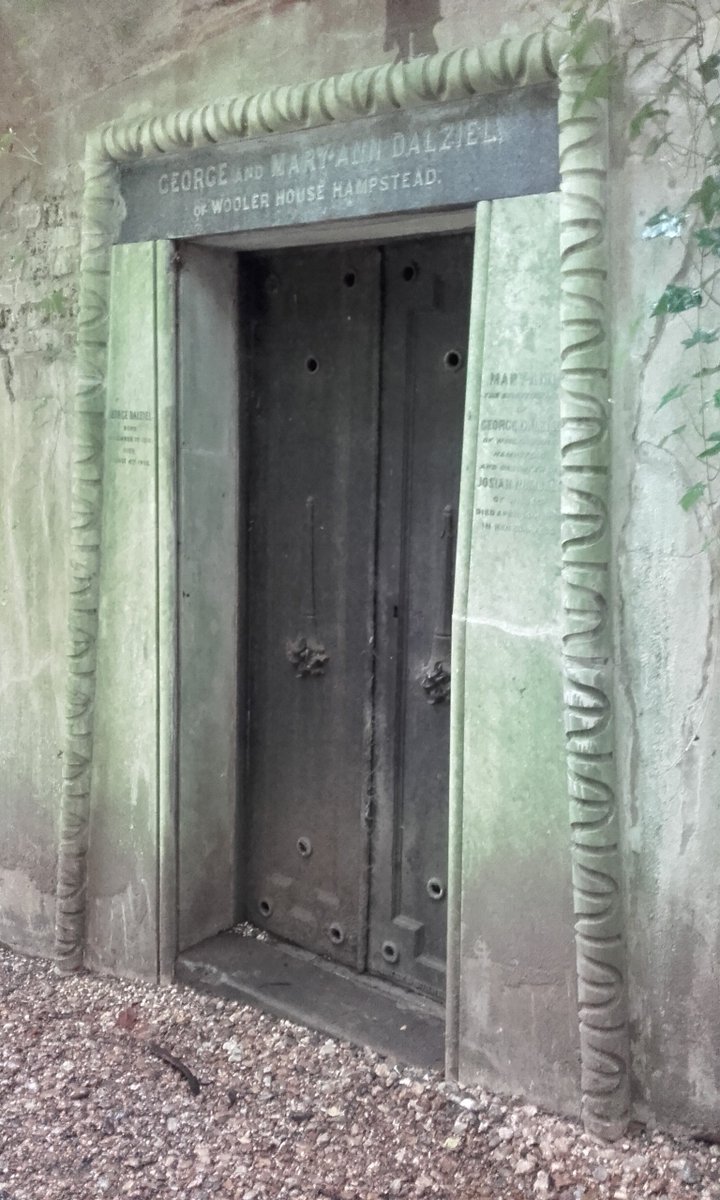 There are eight family vaults within the Avenue each secured by a cast-iron door. Some indicate their origins, e.g. of 'Packington Street, Islington' is carved on one. George Dalziel, the famous Pre-Raphaelite engraver is buried on the left-hand side of the Avenue: a most impressive final resting place.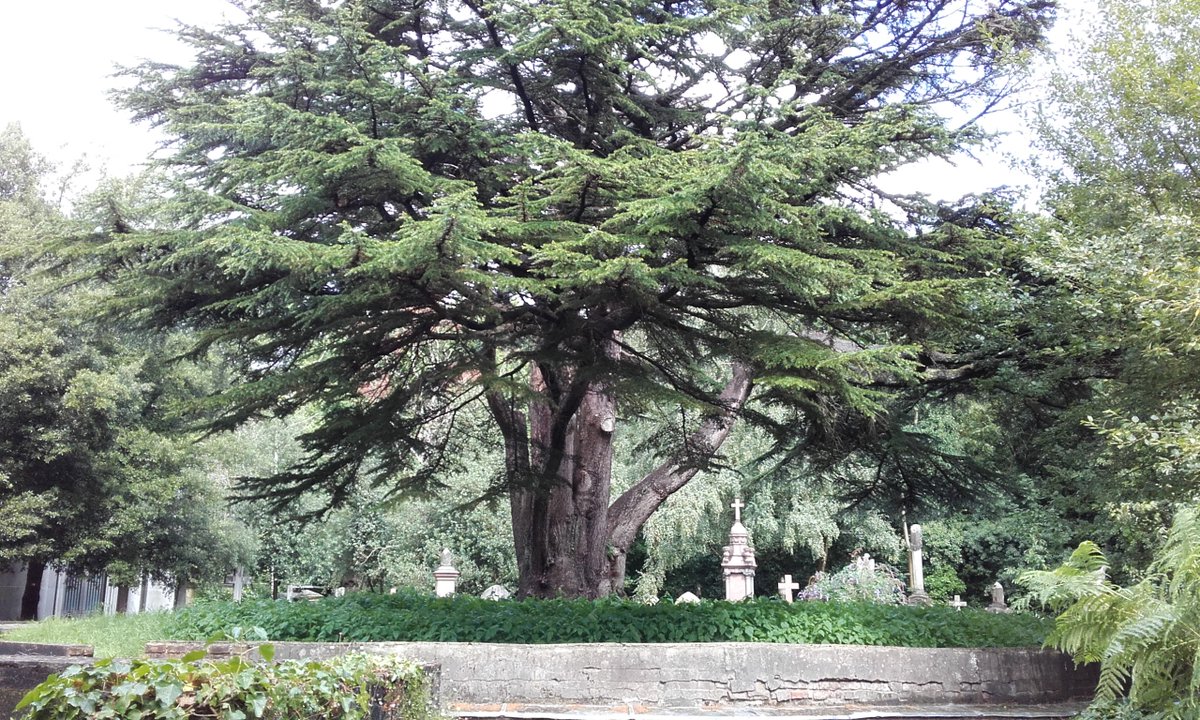 The Circle of Lebanon at the top of the Avenue has a huge cedar tree in its centre which was over a hundred years old when Geary made his design. It has been incorporated into the architecture in a most impressive way and you have to circle around it to visit all the vaults. There are twenty plus vaults from the first additions, with a further sixteen being added after forty years. The inner vaults are Egyptian in style, the outer Classical. Radclyffe Hall is buried here with Mabel Batten. The vault has two lines from Elizabeth Barrett-Browning's Sonnet 43 of Sonnets from the Portuguese inscribed:
And, if God, choose, I shall but love thee better after Death'.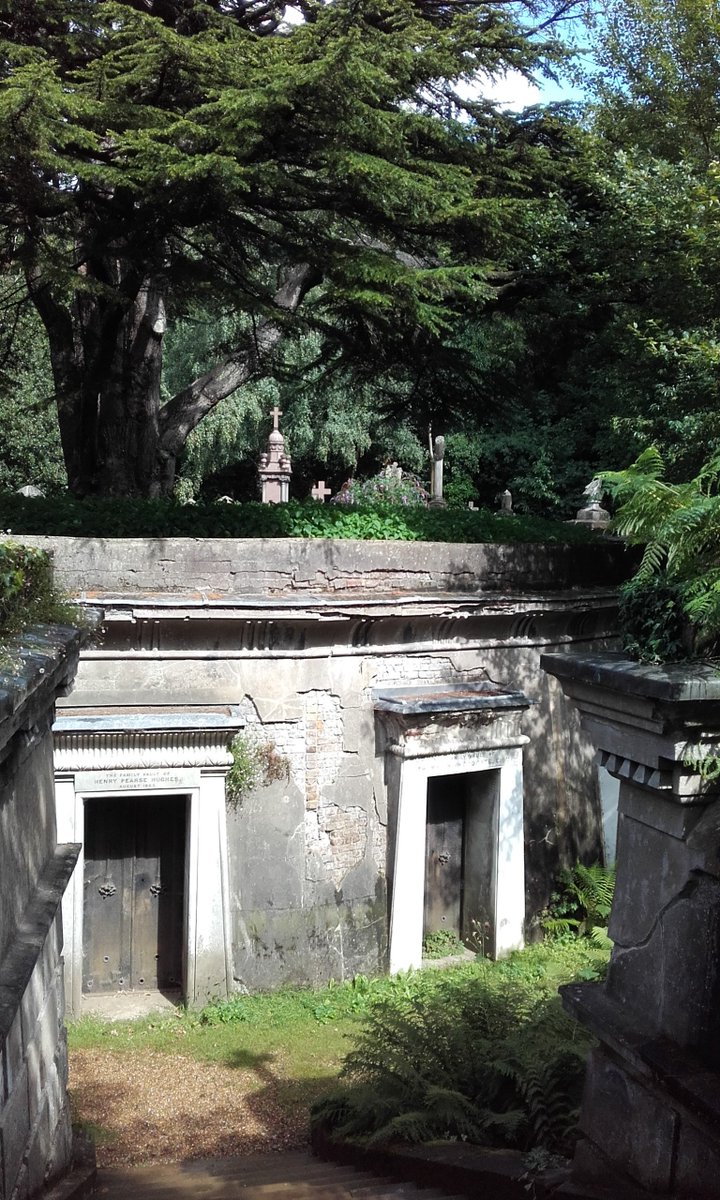 Angels are found throughout the cemetery and adopt various poses. In some instances they look or point upward, indicating resurrection and the departure of the soul from here on earth to heaven above. They may typically be associated with a trumpet, a symbol of Revelation, but also a reference to the choral ministration of angels at Christ's side. Or sometimes angels are pious and look downwards, which represents a strong sense of mourning and loss.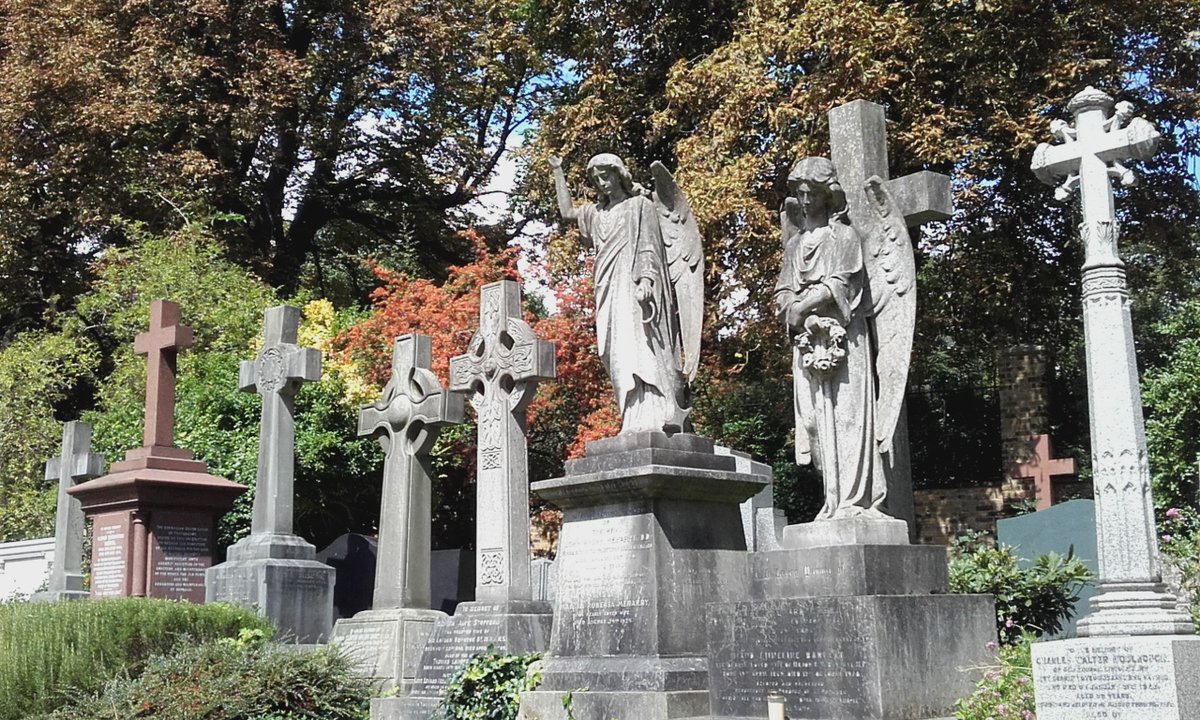 One particularly striking angel can be found in The Beer Mausoleum, which occupies one of the highest spots of the Cemetery and overlooks the Circle of Lebanon. It is the largest and grandest of the privately owned monuments, which was built for the daughter, Ada Sophia, of Julius Beer who died of scarlet fever at the age of eight, in 1875. She is kneeling next to an angel whose arms reach round her to protect her. She has her hands together in prayer and we trust that she is going to be taken to haven under the protection of this large winged graceful angel.
We have already mentioned promenading, and whilst it may seem odd to do so, the Cemetery was in itself a pleasant and green space and as such, offered respite from the smoke and grime of the inner city. Above the Terrace Catacombs is a terrace where visitors would promenade and 'enjoy the quiet, the pure air, and the splendid landscape'.[11] Inside the Catacombs are eight hundred and twenty five recesses, where you can still see lead-lined coffins. The head was nearest to the walk-way so that visitors could talk to their dearly departed.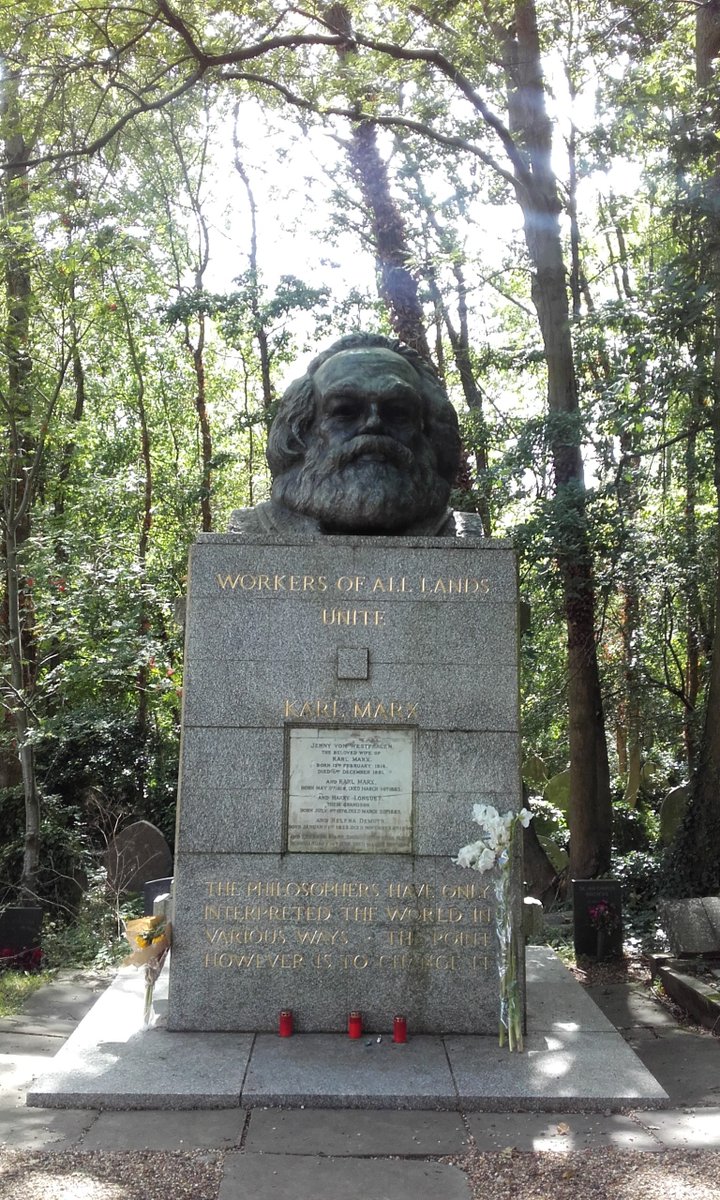 The most famous and in some ways most impressive (at least the most grotesque) monument in the East Cemetery is that of Karl Marx. He was originally buried on the 17th March, 1883 in his wife's grave with only eleven people attending his funeral. However, in 1954, the Communist Party launched the Marx Memorial Fund and both bodies were exhumed and the grave was moved to its current position. The huge bronze bust of Marx by Laurence Bradshaw, sits pouting over his beard, looking down at us all as we pass by as he loudly proclaims 'Workers of all lands unite'.
My own interest in the Cemetery is for its Victorian residents. These range from George Wombwell, to Elizabeth Siddal to Tom Sayers. Wombwell is buried underneath a statue of his most famous possession, Nero the lion. Nero, who was part of Wombwell's travelling menagerie (a rather sad but not entirely uncommon Victorian practice) included boa constrictors, giraffes, lions, leopards, and zebras. Nero was his most famous 'exhibit' if you like and he sits on top of Wombwell, perhaps in a form of vengeance keeping Wombwell firmly under his watch.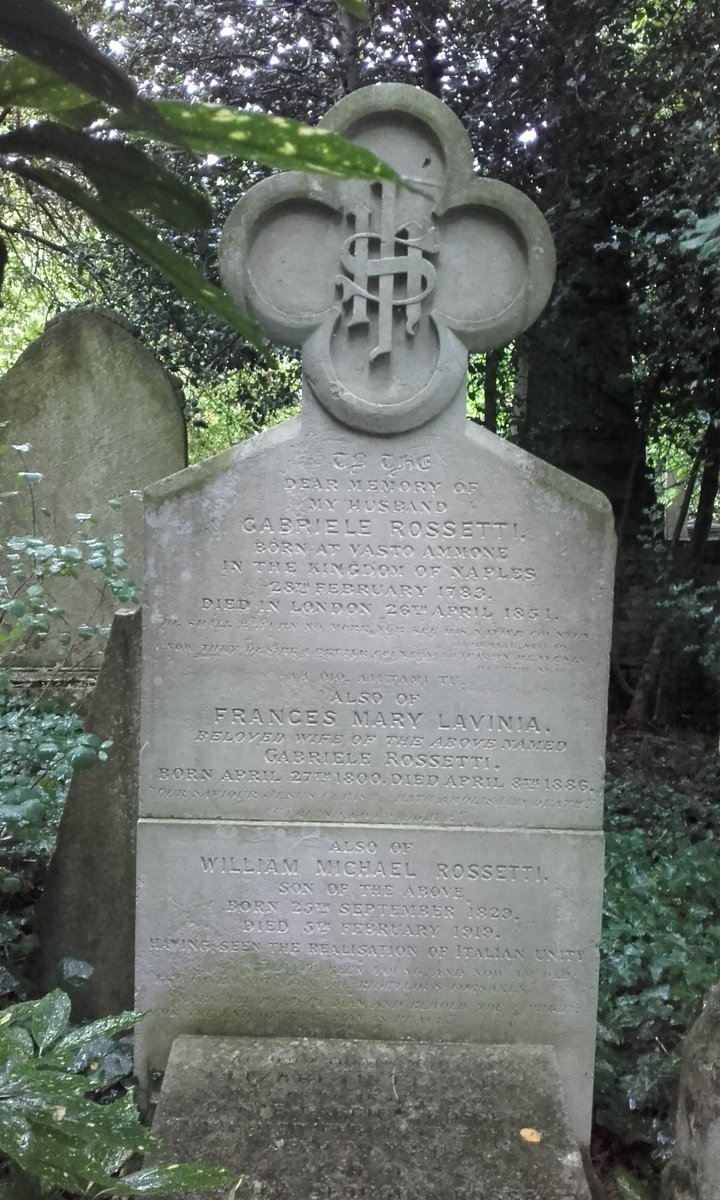 Elizabeth Siddal, wife of Dante Gabriel Rossetti, is buried in the West Cemetery. In 1862, after a turbulent relationship with both Rossetti and the drug laudanum, Siddal died. The scene of her death is described below:
On the evening of 10th February 1862 Lizzie, wearing a new cloak, had accompanied Rossetti and their friend Swinburne to the Sablonière Hotel, Leicester Square, where they had dined early. She had seemed drowsy in the cab on the way but refused Gabriel's offer to take her home. During dinner her mood had fluctuated; she had seemed excitable, chaffing Swinburne who delighted in her company and was one of her few friends. Since Rossetti was teaching that evening at the Working Men's College, he and Lizzie returned early to Chatham Place where she made preparations for bed while he went out to take his class.
Returning two hours later he found his wife dying. Beside her on a table was an empty phial which had contained laudanum and pinned to her nightgown a message – not one of farewell to her but a petition on behalf of her afflicted brother: 'Take care of Harry', it read. No surer evidence was needed that this was suicide. Rossetti snatched up the tell-tale paper before the arrival of the doctor and, leaving Lizzie in the care of the doctor and of her sister, urgently brought from the Old Kent Road, he hastened to Kentish Town to knock up the faithful Madox Brown. There he showed him the scribbled message which Brown took and burnt before they hurried back to Blackfriars. Overwhelmed with despair and unable to believe that nothing more could be done. Rossetti called in three further doctors but Lizzie was beyond help. She died soon after seven o'clock on the morning of 11th February; a verdict of accidental death was recorded.[12]
Seven years on and Rossetti along with his 'friend' and dealer, Charles Augustus Howell, petitioned the Home Secretary (in secret from his family) to have Siddal disinterred in order to retrieve a notebook of poems Rossetti had romantically placed in her coffin. Howell went to the grave one autumn night and watched the coffin be exhumed. This act unstabilised Rossetti and plagued him for the rest of his life. He was informed how Lizzie's red hair filled the coffin, and how her body remained intact but in reality the manuscript told of her real earthly state: worm-ridden. Only three pages of the original manuscript remain in existence now, one of which is in the Ashley Library (at the British Library).
Along with Siddal, no doubt making for an uncomfortable and disapproving eternity, lies Christina Rossetti whose relationship with Siddal was often awkward. Rossetti's father (Gabriele), mother (Frances) and brother (William) are also buried here. Rossetti's grave is at Birchington-on-Sea though. This grave is not generally on the tour, although sometimes if you ask you may be able to see it.
Thomas Sayer's tomb marks the life of a true Londoner. Sayers was a bricklayer but he was better known for being a bare-knuckle fighter. In a career which lasted from 1849 until 1860, he lost only one of his sixteen bouts. His last fight drew the most publicity but it resulted in chaos after forty rounds when his opponent Jack Heenan tried to strangle Sayers after cutting the ropes, and supporters of Sayers wading into the ring. The fight which was called a draw was never really happily called and it was only stopped when police were spotted. Some would still argue Sayers won although it seems likely Heenan had the upper hand at the point of termination. It was a hard and dirty fight by all accounts. After this fight his many supporters had a whip-round and raised a huge £3000 for him which enabled him to retire from the ring. Sayers opened a tavern but he seems to have been a bit of a boozer, and died only five years after he retired. A huge crowd watched his funeral cortège travel through London and his loyal mastiff, Lion, who was chief mourner at his funeral, guards his tomb.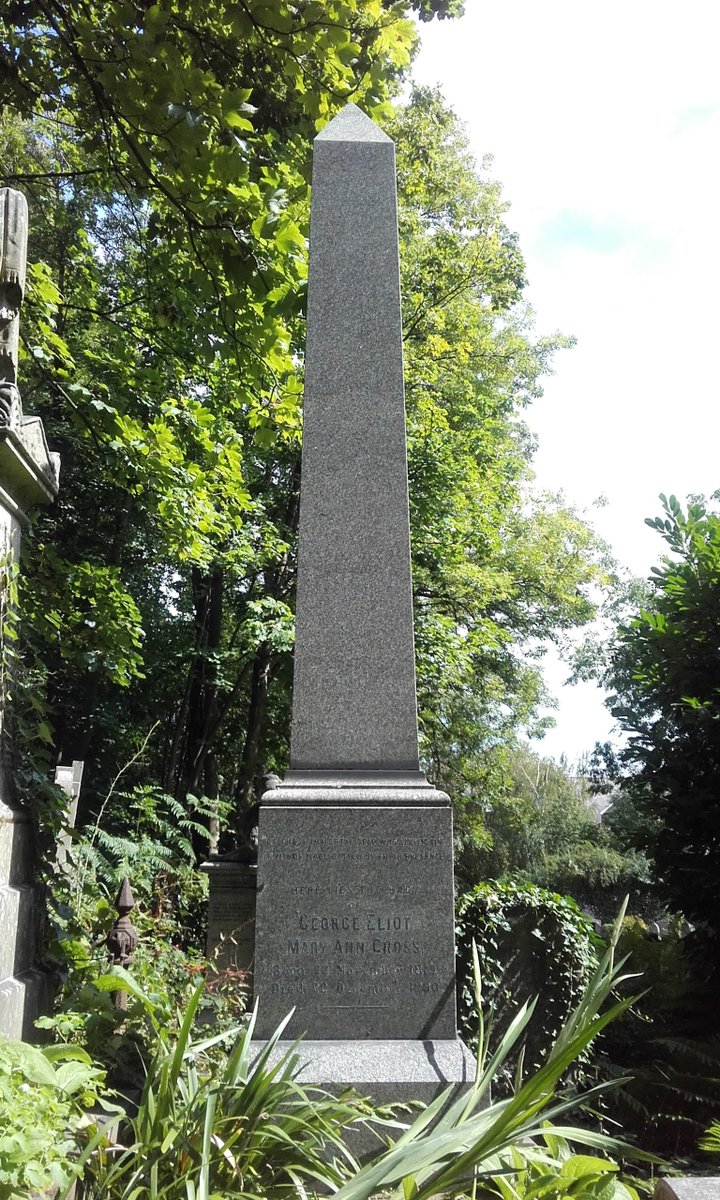 George Eliot is also buried here (with her once partner George Lewes), although you will find her in the unconsecrated East Cemetery. This was the 'New Ground', land purchased in 1852 specifically to extend the popular resting place of Londoners. Eliot's tomb shows the name Mary Ann Cross which she used after her marriage to John Cross in 1880, as well as her pen name, George Eliot which she employed from 1857
Other Victorian tombs of interest are: Pre-Raphaelite model Julia Prinsep Stephen (1846 – 1895) and her husband Sir Leslie Stephen (1832 – 1904) who was first editor of the Oxford DnB, the artist Frank Holl (1845 – 1888), architect Edward Blore (1787 – 1879), the publisher John Chapman (1821-94), diarist Henry Crabb Robinson (1775-1867), secularist George Holyoake (1817-1906), Catherine Booth-Clibborn (1858 – 1955) daughter of William and Catherine Booth the founders of the Salvation Army, and Dickens' wife Catherine (1815 – 1879) and their daughter Dora (1850 – 1851).
Other tombs of interest here include: the Boothby's, Douglas Adams, Patrick Caulfield, Malcolm McLaren, Jeremy Beadle, Alexander Litvinenko.
Other information pertaining to the Heritage of Highgate can be found on the English Heritage website here.
Info on the rest of the Magnificent Seven Cemeteries (excluding Victoria Park, and Highgate obviously) can be found here:
Kensal Green is the resting place of the engineers Sir Marc Isambard Brunel and Isambard Kingdom Brunel, the mathematician Charles Babbage, and the novelists Wilkie Collins, Anthony Trollope and William Makepeace Thackeray; Lord Byron's wife, Oscar Wilde's mother, Charles Dickens' in-laws and Winston Churchill's daughter
https://brompton-cemetery.org.uk/
Frederick Leyland is buried here. His chest tomb was designed by Edward Burne-Jones.
Mrs Beeton, Baron de Reuter, and Sir Henry Tate are buried here.
William & Catherine Booth are buried here.
Images from my own collection.
[1] Highgate Cemetery: saved by its friends, p. 2. The guidebook is quoting The Penny Magazine of 1839, although they don't specify the source in the guidebook.
[2] Ibid., p. 2.
[3] Ibid., p. 4.
[4] https://www.theguardian.com/cities/2015/jan/22/death-city-grisly-secrets-victorian-london-dead
[5] Ibid., p. 8.
[6] The cemeteries, in date order:
Kensal Green Cemetery, 1832
West Norwood Cemetery, 1836
Highgate Cemetery, 1839
Abney Park Cemetery, 1840
Nunhead Cemetery, 1840
Brompton Cemetery, 1840
Tower Hamlets Cemetery, 1841
Victoria Park Cemetery, 1845 (closed for burials in 1876, and reopened as Meath Gardens).
Excluding Victoria Park, the seven cemeteries are now known as the 'Magnificent Seven'.
[7] https://historicengland.org.uk/listing/the-list/list-entry/1000810
[8] By not of C of E, you could have been Methodists, Dissenters, Non-Conformists etc., In this case, I believe
[9] Highgate Cemetery saved by its friends, p. 24.
[10] The rise in fashion for obelisks was in part because of Egyptology.
[11] The Penny Magazine of the Society for the Diffusion of Useful Knowledge, 21st December, 1839.
[12] https://madeleineemeraldthiele.wordpress.com/2017/02/11/elizabeth-siddal-her-passing/