A new landmark exhibition of Royal dresses is on display at the Fashion Museum in Bath. 'Royal Women' offers visitors the chance to indulge in an array of silks and satins drawn from the Fashion Museum's own collection, as well as major loans from the Royal Collection, as generously lent by Her Majesty The Queen. This is a chance to consider the significance of Royal style and its importance in setting the 'appropriate tone' for various occasions: weddings, to balls, to the races.
The exhibition curator Elly Summers, said: "The Fashion Museum is one of the world's great museum collections of historical fashionable dress and we are immensely fortunate that amongst its treasures it includes dress belonging to members of the Royal Family; we are equally fortunate in the loan of key pieces from the Royal Collection. Whilst assembling the show, curators hoped to prompt the public's memory in locating now lost Royal fashion, such as the six dresses belonging to Queen Alexandra which are known to have been in a London shop in the 1960s but have long since disappeared. Hopefully, the press coverage may yet trigger people's memories.
The small but interesting collection of dresses on display explores several generations of the Royal family tree: Queen Alexandra, Queen Mary, Queen Elizabeth The Queen Mother, and Princess Margaret to name the main ones. Note none of these were ever regnant.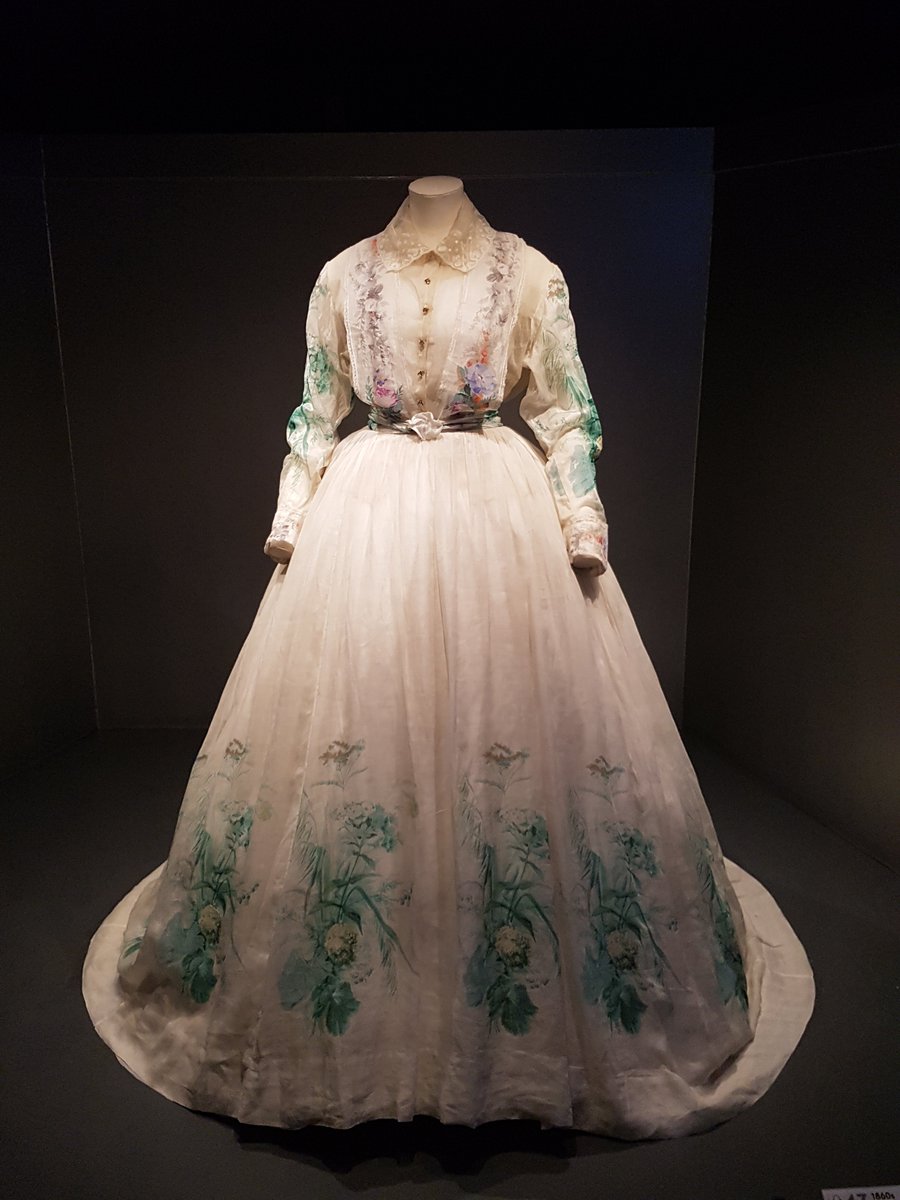 In order to enter the exhibition you will have already seen a variety of dresses in the Museum's 'A History of Fashion in 100 Objects' which have some stunning outfits, including 17th century dresses through to Austen style empire line outfits, and some absolutely dreadful present day 'outfits' which I hope future historians never make the mistake of assuming anyone ever wore them. Some of these 100 objects though are worthy of royalty, not least the cobalt blue shoes and the Victorian Monet-esque style dress (as above).
The exhibition itself commences with a large family tree introducing the royal connection of each female and providing some context for names perhaps less well-known by visitors – for example, some of us are perhaps less familiar with Queens Alexandra and Mary.
Within each woman's glass case, for the dresses are rather entombed, there is further biographical detail to contextualise each women and her royal role, which helps as you explore the different types and choices of clothing required for various royal duties. Whilst the sartorial role is the focus of the exhibition it is clear that individual taste, such as the lower necklines of Queen Alexandra, still inhabited the Royal Women's fashion choices. And thank goodness we can have an exhibition about royal fashion without mentioning Diana, who, although a fashion icon in her own right would have overshadowed this smaller and more intimate exhibition. Additionally, one only has to go to Kensington Palace to see their current exhibition devoted solely to Diana as fashion queen.
Her Majesty Queen Alexandra (1844 – 1925) was married to Edward VII and thus Queen Victoria's daughter-in-law. She has been described as a fashion icon and was certainly a distinct contrast to Queen Victoria. Victoria tried to influence Alexandra's style, for example by insisting she wear British lace on her wedding day (Alexandra was Danish), but Alexandra developed her own style and used fashion as a means of carving out a deliberate public image. Her husband Bertie was a scandalous character who gambled, drank and had affairs, but Alexandra maintained an elegant ideal Princess persona through her use of fashion as a conscious counterpoint.
Alexandra set a trend for chokers, and although is often described as preferring high neck-lines, the dresses on display don't demonstrate this. Somewhat taller and thinner than Victoria, Alexandra showed off her figure through her clothes, and disliked the then fashionable cage crinolines. Alexandra's 1863 wedding dress is loaned by the current Queen in its current post-nuptial refinement after she stripped it of the orange blossom and Honiton lace Victoria insisted upon: the dress was 'up' or perhaps in this case, down cycled for a more simple gown, one which demonstrates Alexandra's soft slender figure and her full bust, but always narrates her demure sensibility and an eye for occasion and style.
Even at aged 66, Alexandra was slim and still showed a wonderful elegance and choice of colours: she certainly knew which tones would compliment her dark hair, be it a red tartan, or a dusky purple. One particularly beautiful dress on display is a soft lilac velvet, although it was appended with a collar of pearl beads by the Fashion Museum some fifty years ago, which is not something that curators or museums would countenance now. Curatorial practice is certainly brought out here, and it is an interesting point to ponder.
Her Majesty Queen Mary (1867 – 1953) was a sterner, harsher faced, thicker waisted woman than Alexandra. Wife of King George V, she was asked by her husband to drop one of her two official names, Victoria Mary, and so she elected to be called Mary (thereby not competing with Queen Victoria).
Mary was initially engaged to Prince Albert Victor before but he died after only six weeks of their announcement. During mourning she grew close to the future king King George V, whom she would later marry. Mary would later see her son King Edward VI abdicate.
A steady woman, Mary was Queen Consort during WWI as well as living through WWII, when King George VI was on the throne. She used fashion as a silent communicator to provide a sense of reliability and security at a time of great turmoil during WWI and even as the century progressed, her dress style stayed firm and steady despite the many general fashion changes experienced socially. She tended to wear beaded dresses for evening events and more formal suits for day time occasions. Another of the gowns on display was a green and gold velvet dress which drapes elegantly, was worn by Mary when she would have been eighty years old!
After the turbulence, politically and monarchically, of the early twentieth century it was Her Majesty Queen Elizabeth The Queen Mother (1900 – 2002) who would offer real stability in its later years. Elizabeth was a stoic resilient woman who related well to the public, and brought a bit of well-judged sparkle to the post-war era. Elizabeth loved fashion and Norman Hartnell was her favourite designer. A small woman with a certain solidity to her, Elizabeth is represented amongst other dresses by a beautifully elegant ball gown she wore in 1954. On long-term loan from the Royal Collection, the dress was made by Hartnell and worn to a charity dinner in New York.
The dress was labour intensive, but the effect is perfectly royal: Hartnell certainly knew how to dress The Queen Mother and chose both colours and shapes that flattered her diminutive height.
Her daughter, Her Royal Highness Princess Margaret, Countess of Snowdon (1930 –2002) is the most interesting fashion icon in the show. She was glamorous, beautiful, a little socially risqué, and fashion leading. Without the burdens of being Queen, Margaret was able to toy and play a little with fashion, in a way Queen Elizabeth never has been able to. Hartnell designed many of her early outfits but by the age of 17, Margaret (and Elizabeth) had discovered Christian Dior, and Margaret never looked back. Margaret wore Dior for many years and the exhibition includes a dress from his Rose Pompon collection which she wore to Royal Ascot, a lovely candy red striped dress, and a lovely strapless pink and black lace outfit.
Margaret, as the rolling film at the end of the exhibition shows, was an extremely astute dresser, who was aware of how to hold her body whilst walking and moving through crowds. She was no doubt schooled at decorum, but her elegance has a natural quality to it, which is perhaps due to the lesser restraint upon her royal role. Margaret, despite her scandals, remained a sassy lady, and a sassy but well-pitched dresser.
Although the exhibition is interesting and seeing these wonderful dresses is a pleasure, not least because of the talent and skill invested in designing and producing them, there are issues with their display, with the curatorial decisions made about display. Yes, we get to move around and to see and learn about the roles and engagements these women had to attend through the curation, but the display of the actual objects is awkward. Entombed within glass boxes, there is a lot of reflection and a lot of glare, so photography is difficult. Even discounting photography as an issue, the constant reflection of the many other visitors was distracting (it was a busy exhibition too). I presume some of the older dresses of Queen Alexandra may have certain display requirements, but the dresses are not arranged in a way that shows them off to their best. Behind each dress are numbered plastic boxes, presumably holding parts of the rest of the Fashion Museum's collection, and this appears to have been a deliberate decision. Interesting as it is to see and ponder over what other treasures the collection may hold, the visual line was messy and distracting and this unfortunately, takes away from the beauty of the dresses. It is a shame that a display such as that of the copes in the Catharijne Convent Museum, most of which are much older than the dresses, could not be used as a model.
Despite this, and permitting the possibility this was manoeuvring through limitations rather than free reign choice, the exhibition remains worth visiting. It is small but well researched, and the inclusion of the Countess Sophie of Wessex's outfit at the end was interesting, although a little lost. As it was the one she wore to Duchess of Cambridge's wedding, it would have been interesting to include some of the Duchess of Cambridge's outfits alongside it, which may have brought in a different demographic of visitor. It would also have been interesting to include items which show Royal Women during pregnancy, combining both the more domestic and traditional role of 'woman' and the formal high expectation role of royalty. Perhaps next time, after all, there must be many other dresses. Now, I wonder where those six lost ones are….
You still have plenty of time to visit the exhibition as it runs until April 28th 2019, and it really is worth visiting.
Images via Fashion Museum, Wikipedia and Catharijne Convent Museum